By Robert Moler
Well-designed and properly managed public spaces—such as high-rises, airports, shopping malls or hospitals—can enable social interaction and promote a better lifestyle. Already, half the world's population lives in urban areas, and the United Nations estimates that five billion people will be living in cities by 2030—up from 3.6 billion in 2010. This means the need for well-managed 'flow' will only increase.
As cities get larger and more populated, the safe and secure transport of people becomes more important, and construction professionals should consider how to upgrade the experience. By way of contrast, consider how online mapping technology on mobile devices or in vehicles make it easier to get to a location. However, once arriving at a location, visitors often search around to get to their final destination at places like airports, movie theaters, or even office buildings.
By understanding user needs, architects, designers, and product manufacturers—can develop innovative solutions to enable people to move safely, comfortably, and efficiently through buildings.
Accessibility
Most modern buildings have improved entrances, often using an automatic door system. Once inside, these tenants and visitors should have their movement made efficient through careful consideration of the design team.
To this end, large office buildings are more often using a turnstile application. Such a system allows security personnel to screen visitors and employees by integrating technology into the building's overall security management. Designers are developing intuitive lighting and signage blending into the overall decor to ensure a smooth journey.
Destination control
Elevator companies specialize in destination control systems, most commonly the ability to account for the number of waiting passengers and their desired destination floors in order to group and guide them to the most appropriate elevator. Destination control might be used in a simple office building or in more complex scenarios, where various elevators serve different floors in a taller building.
An advanced destination control system can significantly improve convenience in tall or mid-rise buildings that use elevators, while also boosting elevator-handling performance by minimizing unnecessary stops. Comfort is also typically improved as destination control systems help to eliminate overcrowding inside elevators.
Additionally, advanced destination-control systems can further optimize system performance with artificial intelligence capable of learning and forecasting the traffic flows of a building. For example, when the traffic intensity changes, the control system measures the changed traffic patterns and accordingly switches its optimization routines. These benefits are particularly noticeable during intense traffic periods, such as mornings in office buildings.
Smart building integration
Many aspects of building management have been digitized, from sign-in at security to the destination-control feature of elevators. The next wave of innovation for smart buildings will connect all these features. In fact, the 'smartest' buildings are now bringing together turnstiles, automatic doors, elevators, and destination control with overall building management. This provides building owners with a full view of the people flow in a building, allowing the management team to quickly address problems and provide new features to enhance the user experience. This integration is not strictly functional, however. With today's technology, it is possible to have a harmonized visual outlook between the destination control equipment in a building's lobby and the elevators, for example.
Over the last decade, the construction industry has been working toward solutions that enable denser buildings in fast-growing urban areas, while still providing security and control for building managers. Architects, designers, contractors, and companies offering building products should focus their efforts on efficiently moving people, so as to provide the best experience for the people who will use the buildings for decades to come.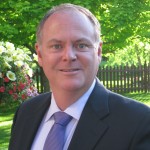 Robert Moler is the North America elevator area offering manager at KONE. He joined the company in 1986 and has held progressively senior positions within the organization. In his current role, Moler works to understand the needs of customers and ensure products successfully meets those needs. He can be contacted by e-mail at bob.moler@kone.com.