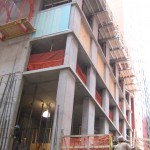 Evaluating slab thickness in reinforced concrete flat-plate construction
by Dimitri Papagiannakis, PE
Reinforced concrete flat-plate construction is popular among mid- and high-rise residential construction projects. It provides a great deal of flexibility in the placement of the structure's vertical load-carrying elements (i.e. columns and walls) without sacrificing the efficiency of the floor framing—as could potentially be the case with steel or masonry.
In the project's early stages, structural engineers are often asked by architects …
Read More