AAMA updates skylight safety information
by Cindy Macdonald | August 2, 2018 10:24 am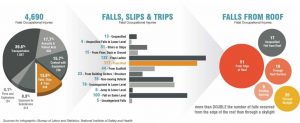 Information previously included as a fact sheet about avoiding skylight falls has been updated and posted to the American Architectural Manufacturers Association[1] (AAMA) website. The safety-focused webpage provides statistics about falls and offers tips for avoiding them.
The webpage was developed in part by the AAMA's Skylight Fall Protection Task Group[2].
"The issue of fall protection is not a new one, and every fall fatality is avoidable," said John Westerfield, group chairperson. "Fall protection needs to be a continued focus for employers and building owners post-construction, as many non-construction related tradespeople often access flat roofs."
At this time, there is no standardized method in place to test a skylight for its ability to withstand the impact of a falling human. While the U.S. Occupational Safety and Health Administration[3] (OSHA) and similar authorities have established regulations, these are widely considered vague and open to misinterpretation.
The American Society for Testing and Materials (ASTM) has drafted a standard and test method to validate a skylight's ability to support the impact of a falling adult. The review process is underway.
Check out the webpage here[4].
Endnotes:
American Architectural Manufacturers Association: https://aamanet.org/
Skylight Fall Protection Task Group: https://aamanet.org/pages/skylight-fall-protection
U.S. Occupational Safety and Health Administration: https://www.osha.gov/
here: https://aamanet.org/PreventSkylightFalls
Source URL: https://www.constructionspecifier.com/aama-updates-skylight-safety-information/
---