Achieving aesthetics and energy efficiency with stone wool insulation
February 19, 2021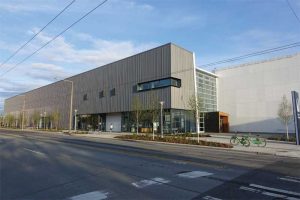 by Ryan Martin
Maximizing energy efficiency is the order of the day for construction industry professionals across North America, due, in part, to changing codes and a growing contingent of forward-thinking developers, owners, architects, specifiers, and energy consultants. Education and awareness continue the drive toward higher performance building envelopes, which is prompting greater consideration of insulation levels, R-value, airtightness, vapor diffusion, condensation control, acoustics, and more. As a result, more thought is now invested in material selection and whole system performance.
Stone wool is a fibrous insulation that is created by predominantly melting rock. It is manufactured into various forms, including batts and rigid boards, to work across multiple applications. It differs from slag wool, which is a manmade material made primarily from iron ore blast furnace slag. Some stone wool rigid insulation boards are categorized under Type IVB Compliance, per ASTM C612, Standard Specification for Mineral Fiber Block and Board Thermal Insulation. Some mineral fiber blocks and thermal insulation boards also pass compliance tests for ASTM C665, Standard Specification for Mineral-fiber Blanket Thermal Insulation for Light Frame Construction and Manufactured Housing (corrosion of steel). The good news for construction industry professionals is that with options like stone wool rigid insulation, design does not have to be sacrificed to meet the demands for increased performance. In fact, stone wool has emerged as an advantageous solution, gaining traction because of its versatility and performance.
Continuous exterior insulation
The reasoning for the specification of stone wool rigid insulation boards is as multifaceted as their applications. These insulation boards contribute to key project goals, such as energy efficiency, moisture management, fire protection, sound control, building resilience, and sustainability. Stone wool rigid insulation boards provide proven performance for both commercial and residential projects in applications such as continuous exterior insulation, given its stable R-value and contribution to a building's safety, comfort, and durability. Many contractors also prefer the material due to its ease of handling and installation, whether the latter occurs on the jobsite or in controlled environments (e.g. prefabricated panels).
Energy codes are increasingly demanding continuous exterior insulation on commercial buildings because they account for approximately 40 percent of all energy consumption. Continuous exterior wall insulation is a requirement of the International Energy Conservation Code (IECC) for all climate zones using metal-framed, above-grade walls, and within the International Residential Code (IRC) in climate zones 6 and above for wood-framed walls. Continuous insulation (ci) is an effective practice for reducing heat transfer. It helps to reduce heat transfer and thermal bridging, and create a more comfortable indoor environment for occupants.
Safe, sustainable design
The architect and builder of the Origine Tall Wood condominium tower on the banks of the Saint-Charles river in Québec City, Québec, Canada, selected continuous stone wool[3] rigid board insulation for the building's exterior envelope. Origine is a 13-story, 92-unit residential tower built by Québec-based Nordic Structures and is one of the tallest wood buildings in North America. The design objective was to use sustainably harvested wood for this environmentally responsible complex to reduce greenhouse gas (GHG) emissions. However, building with wood can present a number of challenges, including protection from fire and moisture.
Built on a concrete podium, the tower boasts solid wood construction, predominantly glue-laminated timber (glulam)—for posts and columns—and cross-laminated timber (CLT). Since the structure mostly comprises wood, the design team specified stone wool rigid insulation boards to meet fire protection requirements. A wood building of this height made fire safety a top concern, particularly since Origine would be laying the groundwork for future tall wood buildings. The project was extensively fire-tested with mockups at the National Research Council in Ottawa, Ontario, Canada. The tests showed Origine's building envelope, incorporating noncombustible stone wool insulation, could meet and even exceed existing fire safety standards. While proving CLT holds up adequately in the event of a fire, the passive fire protection provided by the stone wool insulation was an important safety element built into the structure. In fact, the noncombustible nature of stone wool made it the first choice in this application.
Stone wool insulation can resist fire up to 1177 C (2150 F) without the need for chemical flame retardants. In addition to fire protection and energy efficiency, stone wool was specified on this project for the vapor permeance, dimensional stability, acoustical properties, and ultraviolet (UV) resistance of the insulating material. With its location (on the banks of a river) and Québec's harsh climate, the drainage capabilities and water-resistant properties of stone wool proved advantageous. The insulation also complemented Origine's sustainability profile since the products are made of highly sustainable raw materials and recycled content. The Origine project has achieved Leadership in Energy and Environmental Design-New Construction (LEED-NC) Silver certification.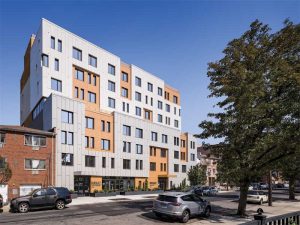 Energy efficiency and fire protection
A multi-use building, the HANAC Seniors Residence and school in Corona, New York, also had specific design goals to achieve strict sustainability targets[5]. HANAC is one of the first affordable senior housing developments in the United States to meet the Passive House Institute's design standards. Designed by Think! Architecture + Design and constructed by Bruno Frustaci Contracting, Inc., the eight-story, $36-million building spans 5358 m2 (57,675 sf). It houses 68 affordable units geared to low-income seniors on floors two through eight, while the first floor serves the community as a 465-m2 (5000-sf) early childhood education facility.
Beneath the ventilated façade of the building is continuous exterior insulation using stone wool rigid insulation boards. Stone wool boards were chosen to optimize energy performance because of their high R-values that remain steady over time, and the need for minimal penetrations and thermal bridges. The boards along with stone wool batts, which were installed throughout the building's exterior cavity walls and partition walls, contribute to a more stable indoor environment. Creating a well-insulated building was not only an important Passive House measure, but also an essential consideration given the building's occupants—largely seniors and young children. Designers were sensitive to the vulnerability of the occupants. Thus, the decision to use noncombustible stone wool insulation supported a variety of key objectives, including passive fire protection, sound attenuation, and indoor air quality (IAQ)—all expected to impact the well-being of those who use the space.
Design freedom and high performance
Design freedom was essential to the team constructing the Nordic Museum[6] in Seattle, Washington. The museum project's overarching goal was to connect the new structure—in modern design and function—to its cultural roots and building principles. The museum houses a climate-controlled collection, exhibit spaces, a concert hall, meeting rooms, outdoor spaces, a café, and gift shop. Given its connection to the Nordic region, it was important for the building to be not only beautiful and reflect the modern design sensibilities of that region, but also embrace and reflect the Nordic principles of efficiency, comfort, economy, and effective use of natural light.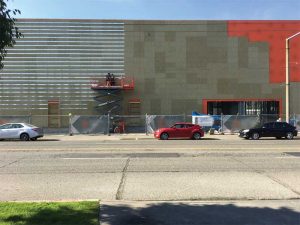 To create an efficient building that consumes less energy and contributes less GHG emissions, the architectural and design team focused on creating a tight, high-performance building envelope. The wall assembly comprises 16 mm (5/8 in.) interior gypsum wall board, Division 5 metal stud framing, 16-mm sheathing, a water-resistive barrier, and 64 mm (2 ½ in.) of stone wool rigid insulation boards. Finally, the building's exterior was clad with a vertically striated zinc skin. Stone wool provided high-performance benefits, and its Danish roots complemented the museum's purpose and cultural connection.
The robustness and durability of the stone wool boards were important to designers since they can withstand harsh conditions because of their dimensional stability, water resistance, effective drying potential (vapor permeability), and superior thermal resistance. The rigidity of the material allowed efficient install, and helped contractors achieve zero gaps or sagging for a tighter building envelope that would stand the test of time. Stone wool's fire safety profile was also key to its selection, as the museum houses very priceless and culturally significant artifacts.
Fire safety was also a top priority of the Mira Condominium Tower[8] project in San Francisco. The 39-story tall residential skyscraper was developed by Tishman Speyer and designed by Studio Gang Architects. The 129-m (422-ft) tall building offers a unique visual profile and design aesthetic in the heart of the city. Twisting incrementally over the height of the tower, its bays, modeled after the bay windows that were typical of the early San Francisco homes, have converted every residence into a corner unit, and provide ample views, natural light, and fresh air.
Due to this complex design and twisting bays, the building required a sophisticated wall system that would also satisfy the demands for fire protection and moisture management. The latter was a critical consideration because the incomplete exterior of the building would be exposed to the elements for some time during installation. Careful attention was required during the installation of the stone wool continuous exterior insulation, with particular care paid to gaps, penetrations, seams, and other detailing. Stone wool rigid insulation boards were selected to satisfy those demands and other performance objectives since, as mentioned earlier, stone wool offers excellent dimensional stability, high drying potential, superior energy efficiency, and sound control, as well as durability, fire resilience, and sustainability. Thermal efficiency and sustainability were equally important performance requirements in the design and construction of the tower, as the team managed to exceed California's Title 24 energy standards.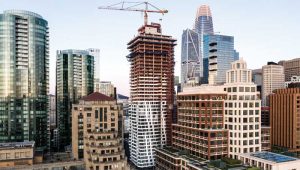 WUI zone fire protection
From 1990 to 2010, wildland–urban interface (WUI) land grew by 33 percent, making it the fastest-growing land use type in the United States. Fifteen states—Alaska, Arizona, California, Colorado, Florida, Idaho, Montana, New Mexico, Nevada, Oklahoma, Oregon, Texas, Utah, Washington, and Wyoming—represent the highest risk, according to research from the U.S. Forest Service. In 2020 alone, the California Department of Forestry & Fire Protection (CAL FIRE) recorded more than 8300 wildfires that have burned at least 1.6 million ha (4 million acre), and damaged or destroyed 10,500 structures and led to 31 fatalities (the data quoted here is specific to November 2020).
During a wildfire, combustible exterior building components, such as roof coverings, walls/siding, and eaves, can ignite and lead to severe damage or total loss of the building. The use of noncombustible or fire-resistant materials should always be considered for the exterior of building enclosures, but this is particularly important for construction in WUI zones where there is significant threat of damage from direct heat and flames, as well as indirectly via burning embers.
North American codes have established a baseline of requirements for the building envelope in an effort to mitigate the wildfire risk in WUI zones. Building materials used in these areas must be a part of the WUI Building Materials Listing Program or undergo testing in order to demonstrate the product/assembly meets code requirements. Components covered by WUI code include roofs, exterior walls and siding, decks, windows, doors, soffits, and vents along with other details considered to be vulnerable ignition points.
Nationally, the International Code Council (ICC),  the International Wildland-Urban Interface Code (IWUIC), and the National Fire Protection Agency (NFPA) 1144, Standard for Reducing Ignition Hazards from Wildland Fire, detail regulations for minimizing risk of fire with building materials and assemblies. In California, the State Fire Marshal's Building Materials Listing (BML) Program certifies products based on an evaluation of test results that include an analysis of required product performance and reliability features. All testing is completed with a State Fire Marshal (SFM)-accredited laboratory. The SFM listing service provides building authorities, architectural and engineering communities, contractors, and the fire service with a reliable and readily available source of information on building products.
As mentioned earlier, stone wool insulation is noncombustible. Made primarily from rock, the material does not promote flame propagation or transfer heat from the outside to the inside of buildings, and will not contribute to smoke development. As such, it is suitable for projects where fire protection is a priority.
Certifications and listings
When selecting stone wool rigid board insulation, builders, architects, specifiers, code officials, and engineers can look to listings and certifications for reassurance on product performance and compliance with the International Building Code (IBC) and IRC. The certifications enable stone wool rigid boards to be used in a wide variety of applications across North America, such as:
non-structural thermal insulation in non-fire-resistive rated well assemblies;
thermal barrier over foam plastic insulation (at a minimum thickness of 50 mm [2 in.]);
exterior perimeter insulation around foundation; and
under flat concrete slab.
Stone wool rigid boards have also been certified as termite resistant by the American Wood Protection Association (AWPA) E1-09, Standard Method for Laboratory Evaluation to Determine Resistance to Subterranean Termites. Therefore, they can be employed in areas with 'very heavy' termite infestation. Likewise, tests have also been completed for two types of stone wool[10] to show compliance with NFPA 285, Standard Fire Test Method for Evaluation of Fire Propagation Characteristics of Exterior Wall Assemblies Containing Combustible Components.
Conclusion
As a versatile solution, stone wool rigid boards are available in a variety of densities and thicknesses. They offer a diverse range of performance benefits that meet several design goals, such as aesthetics, energy efficiency, fire protection, moisture management, acoustics, and sustainable material selection. Their use continues to climb, in tandem with tightening code requirements and the overall move by the building community toward more efficient, sustainable, safe, and resilient solutions that improve occupant comfort, provide savings, and contribute to more durable facilities with smaller environmental footprints.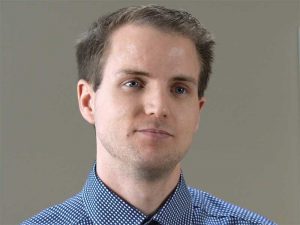 [11]Ryan Martin is the product manager for Exterior Wall, Roofing, and Core Solutions (OEM) at the ROCKWOOL Group where he has been working for nearly three years. He is passionate about developing new and innovative solutions for stone wool insulation.
Endnotes:
[Image]: https://www.constructionspecifier.com/wp-content/uploads/2021/02/Nordic-3.jpg
[Image]: https://www.constructionspecifier.com/wp-content/uploads/2021/02/Origine-2.jpg
stone wool: http://www.rockwool.com/why-stone-wool/case-studies/origine-case-study
[Image]: https://www.constructionspecifier.com/wp-content/uploads/2021/02/Hanac-1.jpg
sustainability targets: http://www.rockwool.com/syssiteassets/o2-rockwool/documentation/case-studies/commercial/comfortboard---corona-seniors-residence-case-study.pdf
Nordic Museum: http://www.rockwool.com/syssiteassets/o2-rockwool/documentation/case-studies/commercial/comfortboard110-nordic-museum_casestudy.pdf
[Image]: https://www.constructionspecifier.com/wp-content/uploads/2021/02/Nordic-2.jpg
Mira Condominium Tower: http://www.rockwool.com/syssiteassets/o2-rockwool/documentation/case-studies/commercial/comfortboard80-miracondominiumtower-casestudy.pdf
[Image]: https://www.constructionspecifier.com/wp-content/uploads/2021/02/Mira-2.jpg
stone wool: https://bpdirectory.intertek.com/pages/DLP_SearchDetail.aspx?SpecID=39535
[Image]: https://www.constructionspecifier.com/wp-content/uploads/2021/02/20190525-RWNA-INFO-1260-crop.jpg
Source URL: https://www.constructionspecifier.com/achieving-aesthetics-and-energy-efficiency-with-stone-wool-insulation/
---