Pflugerville Animal Shelter, Pflugerville, Texas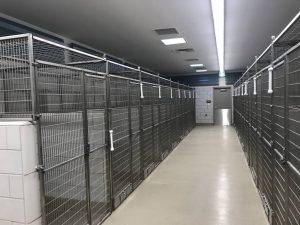 The Pflugerville Animal Shelter is a new, 353 m2 (3800 sf) facility that opened in March 2019 and has a total capacity of more than 40 animals. The shelter features a quarantine room with six indoor/outdoor kennels, a stray dog area with 18 indoor/outdoor kennels, a dog isolation room with two large dog kennels and six small/medium dog kennels, and a small dog room with 10 kennels. For this facility, Quorum's design included 31 panels ranging in size from 3 m x 610 mm down to 610 x 610 mm to accommodate wall obstructions.
 Deer Park Animal Shelter, Deer Park, Texas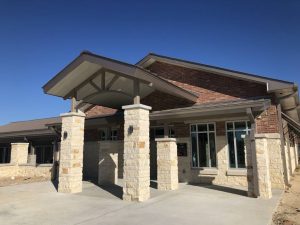 The Deer Park, Texas, animal shelter just had its grand opening on May 21. The new 697 m2 (7500 sf) facility features 24 dog kennels and six dog quarantine kennels, along with cat rooms, a dog "get to know" room, and administrative rooms (break room, work room, medical room, food prep room, and offices.) A total of 34 Eckel EFPs were installed in the dog kennels and quarantine rooms in sizes ranging from 610 x 2591 mm (24 x 102 in.) down to 305 x 914 mm (12 x 36 in.) with cutouts to accommodate obstructions.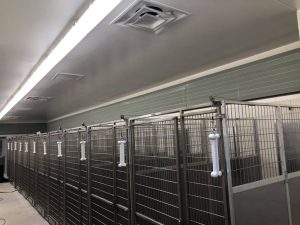 According to Al Garces, director of the facility, "The panels work very well with the noise from the dogs. It makes doing our job a lot more tolerable. I have worked in other facilities in the past that had nothing to help with the noise and it was very annoying at times. When a shelter is full and without noise remediation, it is hard to show dogs to prospective adaptors or even do any work-related tasks in the shelter."
According to Duman, "Eckel's EFPs are the perfect solution for dog shelters and kennels. By drastically reducing reverberation of barking dogs, they help these facilities keep animals safer, healthier and calmer. We plan to continue to specify Eckel panels in our future animal shelter projects."
Eckel Acoustic Panels can be fabricated in custom sizes up to 3 m (10 ft) in length and painted to match any room décor. They are available in steel, galvanized steel, and aluminum, and install quickly and easily.
For more information, please e-mail Eckel at efpinfo@eckelusa.com, call us at 617-232-2951, or visit us at www.eckelusa.com.
All information listed in this section was submitted by Eckel Industries.
Kenilworth Media Inc. cannot assume responsibility for errors of relevance,
fact or omission. The publisher does not endorse any products featured in this article.