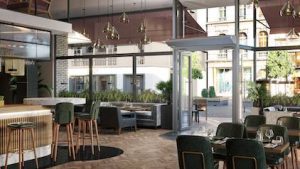 Adding an air curtain over a grocery store entrance is the equivalent to removing 14 cars from the road per year in greenhouse gas emissions. Market research consistently reports that both Millennials and Gen Z actively believe in reducing their carbon footprint, that they value experiences, and that they are willing to pay more for sustainability and environmentally-friendly alternatives.
For a long time, the conversation with owners has focused on energy conservation as it translates into dollars saved on the utility bill. Now, stakeholders are shifting the discussion to include not just the energy savings but the subsequent reduction in greenhouse gas (GHG) emissions from fossil-fired electricity generation and heating oil and natural gas transmission and use.
Along with that, the standards of what is acceptable to occupants of commercial and industrial buildings, whether they are customers, guests, patients, students, or employees have changed.  Building occupants today expect comfort and good air quality, and assume that the building is operating in the best interest of their general health and well-being.
Reducing the carbon footprint of the built environment while maintaining the health and well-being of building occupants is a balancing act of sustainability goals that specifiers know well.  The benefits of sustainable buildings are well documented, and the specifier community has played (and continues to play) a huge part in the creation, adoption, and promotion of green building standards (LEED, BREEAM, LBC, Green Globes, WELL, etc.) and commercial energy building codes (ASHRAE 90.1, ASHRAE 189.1, IECC, IgCC, ENERGY STAR).
Berner air curtains save energy / reduce carbon footprint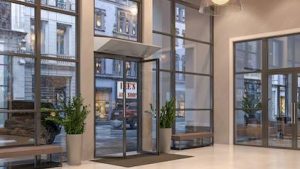 In most applications, the air curtain, a.k.a. air door, pays for itself through energy conservation within one to three years. To help specifiers and owners understand the energy savings a Berner air curtain provides for their specific application, the engineers at Berner created an Energy Savings Calculator. This calculator shows the estimated return on investment (ROI) with regards to energy conservation. For someone who is looking for a quick energy savings estimate, use the Simplified version. For those who want a more specific energy savings estimate, the Advanced calculator allows one to customize many of the inputs. This calculator does not take into account any of the other benefits air curtains provide with regards to protecting comfort, food safety, and the other benefits of maintaining interior temperatures.
Running a sample calculation for a 1829 mm wide, 2134 mm high (72 in. wide, 84 in. high) entrance into a grocery store in Pittsburgh, Pennsylvania, whose hours are 8am–8pm, whose doors are physically open seven days a week for an average of five hours a day, tells us that the store will save 314.3 MMBtu per year or about $2228 in energy costs.
If we take the "Total MMBtu Saved" output of the Berner Energy Savings Calculator (in this case, 314.3 MMBtu) and convert it to kWh, we can then input this number into several GHG emission reduction calculators, including the U.S. EPA Greenhouse Gas Equivalencies Calculator. Using the above example, the EPA's GHG Equivalencies Calculator tells us that the 314.3 MMBtu saved by the air curtain is the equivalent of 65.3 metric tons of carbon dioxide or greenhouse gas emissions from 264,024 km (164,057 miles) driven in a year by an average passenger vehicle.  Said differently, adding the air curtain equates to removing 14.2 cars from the road or saving 32 ha (80 acres) of U.S. forest a year.
All information listed in this section was submitted by Berner International.
Kenilworth Media Inc. cannot assume responsibility for errors of relevance,
fact or omission. The publisher does not endorse any products featured in this article.