Major energy codes allow air curtains as substitutes for vestibules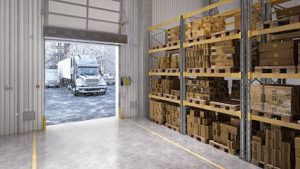 ASHRAE 90.1-2019, Energy Standard for Buildings Except Low Rise Residential Buildings, the International Energy Conservation Code (IECC) and the International Green Construction Code (IgCC) building codes all include AMCA-certified air curtains as an exception to vestibules.  Working with the Air Movement and Control Association International (AMCA), Berner International, the leading manufacturer of air curtains, led an industry-wide push for third party research regarding the efficacy, performance, and benefits of air curtains. The outcome of these efforts was official recognition by several code bodies that air curtains combined with vestibules work as well, or better than, vestibules at saving energy. It's worth mentioning that the research showed that while air curtains work better than a vestibule, air curtains combined with a vestibule work the best at protecting against energy loss through the entrance as people come and go. The codes require an air curtain to have been tested in accordance with ANSI/AMCA 220, and after installation to have a minimum velocity of 400 feet/minute (2.0 m/s) at 6.0 inches (15 cm) above the threshold. One can verify that an air curtain has been AMCA tested and certified using AMCA's Certified Product Search.
Berner air curtains support the experience
Have you ever shivered along with a bundled-up grandparent or parent inside a hospital entrance, waiting for the car to arrive? Have you ever met a friend at a bar or restaurant, but found that your seat near the door was too cold to enjoy being there? How about trying to hang out with friends or associates in a hotel lobby? Have you ever been so cold due to the door opening and closing that while stylish, and filled with comfortable couches and seats, you couldn't wait to get out of there? Conversely, it's summer, and the AC is on. Everyone is still freezing, because the constant opening and closing of the door is causing the air conditioning to run non-stop.
This is where the air curtain comes in. Air curtains create a barrier out of air that allows people to pass in and out of a building, while keeping the conditioned air in and the unconditioned air out.  This air stream barrier helps to stop uncomfortable drafts from ruining the in-space experience. In addition to providing a barrier, the air curtain unit helps to de-stratify room air by reducing built-up thermal layers and airflow dead zones, reducing the space's hot and cold spots. The action of drawing air from across the ceiling into the air curtain's intake also assists in the distribution of the supply air from the air handling unit. This is an increasingly appreciated benefit when additional filtration has been added, as part of a building's COVID response, reducing the throw of supply air from the registers. This additional aid in the distribution and dilution of room air further supports the thermal comfort and well-being of those inside the door.
Building occupants want to feel good about the spaces they occupy when they shop, when they eat, when they hang out, when they are taking care of themselves or others, and when they work.  By protecting the interior temperature (and thus the comfort) of the space inside the entrance when the door is open, air curtains help to protect the ambiance. This protection of the interior temperature also protects against the loss of conditioned air (air conditioned or heated) through the opening. This translates into reduced load and cycling of air conditioning and heating systems. Which means less energy required, which in turn means less GHG emissions.
All information listed in this section was submitted by Berner International.
Kenilworth Media Inc. cannot assume responsibility for errors of relevance,
fact or omission. The publisher does not endorse any products featured in this article.