In addition to thermal comfort, air curtains are well recognized by health departments, the FDA, the USDA and other entities for their ability to prevent flying insects from entering a space without the use of chemicals. They are also used by Emergency Rooms, Drive-thrus, and Shipping/Receiving to keep vehicle exhaust (carbon monoxide) and cigarette smoke out.
Berner air curtains support people, planet, and profit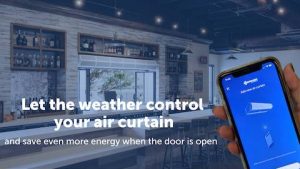 Properly sized, installed and operated, air curtains save energy and protect the thermal comfort of the area interior to the door. When the door is open, Berner air curtains support the Triple Bottom Line:
People: thermal comfort, IAQ, well-being
Planet: energy conservation & GHG emission reduction, chemical-free insect control
Profit: energy savings, increased customer/patient/occupant satisfaction & employee productivity
According to the The Global Sustainability Study 2021*, conducted by global strategy and pricing consultancy Simon-Kucher & Partners, more than one third of global consumers are willing to pay more for sustainable products and services.  As our population becomes more eco-conscious in their choices, meeting sustainability goals becomes more important in our building products, designs, construction, and operations.
Berner.com has CSI specifications, performance data, CAD & revit files
So much effort goes into making our indoor spaces a positive and welcoming experience, into making a good impression through design, and into reducing our carbon footprint without reducing indoor air quality.  To make it simpler for specifiers to use air curtains on their projects, Berner not only has good looking, quiet, high performing air curtains to choose from, but has put supporting documentation and information online so that it can be easily and quickly found.  Go to Berner.com to find photos and images, product information including CSI specifications, and technical support.  The site includes information regarding certifications, building codes and air curtains, an air curtain selection tool, and the simple-to-use energy savings calculator.
In addition to the Berner website, our experienced, factory-trained representatives have the expertise to guide you through air curtain selection, voltages, accessories, control panels (for Industrial air curtains), mounting options, custom finishes, etc., as well as prepare submittals and other documentation needed.
Building/ Energy Codes and Air Curtains
ASHRAE Standard 90.1-2019, ASHRAE Standard 189.1, the IECC (International Energy Conservation Code) and the IgCC (International Green Construction Code) building codes.
All information listed in this section was submitted by Berner International.
Kenilworth Media Inc. cannot assume responsibility for errors of relevance,
fact or omission. The publisher does not endorse any products featured in this article.