Considerations for using aluminum-framed interior wall systems
by arslan_ahmed | December 14, 2022 6:05 pm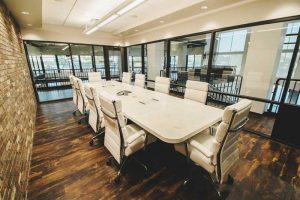 By Brian Tobias, LEED AP
For commercial offices, retail, and hospitality spaces, government centers, school classrooms, and other interior buildouts, architects and interior designers can pair aluminum framing systems with glass or other insert panels to balance connectivity and transparency with productivity and privacy.
While the components are similar, the performance requirements for these interior applications differ from those for exterior storefront and framing systems. Interior framing systems accentuate ease of installation for fast-track construction, aesthetic flexibility, and sustainable design criteria.
Typical applications, features, and benefits
Interior aluminum framing systems are most popular and functional in the following applications:
Full-height walls
Partial-height walls and partitions
Interior window systems
Interior entrance systems
Their primary purpose is to divide and define interior spaces. Using interior aluminum framing systems with glazing inserts provides physical separation, while maintaining visual connections. For example, one may install these framed openings as interior entrance systems with adjacent side lites and transoms, long spans of glazing along a corridor, glass walls enclosing a meeting room, clerestory windows at the top of an interior wall, or as partial-height divisions between study nooks or workstations.
Translucent or transparent interior glass and glazing maximize the opportunity to project natural light from exterior walls into the building's interior. Effective daylighting design strategies reduce the need for electric light sources and associated HVAC loads, which saves on initial costs of light fixtures and equipment, and improves the building's operational efficiency. Energy-efficient buildings not only conserve natural resources, but also have
a smaller carbon footprint, benefit from lower utility costs, and maintain a comfortable, consistent indoor temperature.
In North America, people spend 90 percent of their time indoors. Studies show when people have access to daylight, views, and a comfortable temperature, they are happier, healthier, and more productive. Retailers with daylit stores generate higher sales than those without natural light. Students have better concentration and higher academic performance in schools designed with daylighting. Further, teachers and other employees with naturally illuminated workplaces report higher job satisfaction, lower absenteeism, and perform tasks with greater accuracy.
Clear, transparent glass presents a full view and allows for maximum light. Tinted and translucent glazing, or dynamic glazing that switches from clear to tinted, balances transparency with a degree of visual privacy. Opaque glazing, fabric-padded panels, drywall, or other solid inserts trade daylighting and views for the highest level of visual privacy.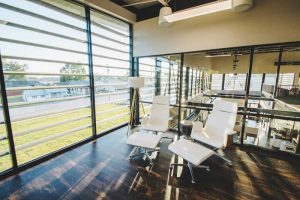 Performance considerations
Unlike storefront, curtain wall, window wall, and other exterior aluminum framing applications, interior aluminum framing systems are not subject to constant exposure to changing temperatures, wind speeds, precipitation, and other environmental conditions. Except in unique areas that bridge indoor and outdoor spaces, such as a transit facility, design wind load calculations are not necessary for interior framing systems.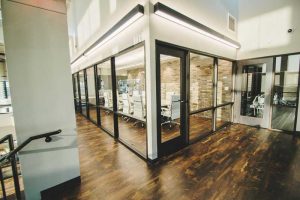 Designers do not consider interior aluminum framing systems to be structural components; therefore, structural performance calculations—air infiltration, static and dynamic water resistance, and structural design load and overload—are unnecessary in most cases. A multi-story or long-span curtain wall or window wall system enclosing an interior lobby or atrium would be an exception.
When an aluminum-framed opening becomes a full-height wall, the building code for life-safety may be relevant. These cases can include fire and seismic protection considerations. In projects with potentially vulnerable occupants, such as small children or people with limited mobility, the authority having jurisdiction may require test reports for the full wall and fenestration assembly to demonstrate compliance with emergency egress.
To avoid unwanted heat transfer designers often specify a thermal break at the juncture of exterior framing and interior aluminum framing—meaning they separate and insulate the interior and exterior surfaces. Thermal breaks in a framing system help occupants stay comfortable and building systems operate efficiently. In climate-controlled interior spaces, thermal performance and condensation resistance should not be of concern.
Thermal breaks integral to interior aluminum framing systems offer the added benefit of enhanced acoustical performance. If acoustic privacy is a priority on an enclosed interior room, then one may consider interior aluminum framing systems with insulating thermal barriers for use as a full-height wall. Keep in mind, these walls should extend from slab to slab if they are to effectively help block sound (the floor slab, ceiling, HVAC, furnishings, and finishes also affect interior acoustics).
Glass and metal are inherently hard surfaces that reflect and reverberate soundwaves. In aluminum-framed full-height interior walls with glass inserts, the designer can reduce sound transmission by specifying insulated glass units (IGUs) with large air spaces between lites. Laminated glazing, which is composed of plastic interlayers, also aids in dampening sound.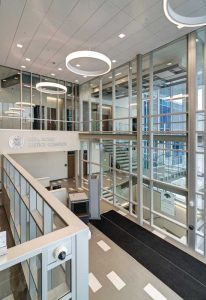 Acoustic performance of exterior walls usually is specified as an outdoor-indoor transmission class (OITC). Sound transmission class (STC) measures transmission between interior walls. With both ratings, a higher number indicates higher acoustic performance. An STC of 31 is typical for interior aluminum framing systems with 12.7 mm (0.5 in.) monolithic glass and an STC of 36 for systems with 12.7 mm laminated glass. For comparison, an STC of 50 would indicate a high level of performance for a solid wall with metal stud and drywall construction. An STC of 50 would indicate exceptional performance for an interior aluminum framing system with a double-glazed insulating glass unit with a 101.6 mm (4 in.) airspace and laminated glazing.
When requesting STC ratings, remember to note the intended use is for an interior wall. Otherwise, many architectural glass manufacturers may assume it is for exterior use and provide initial performance data with OITC ratings. Neither OITC or STC ratings are commonly referenced with partial-height walls and partitions. Since they do not extend from full height from slab to slab, they do not effectively block sound. Depending on their construction and mass, they may dampen noise when the sound source and the listener are in direct proximity to the partition.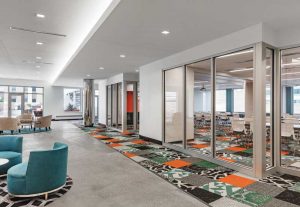 Combining observational transparency and physical barriers, aluminum-framed full-height or partial-height interior walls with glazing are increasingly seen in secondary interior entrance systems. Secured entrance areas, executive offices, conference and meeting rooms, classrooms, retail stores, and other enclosed spaces frequently rely on swing doors. This includes expansive entrance systems, where swing doors are complemented by surrounding glass and aluminum-framed walls. Secured entrances can be specified to meet robust performance requirements, such as ballistic-resistant or blast-mitigating glazing. Aluminum framing also may be reinforced with steel when required.
Modern design trends favor transparency and daylight achieved through large glass lites and narrow sightlines. Aluminum-framed entrances can feature a single, uninterrupted glass lite with narrow 54 mm (2.125 in.) vertical stiles and top rail for light to moderate use in commercial buildings. Other configurations include two or more lites in openings of equal or asymmetrical sizes, and stiles and rails in medium, wide, or custom sizes. Further modification and customization can be achieved with hardware, glazing, and finishes.
Material composition and disclosure
The manufacture of aluminum extrusions for the interior framing system should be in accordance with ASTM International B221, Standard Specification for Aluminum and Aluminum-Alloy Extruded Bars, Rods, Wire, Profiles, and Tubes. This standard was updated in October 2021.
For optimal appearance and performance, specify alloy 6063-T6 or 6063-T5. It should be extruded within commercial tolerances and free from defects that impair strength or durability. Supporting green building goals, one can specify aluminum interior framing members with recycled content.
If the owner is pursuing Leadership in Energy and Environmental Design (LEED) v4 certification for the project through the U.S. Green Building Council (USGBC) and it requires the aluminum to be manufactured with recycled content, the requirements for the secondary billet should be
in the specifications. Remember to note this requirement in both Division 1 and 8 with the actual pre-consumer and post-consumer recycled content values based on weight to ensure the extruded aluminum is ordered and manufactured as per the specifications.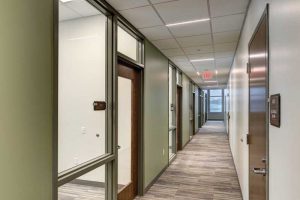 Be aware aluminum framing system manufacturers commonly use 100 percent primary (non-recycled) aluminum content as standard and may not have source data or supporting documentation readily available. Early in the project's development, confirm that potential manufacturers will be able to provide not only the specified material, but also the required documentation.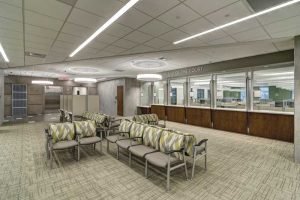 In LEED v4 and v4.1, the "Materials and Resources—Building Product Disclosure and Optimization" category may contribute three credits and up to six points: MRc2 Environmental Product Declarations (EPDs), MRc3 Sourcing of Raw Materials, and MRc4 Material Ingredients. Depending on the project, examples of supporting documentation to specify for LEED certification include:
an industry-wide or product-specific Type III EPD.
a compliant embodied carbon optimization report or separate action plan.
sources and locations of aluminum extraction and manufacturing.
Health Product Declarations (HPDs)
Cradle to Cradle (C2C) certified version and level.
Declare label and level.
The finishes used on the aluminum also may affect the overall sustainability of the framing system and the project. Aluminum framing systems with anodized finishes include a Declare Red List Free label to ensure compliance to the Living Building Challenge criteria as per the International Living Future Institute (ILFI).
System finishes, components, and installation
Architectural finishes protect and enhance the aluminum material. Complementing commercial design and decor, interior framing and door systems can be finished in nearly any color paint, anodized metallic tones, and specialty options. Specialty finishes include biophilic choices that mimic the look and feel of wood grain and stone, such as aged oak or textured terra cotta.
For high-performance, interior applications, specification professionals note these finishes should either be a Class I anodizing that meets the Fenestration and Glazing Industry Alliance's (FGIA's) AAMA 611, Voluntary Specification for Anodized Architectural Aluminum, or a 70 percent fluoropolymer resin-based architectural coating that meets AAMA 2605, Voluntary Specification, Performance Requirements and Test Procedures for Superior Performing Organic Coatings on Aluminum Extrusions and Panels. AAMA 611 was updated in 2020 and AAMA 2605 was updated in 2022.
AAMA 611 and 2605 will offer the highest performance finish for interior aluminum framing systems in high-traffic environments, such as workspace partitions, indoor storefronts, arena suites, or classrooms. In these high-touch settings, some opt to enhance the durable finishes by selecting architectural coatings infused with antimicrobial protection. The factory-painted and anodized aluminum framing is easy to clean and requires little maintenance.
If the aluminum framing systems are not experiencing daily use, or they frame interior transoms or clerestory features out of reach, specify a less stringent performance for the finish. Lower performance coatings also may result in lower finishing costs.
Offering the lowest level of performance, one can specify baked enamel acrylic/polyester paints to meet AAMA 2603, Voluntary Specification, Performance Requirements and Test Procedures for Pigmented Organic Coatings on Aluminum Extrusions and Panels. As an intermediate option, specify 50 percent fluoropolymer resin-based architectural coatings that meet AAMA 2604, Voluntary Specification, Performance Requirements and Test Procedures for High Performance Organic Coatings on Aluminum Extrusions and Panels. Both these standards were updated in 2022.
Most manufacturers of interior aluminum framing provide systems with a 51 mm (2 in.) face and a choice of 114 or 140 mm (4.5 or 5.5 in.) depths. The system anchors at the glass pocket, which accommodates standard glass thicknesses. This can be modified to hold glazing and other panel inserts with thicknesses ranging from 6.3 to 19 mm (0.25 to 0.75 in.).
Manufactures ship the finished aluminum framing to the jobsite in "stick" lengths for fabrication with screw spline construction. This allows contractors to order the material prior to having the exact opening dimensions, and to adjust the material as necessary at the jobsite.
Gaskets position and secure the glass, glazing or other insert panel between the aluminum framing members. Bulb gaskets at the interior/exterior joint with drywall provide a uniform appearance and do not require sealant.
Typically, the contractor installs the interior aluminum framing systems after drywall, completely covering the end of the stud wall. Specialized adapters allow framing installation before drywalling, where necessary.
Perimeter trim adapters also provide a breadth of design configurations. To quicken installation, some manufacturers pre-apply trim to one side of the frame to assist in positioning the system in the opening. Options also are available for knee wall conditions, and for channel head and sill components. The manufacturer can integrate swing doors within the framing system, without thresholds as part of their standard package.
Quality assurance and warranties
To ensure consistency in quality, warranty, finish, and product compatibility, consider specifying a single manufacturer as the basis of design as permissible. Providing the designer can meet the project criteria, it could specify a single-source manufacturer for both interior and exterior aluminum framing system applications, again as permissible.
For extended quality assurance, consider including language to specify the manufacturer and the installer have a certain number of years of documented experience. This number may vary depending on the project's complexity.
For example, five to 10 years may be suitable for a Class A office build-out, where at least 20 years of experience may be preferrable for a highly secured government center.
Warranty terms also should reflect the project's intended use and longevity. Two years is typical for standard tenant improvement projects where changes are frequent. Request 10 years (if possible) for low-turnover facilities, such as owner-occupied spaces or government centers.
The warranty language generally states the manufacturer agrees to repair or replace defective aluminum framing components. In addition to this, specify a separate warranty to cover the factory-applied finish on extruded aluminum framing.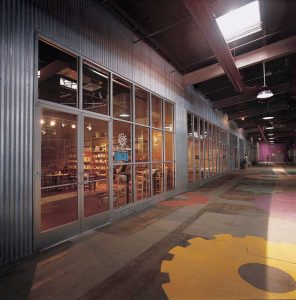 Five years is common for architectural coatings that meet AAMA 611 Class I or AAMA 2604, with an option of up to 10 years. Baked enamel finishes that meet AAMA 2603 only have a one-year warranty as standard. For high-performance coatings meeting AAMA 2605, 10 years with an option of up to 20 years can be expected, and many provide dependable performance for up to 40 years or more. Further supporting sustainable design goals, the aluminum framing members
can be locally recycled at the end of its long life in the building.
Involving potential manufacturers and construction input early in the project's development can assist with product specifications and selection criteria for optimal performance, sustainability, and longevity.

Author
Brian Tobias is a Leadership in Energy and Environmental Design (LEED) accredited professional who serves as the senior manager of product strategy for Tubelite Inc. and its aluminum-framed storefront, curtain wall, entrances, and daylight control systems. Drawing from nearly 35 years of experience in architectural metal products and sustainable commercial building projects, he continues to share his knowledge with architectural, specifications, and glazing industry professionals.
Endnotes:
[Image]: https://www.constructionspecifier.com/wp-content/uploads/2022/12/Tubelite_AR-ACDI_BCOH_LainieDeerman-82.jpg
[Image]: https://www.constructionspecifier.com/wp-content/uploads/2022/12/Tubelite_AR-ACDI_BCOH_LainieDeerman-96.jpg
[Image]: https://www.constructionspecifier.com/wp-content/uploads/2022/12/Tubelite_AR-ACDI_BCOH_LainieDeerman-83.jpg
[Image]: https://www.constructionspecifier.com/wp-content/uploads/2022/12/Tubelite_MI_GRJC_DoubleO-AVB_8931.jpg
[Image]: https://www.constructionspecifier.com/wp-content/uploads/2022/12/Tubelite_MN-BakerBldg_247PaulCrosby.jpg
[Image]: https://www.constructionspecifier.com/wp-content/uploads/2022/12/Tubelite_MI_GRJC_DoubleO-AVB_8605.jpg
[Image]: https://www.constructionspecifier.com/wp-content/uploads/2022/12/Tubelite_MI_GRJC_DoubleO-AVB_8595.jpg
[Image]: https://www.constructionspecifier.com/wp-content/uploads/2022/12/Tubelite_TN-TheFactory.jpg
Source URL: https://www.constructionspecifier.com/all-to-consider-before-using-aluminum-framed-interior-wall-systems/
---