Another architect lost to COVID-19
by sadia_badhon | April 1, 2020 4:44 pm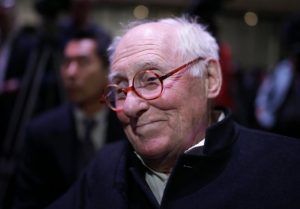 Renowned architect Michael McKinnell, 84, passed away in Rockport, Massachusetts, on March 27 due to complications caused by COVID-19.
According to the The Boston Globe[2], McKinnell had tested positive for COVID-19 and died of pneumonia.
In 1962, the British-born American architect along with his Columbia University professor Gerhard Kallmann, designed the winning proposal for the Boston City Hall. The city hall was McKinnell's first project as an architect.
According to Architect Magazine[3], it is likely McKinnell will be remembered most for the Boston City Hall project and its 3-ha (8-acre) plaza, as it is one of the most controversial projects in the country with a remarkable ability to evoke powerful emotional responses, both positive and negative.
"A hallmark of the Brutalist style, it came into being as part of a massive postwar urban renewal effort that reshaped much of old Boston, and opened in 1968. Since then, City Hall has withstood aggressive efforts to substantially alter or demolish it," as per Architect Magazine. Last year, the building celebrated its 50th anniversary.
McKinnell also co-founded the Boston-based Kallmann McKinnell & Wood[4] architectural design firm.
Endnotes:
[Image]: https://www.constructionspecifier.com/wp-content/uploads/2020/04/EUdanE5WsAQZov5.jpg
The Boston Globe: https://www.bostonglobe.com/
Architect Magazine: https://www.architectmagazine.com/
Kallmann McKinnell & Wood: http://www.kmwarch.com/
Source URL: https://www.constructionspecifier.com/another-architect-lost-to-covid-19/
---