Architectural glass railings used in Kentucky convention center renovations
by sadia_badhon | June 7, 2021 8:39 pm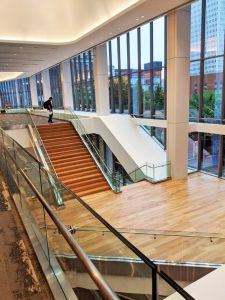 The Kentucky International Convention Center[2] (KICC) completed a two-year, $200+ million renovation and expansion redefining the facility as a world-class public assembly venue in downtown Louisville. Increased exhibit space and meeting rooms, improved pedestrian flow and a clear, identifiable entrance with a glass façade are a few of the major upgrades to the multi-purpose building. Track rail glass products line the grand staircase, large stair landing, ramps, and overlooks, allowing natural light from the updated glass façade to flow through the multiple levels of the facility.
Convention centers tend to be introverted buildings that turn away from their surroundings. However, for KICC, architecture firm HOK[3] collaborated with local partner and architect of record EOP Architects[4] to create an urban extrovert.
"The convention center celebrates its central location, using its activity and presence to contribute to the transformation of downtown Louisville," HOK said in a press release.
The convention center includes more than 18,581 m2 (200,000 sf) of exhibit space, a 3716-m2 (40,000-sf) ballroom, a 175-seat conference theater, and 52 meeting rooms.
The grand staircase inside the convention center features integrated seating bleachers and track tail glass railing with stainless steel handrail. A wooden staircase guiding visitors to the second floor is lined with top mounted track rail glass railing.
Custom fabricated sawtooth cladding conceals the base shoe and stringer along stairs and overlooks. Railing with 21 mm (13/16 in.) clear tempered laminated glass surround the oversized stair landings and allow natural light to come inside.
The second-floor overlook features long runs of track rail glass railing with custom curved base shoe, cladding, and handrail. The smoke baffle system is fastened to the stud wall and features 13 mm (1/2 in.) clear tempered glass with polished exposed edges.
Endnotes:
[Image]: https://www.constructionspecifier.com/wp-content/uploads/2021/06/Opener-4.jpg
Kentucky International Convention Center: https://kyconvention.com/
HOK: https://www.hok.com/
EOP Architects: https://www.eopa.com/
Source URL: https://www.constructionspecifier.com/architectural-glass-railings-used-in-kentucky-convention-center-renovations/
---