At the intersection of fire safety and energy efficiency
by Katie Daniel | June 7, 2017 10:44 am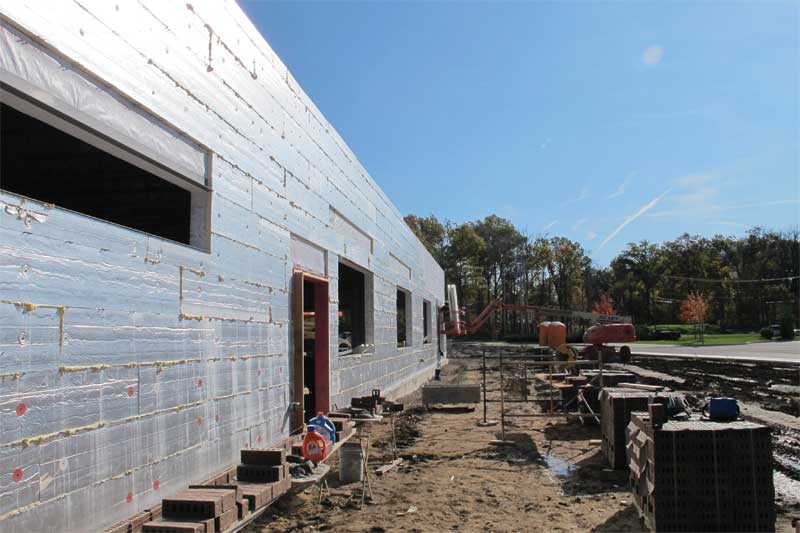 by MacGregor Pierce
In 2015, The United States experienced 113,500 nonresidential structure fires[2] (the latest year for which data on this are available), resulting in 80 civilian deaths and $3.1 billion in property damage. The same year, the country's commercial buildings consumed approximately $144.8 billion[3] in electricity. Building professionals face the multi-faceted challenge of minimizing all these figures for their clients.
An interesting dynamic in U.S. building codes is the dual requirement for the building envelope to both be energy-efficient and help protect life and property against fire. These two needs intersect clearly in wall-assembly requirements. On one hand, American Society of Heating, Refrigerating, and Air-conditioning Engineers (ASHRAE) 90.1, Energy Standard for Buildings Except Low-rise Residential Buildings, and the International Energy Conservation Code (IECC) require continuous insulation (CI); on the other, rigid-foam insulations commonly used to provide CI must also meet fire-safety requirements. Specifically, National Fire Protection Association (NFPA) 285, Standard Fire Test Method for Evaluation of Fire Propagation Characteristics of Exterior Non-loadbearing Wall Assemblies Containing Combustible Components, requires rigorous testing of foam-plastic insulation within wall assemblies.
This article focuses on rigid-foam CI options that can simplify meeting NFPA 285 requirements.
NFPA 285 overview
At its core, NFPA 285 is intended to evaluate the performance of combustible materials in wall assemblies required to be noncombustible.
Scope
With limited exceptions, International Building Code (IBC) Section 2603.5.5, "Vertical and lateral fire propagation," requires wall assemblies in Type I, II, III, and IV construction using foam-plastic insulation to pass NFPA 285 testing requirements. Despite the use of 'non-loadbearing' in its title, NFPA 285 applies to both non-loadbearing and loadbearing walls.
The NFPA 285 official document scope[4] states:
This test provides a method of determining the flammability characteristics of exterior, non-load-bearing wall assemblies/panels. The test method described is intended to evaluate the inclusion of combustible components within wall assembled/panels of buildings that are required to be of non-combustible construction. It is intended to simulate the tested wall assemblies' fire performance.
It is important to remember NFPA 285 is an assembly test, not a product-specific test. Although a given component passes the test in one assembly, this does not mean it will be compliant in another. As a result, when designing NFPA 285-compliant wall assemblies, certain combustible components cannot be mixed and matched without engineering evaluation conducted within limits imposed by 
the IBC.
The test of the assembly is comprehensive and includes everything from the interior drywall to the exterior cladding, along with the structural elements, insulation, and water and air barriers.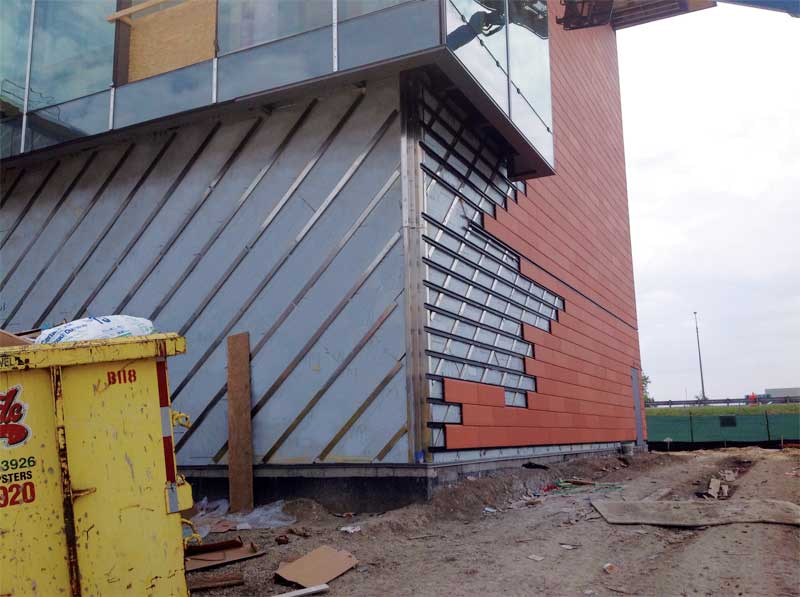 Test procedure
The NFPA 285 test evaluates flame spread—vertically and horizontally—across the wall assembly, along with ensuring temperatures are not exceeded within specific areas.
The test involves construction of a two-story room, with the proposed wall assembly as the exterior wall. The lower room includes a window opening (non-glazed). To simulate a building fire, 
a gas burner is placed in the center of the lower room, and a second, portable gas burner is placed in the window opening. The two burners are ignited at specified intervals during the 30-minute test and must heat the first floor to defined temperatures by specified times.
Test results
The test results are expressed as either 'pass' or 'fail.' Either an insulation (or other product) is deemed to be NFPA 285-compliant in a given wall assembly, or it is not. NFPA 285 does not rate using degrees of performance, as is the case with some fire tests (such as those for fire-rated glazing that result in 30-, 60-, or 90-minute ratings).
To pass NFPA 285, at no time during the test can flames spread beyond defined horizontal and vertical limits outside the building—3 m (10 ft) above the top of the window opening and 1.5 m (5 ft) horizontally from the window centerline. Additionally, no flame propagation is allowed into the second-floor room, 
and the temperature at five thermocouples placed 3 m 
(10 ft) above the window cannot rise to greater than 538 C (1000 F).
Engineering analysis option
As NFPA 285 is an assembly test, building product manufacturers generally must test their materials within many different wall assemblies. To avoid the impracticality of testing every possible combination of materials in an assembly, engineering analysis may be permitted in accordance with IBC Section 104.11, "Alternative materials, design, and methods of construction and equipment." Additionally, some code reports—such as those issued by International Code Council Evaluation Service (ICC-ES), applicable across all jurisdictions—specifically allow engineering analysis by independent laboratories to extend the NFPA 285 test results. Such analysis might include cone calorimeter flammability testing to determine if a proposed alternative material performs the same or better than a given NFPA 285-compliant product. (For additional discussion, see "NFPA 285: Engineering Extension of Tested Assemblies" at www.appliedbuildingtech.com/content/nfpa-285-engineering-extension-tested-assemblies[6].)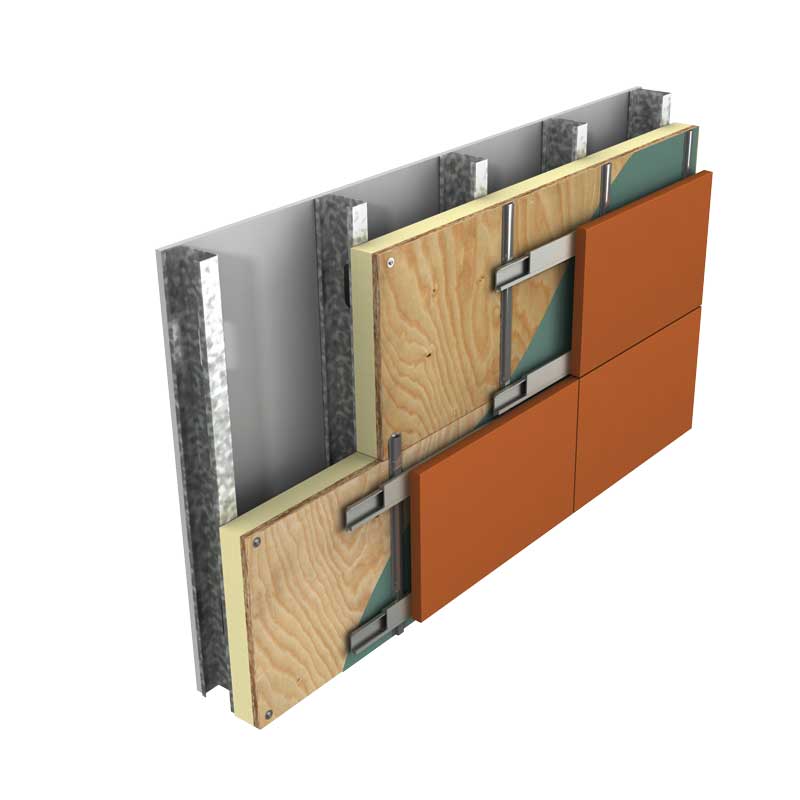 Using rigid-foam insulation 
in NFPA 285-compliant assemblies
As rigid-foam insulations are combustible, they 
must pass as components within NFPA 285-tested assemblies to be used as CI. The rigid foams commonly used in wall assemblies are:
polyisocyanurate (polyiso);
expanded polystyrene (EPS); and
extruded polystyrene (XPS).
Each of these insulation types has been used in NFPA 285-compliant wall assemblies, although some are better-suited for certain types of assemblies than others. It is also important to remember even if 
a specific manufacturer's polyiso, EPS, or XPS 
product has passed the test, it does not mean other manufacturers' products of the same type have 
also passed.
Flame spread
Rigid foams behave differently from one another during a fire, as shown in testing under ASTM 
E84, Standard Test Method for Surface Burning Characteristics of Building Materials. As the evaluated samples are mounted in the ceiling position, this test is not indicative of performance in wall assemblies, but as acknowledged in Section 1.2, "The purpose of this test method is to determine the relative burning behavior of the material by observing the flame spread along the specimen."
Polyiso insulations are available in both Class A (flame spread <25) and Class B (flame spread <75), while most EPS and XPS products are Class A. EPS and XPS have ASTM E84 values <25 because they melt and no longer remain in the test position. (See "Fire Resistance Properties of Polyiso Foam Plastic Insulation Used in Wall Assemblies" at bit.ly/2oRzf4W[8].) This is acknowledged in ASTM E84 Section 1.4:
Testing of materials that melt, drip, or delaminate to such a degree that the continuity of the flame front is destroyed, results in low flame spread indices that do not relate directly to indices obtained by testing materials that remain in place.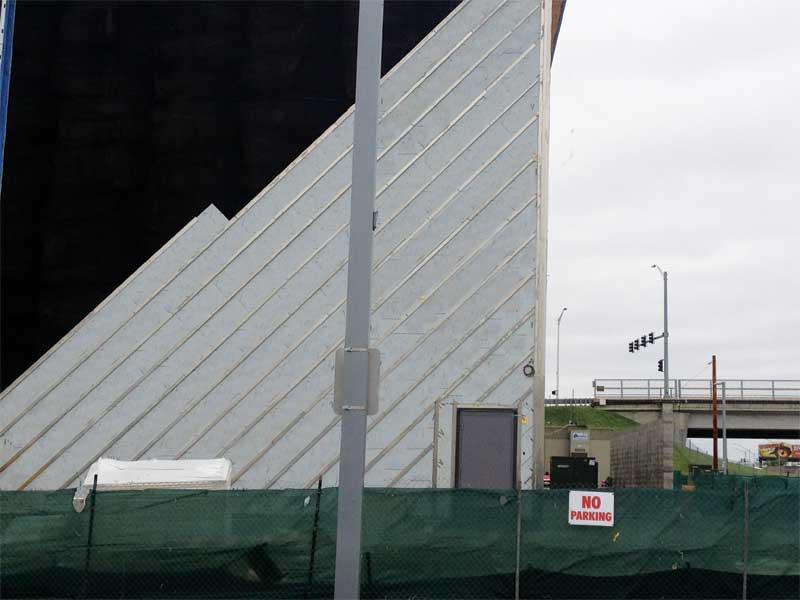 Insulation for various wall assemblies
Although no single insulation type or brand is ideal for all wall applications, the following factors must be considered when specifying polyiso, EPS, and XPS in NFPA 285-compliant assemblies.
Polyiso
Insulation manufacturers have developed many different polyiso product options (e.g. multiple facers and composite panels) that have passed NFPA 285 testing within steel-frame, concrete masonry unit (CMU), and concrete wall assemblies, with a wide range of cladding types and weather barriers. Polyiso offers the highest R-value per inch of the rigid foams, so it can help create thinner-profile, NFPA 285-compliant wall assemblies than XPS. One product option is polyiso laminated to fire-treated plywood, which helps simplify exterior cladding installation by providing the full panel surface as an attachment point instead of using Z-girts, clips, or rail systems.
EPS and XPS
As with polyiso, the polystyrene-based insulations are available in a range of product compositions. Both EPS and XPS products are available for NFPA 285-compliant assemblies using steel studs, CMU, and concrete. However, there can be limitations on cladding, and special fire-protection detailing might be required. For example, window and door header details are crucial to NFPA 285 compliance, and some materials, such as XPS, may require complex fire-protective details like a steel angle and mineral wool to protect the insulation from flash-over from a fire.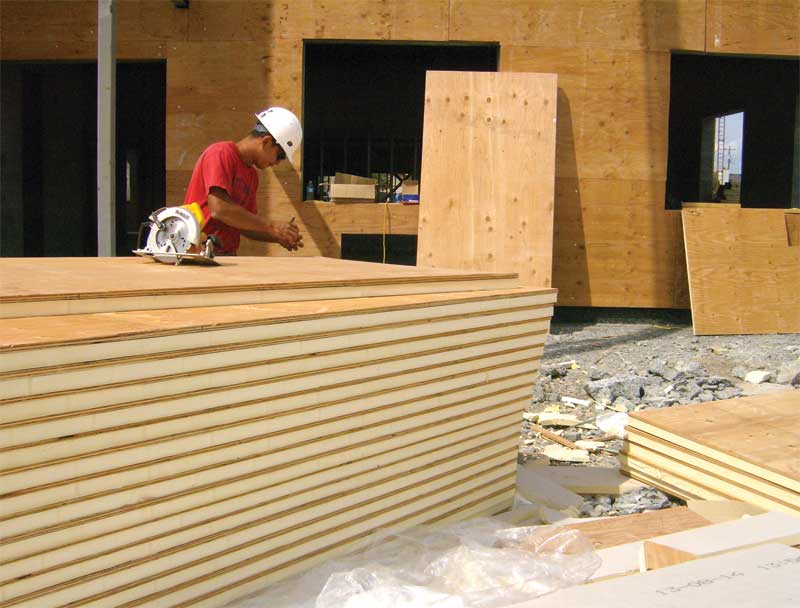 Other continuous insulation options
Beyond the rigid foams, other CI options include:
sprayed polyurethane foam (SPF);
mineral wool;
exterior insulation and finish systems (EIFS);
insulated claddings; and
pre-insulated concrete.
As SPF is combustible, like the rigid foams, it is required to pass NFPA 285 within full-assembly testing. Although mineral wool is not combustible, specifying it as CI does not eliminate the need for NFPA 285 compliance, as many other building envelope products commonly combined with mineral wool can trigger NFPA 285. These include water- and weather-resistive barriers (WRBs), which are crucial to the wall's hygrothermic performance.
Among EIFS, insulated claddings, and pre-insulated concrete products, NFPA 285-compliant wall assemblies are generally limited to specific manufacturers. As most of these are proprietary products, their discussion is beyond the scope of this article, and details should be confirmed with the manufacturer.
Conclusion
The NFPA 285 test is vital for building occupant and fire safety, and is increasingly being applied as CI requirements are adopted into state and local building codes. Without proper documentation of NFPA 285 compliance, jobs might be red-tagged by the building inspector until such documentation is provided, and one or more materials may need to be removed or changed. At the extreme, the building team could be required to undertake a costly and disruptive building envelope redesign. As there is currently no centralized directory of NFPA 285-compliant products, it is important to confirm testing with the insulation manufacturer.
MacGregor Pierce is a product and technical manager for Hunter Panels, a manufacturer of polyisocyanurate (polyiso) insulation products. He has more than 30 years of experience in the construction industry, including work as a general contractor for commercial buildings and directing logistics and product development for Hunter Panels. Pierce is also active with insulation codes and compliances; he is vice chair of the Foam Sheathing Committee and a past chair of Polyiso Insulation Manufacturers Association (PIMA). He can be reached at macgregor.pierce@hpanels.com[11].
Endnotes:
[Image]: https://www.constructionspecifier.com/wp-content/uploads/2017/06/Hunter-Panels-IMG_0425.jpg
113,500 nonresidential structure fires: http://www.nfpa.org/news-and-research/fire-statistics-and-reports/fire-statistics/fires-in-the-us/overall-fire-problem/non-residential-structure-fires
$144.8 billion: http://www.eia.gov/electricity/annual/html/epa_01_02.html
NFPA 285 official document scope: http://www.nfpa.org/codes-and-standards/all-codes-and-standards/list-of-codes-and-standards?mode=code&code=285
[Image]: https://www.constructionspecifier.com/wp-content/uploads/2017/06/Hunter-Panels-pic6.jpg
www.appliedbuildingtech.com/content/nfpa-285-engineering-extension-tested-assemblies: http://www.appliedbuildingtech.com/content/nfpa-285-engineering-extension-tested-assemblies
[Image]: https://www.constructionspecifier.com/wp-content/uploads/2017/06/Hunter-Panels-Xci-Ply-SS-TC-8x8-rgb-nogyp.jpg
bit.ly/2oRzf4W: http://bit.ly/2oRzf4W
[Image]: https://www.constructionspecifier.com/wp-content/uploads/2017/06/Hunter-Panels-ca2.jpg
[Image]: https://www.constructionspecifier.com/wp-content/uploads/2017/06/Hunter-Panels-Xci-Ply.jpg
macgregor.pierce@hpanels.com: mailto:macgregor.pierce@hpanels.com
Source URL: https://www.constructionspecifier.com/at-the-intersection-of-fire-safety-and-energy-efficiency/
---