Atlanta airport to get $124.5-M expansion
by sadia_badhon | January 8, 2021 4:16 pm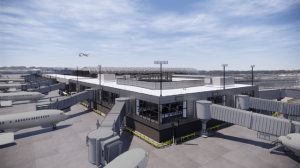 The joint venture led by construction and development firm Skanska[2], along with New South Construction[3], FS360[4], and Synergy Construction[5], will construct five additional gates at the north end of Concourse T at Hartsfield-Jackson Atlanta International Airport (Hartsfield-Jackson) in Atlanta, Georgia.
In addition to building the gates, the joint venture will also rebuild a major portion of the North Terminal exit road, construct a Delta Airlines ground support equipment facility, and a fire station, as well as oversee relocations to the utilities' infrastructure.
The project at the world's busiest passenger airport is part of a broader expansion and renovation plan, ATLNext, which will increase capacity, renew and replace existing facilities, and enhance the airport's aesthetic appeal.
"We are proud to support the effort to help secure Hartsfield-Jackson's position as the busiest and most efficient airport in the world," said Scott Cannon, executive vice-president of Skanska's building operations in Georgia and South Carolina. "The Concourse T-North Extension and renovation effort will enhance the level of customer service, while meeting passengers' changing needs."
Enabling work has been underway, which included demolishing and relocating existing facilities and infrastructure to make way for the expansion. Construction of the new concourse will begin January 2021 and expected to be completed in December 2022.
Endnotes:
[Image]: https://www.constructionspecifier.com/wp-content/uploads/2021/01/Opener-10.jpg
Skanska: https://www.skanska.com/
New South Construction: https://newsouthconstruction.com/
FS360: https://fs360.com/
Synergy Construction: https://www.synergyconstruction.com/
Source URL: https://www.constructionspecifier.com/atlanta-airport-to-get-124-5-m-expansion/
---