Bespoke doors push the limits of hurricane design
by Samantha Ashenhurst | August 7, 2018 5:38 pm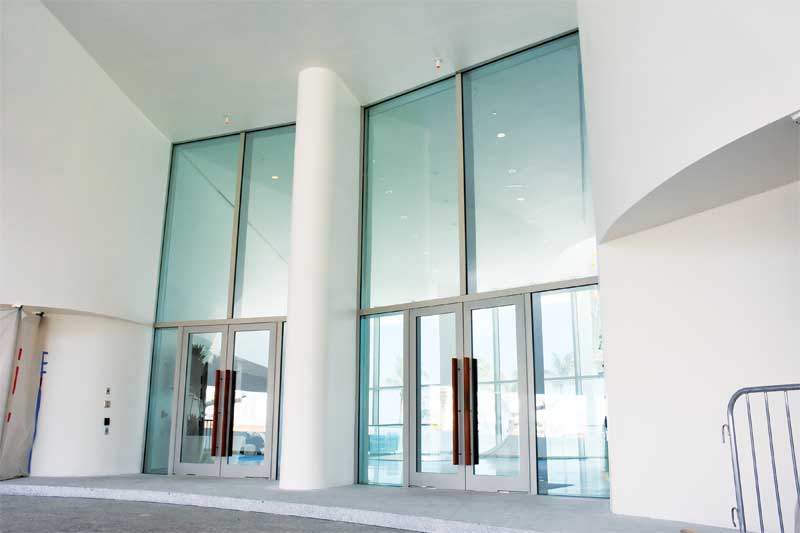 by Steve Sanko
Jade Signature, a luxury condominium in South Florida, is a parallelogram-shaped tower on the beach. Each unit in the 57-story building is designed to offer spectacular views and provide protection from sun, heat and, at times, hurricanes.
Conceived by developers Fortune International Group, the interiors of Jade Signature were designed by French firm PYR, led by Pierre-Yves Rochon. The landscaping is by Miami landscape architect Raymond Jungles. The condominium also has a three-level underground parking garage extending approximately 12 m (40 ft) below ground level in an area sitting only 0.9 m (3 ft) above sea level. The underground parking is a rarity in South Florida.
Every design detail for the Jade Signature mattered, right down to how the doors on the common amenity levels would be installed. The exterior aluminum and glass doors envisioned by Pritzker Prize-winning architects Herzog & de Meuron represent the first integration in the South Florida construction market, of a collection of novel features including:
elimination of the standard door threshold;
elimination of the customary storefront door sub-jambs at the lobby entrances;
seamless "one-piece" face cladding with a high-performance paint system;
intelligent in-ground automatic operators with wind-dampening modules; and
a panic device "guard" for in-swing doors.
Construction for Jade Signature commenced in 2013 and ended in 2017. The designers, general contractor (GC), and project team respected the effort required to gain the necessary, and sometimes elusive, Florida Product Approval while meeting the aggressive project schedule. A full-service subcontractor with experience in glazing, doors, hardware, and access control was retained to develop the initial design intent into a final integrated design via iterative project submittals, while simultaneously conducting hurricane impact testing at a local lab. All tests required for the Florida Building Code (FBC) High Velocity Hurricane Zone (HVHZ) were conducted.  These include: ASTM E283, Standard Test Method for Determining Rate of Air Leakage Through Exterior Windows, Curtain Walls, and Doors Under Specified Pressure Differences Across the Specimen; ASTM E330 and Testing Application Standard (TAS) 202, Standard Test Method for Structural Performance of Exterior Windows, Doors, Skylights and Curtain Walls by Uniform Static Air Pressure Difference; American Architectural Manufacturers Association (AAMA) 1304, Voluntary Specification for Forced Entry Resistance of Side-Hinged Door Systems; and FBC 1626.2, Large Missile Impact Tests (TAS 201, Impact Test Procedures, and TAS 203, Criteria for Testing Products Subject to Cyclic Wind Pressure Loading); and ASTM E1886/E1996, Standard Test Method for Performance of Exterior Windows, Curtain Walls, Doors, and Impact Protective Systems Impacted by Missile(s) and Exposed to Cyclic Pressure Differentials.
The test approvals yielded maximum frame widths of 1181 mm (46-1⁄2 in.) for single doors and 2012 mm (80 in.) for pairs, with a maximum door opening height of 2946 mm (116 in.) at pressures of +/- 454 kg/m2 (93 psf). All testing incorporated the custom-engineered, in-ground automatic door operators from a German manufacturer intended to be employed at the beachside amenity level doors. The medium stile aluminum and glass storefront doors were tested with the specified 33-mm (1 5⁄16-in.) insulated, impact glass with a low-emissivity (low-e) coating used to reflect solar energy and associated heat gain.
Threshold-free
To preserve the desired aesthetic of the building's terrazzo floor pattern, the project team insisted that all of the amenity level doors be threshold-free. Besides ensuring consistency of the surrounding fluid floor patterns, the lack of a threshold also eliminates a tripping hazard and allows travel bags to roll through smoothly.
This presented a challenge when considering South Florida's stringent FBC HVHZ requirements. Typically, aluminum thresholds anchored to the concrete floor are used as the standard platform for door bottom hurricane lock engagement for aluminum/glass doors in South Florida. In this case, the anchors for a welded, marine-grade stainless steel floor strike/receiver are concealed beneath the removable terrazzo cover. The floor strike/receiver is attached directly to the concrete substrate. The two-piece cover permits removal around the fixed strike/receiver for in-ground automatic operator maintenance. The strike receives the door-concealed vertical rods used in locking.
Door jambs eliminated
The project architect required direct attachment of the main entrance door leafs to the building's curtain wall, thereby eliminating the customary door sub-jambs for a much narrower visual profile. To turn this visual aesthetic into a reality, the team detailed a direct attachment of the door pair leafs to the curtain wall vertical mullions via continuous hinge. Reinforcing at the curtain wall mullion attachment point was coordinated and required precise erection tolerances to ensure proper operation of the oversized entrance doors.
Seamless cladding aesthetic
The final details for these doors included a "picture frame" cladding assembly over the glass stops to conceal all structural silicone after the insulated impact glass was pre-glazed at the local Miami-based manufacturer. If the glass is ever damaged and needs to be replaced, the cladding must be removed (i.e. destroyed) and the door completely re-clad. Both the owner and architect accepted this trade-off in exchange for a unique detail. The doors have two full width and height pieces of 1.3-mm (0.05-in.) aluminum cladding with seams only on the front nose and rear hinge stiles; no vertical or horizontal seams are visible on the door faces. The cladding was cut, pre-punched for the scheduled door hardware prep locations, and bent prior to sending off to be painted with multiple coats of a high-performance paint system.
Several attempts were required to match the exact color of the curtain wall paint system being provided by another subcontractor. This paint system contains mica flakes, which impart slightly varying color tones when viewed at different angles and lighting conditions.
A 914 x 914-mm (36 x 36-in.) door section mockup for both paint color and cladding tolerance was provided for review and approval in the first shop drawing submission round. Subsequent to initial approval, a full-scale, in-place mockup was done at one of the final door locations. This full-scale mockup was provided with full hardware integration illustrating the owner's desired access control sequence (at that location) prior to the scheduled hurricane impact testing at the lab.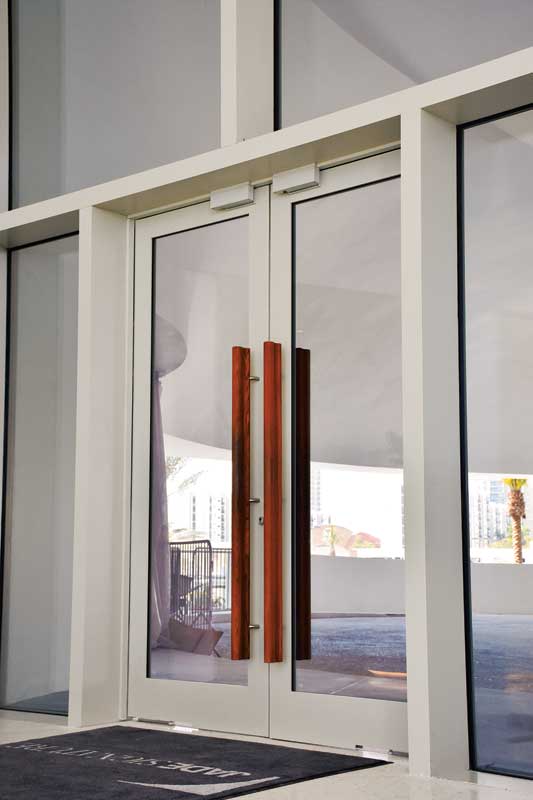 Automated wind-dampening system
Being situated on the beach in Miami Dade County's hurricane zone makes preparedness a priority. High winds right off the beach can make it very hard to open or close a door. The subcontractor integrator developed a novel way to address the variability of the wind. The team created a new procedure by installing a beachside wind anemometer, which provides direct input to the behavior of the doors.
The anemometer monitors wind speeds and sends data used to determine when those speeds may create unsafe conditions. For example, high winds can "grab" a door like a sail and in extreme cases, rip it off its hinges. The anemometer provides data to a programmable logic controller (PLC). Similar to a fire alarm signal, the PLC sends an input signal to a wind-dampening module mounted directly on each in-ground auto door operator. These custom wind-dampening modules automatically control the door resistance when activated.
The wind dampener is activated when it receives a signal from the wind anemometer in this mode, or if power is cut to the auto operators. Like a vehicle's transmission, the dampener lessens the effect of the wind by "shifting" the door into "low gear," creating a safer condition. The door cannot be pushed open or closed quickly by the wind or be ripped off its hinges by high winds.
In-swing door with "panic guard"
The first-level amenity doors serve the beach and beach bar areas of Jade Signature. These doors are heavy due to their large dimensions (up to 2.95 m [9 ft, 8 in.] tall and 1181 mm [46 in.] wide) and the use of high-performance, 33-mm insulated glass units (IGUs).
These doors have a unique storefront Florida hurricane impact approval as an in-swing configuration with an exterior door-mounted panic exit device. This allows "ingress" on the upper level. The panic device cannot be activated by wind-borne debris impact during a hurricane event when using a "panic guard." The panic guard is a welded steel assembly specially designed to absorb impact by acting as a removable cage, and is installed prior to a hurricane event.
Conclusion
A unique building design inspired imaginative solutions for over-sized storefront doors with no thresholds, sub-jambs, or seams while meeting FBC requirements for safety and security. This was accomplished through integration of intelligent auto-operators and electrified hardware sequences of operation. The result was an extraordinary confluence of aluminum door, glass, hardware, and automation technologies.
Steven V. Sanko, PE, is the CEO of Dash Door, a Miami-based commercial contractor for "Division 08" products and services. Sanko practiced structural building and anti-terrorism/force protection (ATFP) design prior to the joining the South Florida fenestration community in 2008. He received a bachelor's degree in civil engineering (structural) from Penn State University. Sanko is a member of International Facility Management Association (IFMA), Building Owners and Managers Association (BOMA), National Fire Protection Association (NFPA), and the Construction Association of South Florida (CASF). He can be reached at ssanko@dashdoor.com[8].
Endnotes:
[Image]: https://www.constructionspecifier.com/wp-content/uploads/2018/08/DSC_6021.jpg
[Image]: https://www.constructionspecifier.com/wp-content/uploads/2018/08/C0A4468.jpg
[Image]: https://www.constructionspecifier.com/wp-content/uploads/2018/08/DSC_5944-2.jpg
[Image]: https://www.constructionspecifier.com/wp-content/uploads/2018/08/condo_panic-guard.jpg
[Image]: https://www.constructionspecifier.com/wp-content/uploads/2018/08/condo_terrazzo-overlay.jpg
[Image]: https://www.constructionspecifier.com/wp-content/uploads/2018/08/crop_condo_DSC_6008.jpg
[Image]: https://www.constructionspecifier.com/wp-content/uploads/2018/08/condo_DSC_6005-2.jpg
ssanko@dashdoor.com: mailto:ssanko@dashdoor.com
Source URL: https://www.constructionspecifier.com/bespoke-doors-push-the-limits-of-hurricane-design/
---