Better designs for quality senior living
by sadia_badhon | February 27, 2020 10:30 am
by Rockland Berg, AIA, NCARB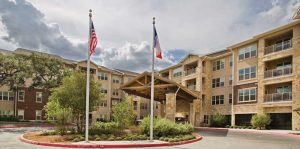 Perhaps no other commercial design market is evolving faster than senior living. What started as a targeted push in the 1990s toward scaling down and decentralizing developments for the elderly—creating models less institutional in aesthetics for aging residents with challenges in health, cognition, mobility, and sensory abilities—has, in recent years, exploded into a full-on typology reboot.
The senior living design renaissance goes far beyond rethinking the residential unit itself. It is important for developments as a whole to nurture community building and echo and connect to existing urban fabrics. While traditionally, amenities such as spas, restaurants, gyms, walking trails, and theaters were left out of senior developments, access to them is now a benchmark for success.
A national gathering of experts at the 2018 Environments for Aging conference in Salt Lake City, Utah, revealed another driver of this trend toward more amenities in the senior and residential care typologies—more owner-operators are trying to attract multiple generations to their communities. While the greatest generation (i.e. those born from 1910 to 1924) still requires options, owners are gearing up to meet the needs of baby boomers.
With this in mind, what are the best ways, in architectural terms, to foster generational coexistence? One trend is the growing implementation of universal design principles in building independent living residences, thereby creating spaces that are homely, while flexible enough to allow occupants to age in one place.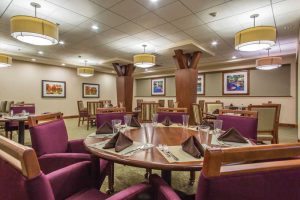 Savvy owner-operators are taking it a step further by integrating hospitality concepts and typologies—as in hotels, resorts, restaurants, and lounges—into the architectural partí or starting point for senior residential care design. Adapting proven hospitality models to senior consumer preferences and carefully tweaking them to incorporate effective housing and healthcare elements has emerged as a successful strategy for many new senior developments. Concepts drafted from hospitality include resident-facing architecture that creates a 'choreography of discovery,' as well as discreet but effective back-of house efficiencies, the multipurposing of entertainment and food venues, and an emphasis throughout the property on promoting a sense of well-being.
These novel approaches require a close look at both the codes and standards for senior care as well as key trends in caregiving. The findings have led to opportunities in renovating existing facilities to meet today's expectations and benchmarks.
Privacy and personalization
Residential care settings have emerged as an essential and common life choice for older adults and people with health challenges and disabilities. Delivering long-term care and life support in a community of neighbors, caregivers, and friends, senior living facilities offer an alternative to in-home services. For those who do not need the intensive level of care (and high costs) offered by nursing homes, but are uncomfortable residing on their own (or with relatives), these community-based living alternatives—typically identified as independent living, assisted living, and memory care—are popular and successful. There are close to 25,000 residential care settings with almost one million dwellers, according to the U.S. Department of Health and Human Services.
Beginning in the early 1990s, the increasing popularity of assisted living stemmed in large part from their mission to allow residents a high degree of privacy. Seniors would seek private rooms and bathrooms, small apartments, and even single-occupancy units with tiny kitchens. Over time, many states adopted new rules requiring private rooms and apartments, though this is not a universal standard.
The minimum requirements for assisted-living facilities (ALFs) in Oregon, for example, call for "individual apartments with a lockable door, private bathroom, and kitchenette facilities conforming to relevant state and federal building codes as well as the Americans with Disabilities Act and Fair Housing Act."
Shared units in that state, as in many others, are a function of resident choice. For bathrooms, the baseline elements include a toilet, sink, and a roll-in, curb-less shower. Kitchen areas should be equipped with a sink, refrigerator, a removable cooking appliance, counter space, and storage. That is the starting point.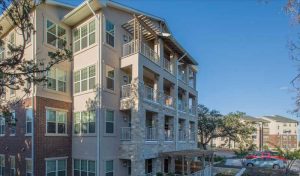 With this in mind, many senior care developments are increasing their offerings of private and personalized living units—as part of their campaigns to make timely, cost-effective improvements based on scale and market conditions. Single-occupancy rooms and private apartments for assisted-living residents earn a premium rental rate while costing less to build in terms of per-unit cost, making them the most profitable and leading developers to refer to them as 'high-revenue product.' These revenue additions help the financing of desired amenities and infrastructure, which, in turn, boost resident and employee satisfaction, happiness, and pride. The upgrades satisfy needs to serve the growing demand for today's aspirational senior lifestyles and future generation appetites. In this way, they improve market competitiveness for existing senior care communities, while leveraging costs across
a larger business platform.
Planning to renovate
Leading developers and operators in senior care start the renovation process by building a proactive, optimistic consensus with resident community leadership with an eye toward adding 'high-revenue products' to support the long-term sustainable value of the area. Before drawing up the architectural concept and project requirements, the owner group establishes a business plan supported by expert partners in the process, including marketing, operations, finance, development, design, and construction. This multidisciplinary leadership team works the plan through consultant expertise with go/no-go steps engaging resident and staff input and communication at key milestones.
Woodlands at Furman, a single-site community in Greenville, South Carolina, is currently going through an expansion with high-end hospitality flair. Conceived to introduce a new 1208-m2 (13,000-sf) 'community village' space with a fitness center, salon, swimming pool, and multipurpose room, the project scope also includes 40 new independent living apartments, as well as renovations to dining and bar amenities and employee breakroom venues. Gary Koerner, AIA, met with groups of residents and staff during planning to discuss their concerns about the proposed changes, and to ensure the project team meets their needs and circumvents major disruptions for those living and working onsite during construction.

"The tricky part is the sweeping renovation of the dining area," says Mary Lou Merkt, CEO of Woodlands at Furman. "To meet demand the project has to double our dining capacity."

The project's architectural team is coordinating with interior designers and dining consultants to reconfigure the existing floor plan, while expanding the dining area footprint, modernizing the kitchens, and introducing an 'action station' with a brick oven, Mongolian grill, and other to-order services. Meanwhile, the exterior of the new community village and the new residence wings will harmonize with the existing architecture, and all interventions will emphasize maximizing penetration of daylight and views of the natural surroundings.

The design team visits the site monthly for ongoing staff and resident meetings. The intent of continued engagement is to maintain a dialogue connecting the construction to anticipated improvements, making those who will be inconvenienced feel invested in the project's success.
A number of the resulting building strategies focus on differentiating senior facility operators in their increasingly competitive markets. Elegant, amenity-rich environments for many residential care communities are designed with a material palette reflecting the importance of connections to art and the outdoors and nature, or biophilia, for engendering a relaxing, healthful atmosphere. For this reason, architects are integrating their designs with nature, utilizing natural materials such as exposed wood and stone finishes in many renovation and addition works. These enhanced community experiences also inspire more visits from family members and friends, who leave the premises, reassured their loved ones are enjoying a high-quality living experience.
One common expansion strategy involves adding an additional wing of independent-living apartments, and perhaps cottage duplexes or 'big houses,' to meet market demand. Often the added units are larger than their predecessors, with great-room floor plans, island kitchens, spa baths, media/exercise dens, and walk-in closets. The added units typically feature universal and sustainable design principles in their layouts and specifications. Since land is often scarce in these master-planned communities, below-grade garages offering premium parking and storage can be an attractive, but expensive, amenity.
Another dimension of renovating and expanding a senior care community is the opportunity to overlay new ideas in how environments support aging bodies and brains. Today's medical understanding of dementia and memory impairment, for example, has led to new support models for care delivery, which address both the causes and effects of these health changes. Insights into the stresses exacerbating dementia, for example, can optimize spatial and material designs for care delivery and memory-support wings or pavilions.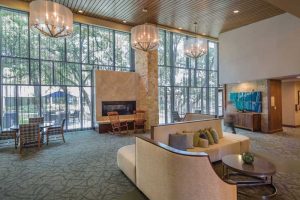 These findings optimize architectural and interior design choices, not just care provision. Programming of the memory-care renovations, for example, often follows a pod-based design grouping of 10 to 16 residents in secure, partitioned zones with ample views of nature and the outdoors. Rather than connected by corridors, all shared spaces are open to each other to result in simple circulation pathways ideal for dementia patients.
Access and egress
How residents enter and exit communities and how they experience the indoors and outdoors are central to an enriching, enjoyable living experience. Looking again at minimum requirements, entries today have detailed flooring transitions and materials allowing for ease of movement on foot, with a walker, and by wheelchair. Automatic doors with motion sensors and easily operable, lever-style hardware, where needed, are baseline specifications for public and common areas. Each residential unit should also provide universal access and function.
In most states, the use of the International Building Code (IBC) mandates that for residences up to a certain height, "All units must have an escape window that opens directly onto a public street or alley, yard, or exit court." Security and life safety are foremost in planning for additions and expansions.
Security is essential to successful communities and often run counter to the desired lifestyle experience or hospitality-inspired amenities. Unobtrusive perimeter detection, access control systems, and closed-circuit monitoring are among the typical approaches to protect residents and caregivers, while conferring a sense of freedom and openness. Along those lines, comfortable access to proximate amenities and shared community spaces is appreciated by residents, who benefit from minimized grade changes and adjacencies that reduce walking.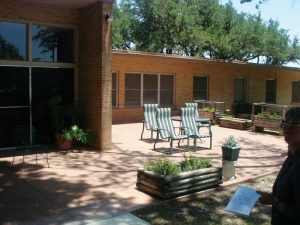 For specialized memory-care settings, many owner-operators prefer designs maximizing the availability of windows and outdoor views. With this in mind, those wings or pods are planned without double-loaded corridors, allowing more windows and presenting residents with enhanced visual connections to the outdoors, trees, and gardens. On the other hand, studies show when dementia patients see views of exit paths or destinations they may try to leave
the premises—called elopement in the caregiver's parlance—so it helps to obscure exit doors, gates, and parking lots. Additionally, lighting systems and solar shading materials can be employed for the clinical purpose of reducing instances of sundown syndrome, or sundowning, which the Mayo Clinic (an academic medical center in Rochester, Minnesota) describes as a "state of confusion occurring in the late afternoon and spanning into the night [including] anxiety, aggression, or ignoring directions." Low lighting levels and increased shadows contribute to the effects.
Diverse offerings
Another element of renovating existing senior communities highlights the need to achieve balance throughout the campuses or complexes. For example, constructing additions and improvements that add real contemporary value to the community may also necessitate a campaign of strategic improvements and upgrades to bring the rest of the community up to date. Additionally, some owner-operators add high-revenue product where possible to not only increase income, but also to support the needed improvements and additions.
Related to that idea, when adding new residences to a community, it is appropriate to consider a strategy to upgrade the existing units to create consistency of brand and avoid an 'us versus them' environment. This needs to be a thoughtfully conceived plan that can occur even before the primary project begins construction, signaling goodwill and conviction to the future posture of the community.
Many of the senior living and care communities operating today were conceived in the 1950s, 1960s, and 1970s. Several of them have undergone modernizations—typically the periodic refreshing of product and retrofits of building systems—that are likely to be structurally and operationally outdated. Many are inefficient and inappropriate for today's residents and their families.
Even communities built during the 2006 recession, now over 10 years old, suffered from the insecurities of the season, with many unable to realize their full vision during the fragile market conditions. Many of those owner-operators are now reassessing today's market opportunities, drafting plans to bolster revenue strength and resident vitality, while addressing the larger amenity and healthcare needs of their communities. This regrouping also offers a chance to rebrand and re-message to the coming wave of baby boomers, who are considering simplifying and refocusing their lifestyle aspirations.
This requires resisting the convenience of following a formula, but instead to consider a true hospitality model to retain and attract lifestyle-seeking residents. While the focus of this dialogue is through the eyes of an experienced architect, the big moves before any design discussions should consider the neighborhood's appetite for change and growth, the surrounding communities and their demand for additional supply, and the pragmatic diagramming for sound business success and risk mitigation.
PRESBYTERIAN VILLAGE NORTH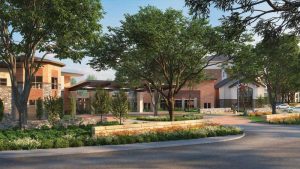 This 40-year-old, 20-ha (50-acre), park-like senior community in North Dallas, Texas, has received several updates and expansions by multiple architects since it opened, resulting in an incongruent mix of architectural styles. For the current planned expansion and reimagining, the project team is working on a design concept that will reunify the property's many structures aesthetically, while reconfiguring and updating the core common areas and amenities, and adding a new independent living building that will replace a number of outdated residential units.
To unify the campus architecturally, the design concept will demolish smaller residences now considered obsolete and replace them with a major state-of-the-art residential addition connected to a newly renovated 2787-m2 (30,000-sf) commons building at the core of the community. The reconfiguration of the drive approach and building entrance is elementary to the master plan of improvements. Ironically, implementing this brand vision will require partial demolition of an entrance tower feature originally designed 20 years ago, as part of a previous expansion. The improvements will unify the overall aesthetic and improve wayfinding significantly, so the loss of the tower feature was considered objectively and without sentimentality by the architects.
"The goal is a well-thought-out experience and environment to support the residents' lifestyle," says CEO Tim Mallad, "with an aesthetic that provides a subtle 'wow' factor, a place that is livable and also feels good to live in."
To support this goal, the architects focused on interventions that will deliver the desired experience within the requirements for high-performance operational efficiencies. The design will draw residents and visitors through sequences that unfold ever-widening vistas, making the most of the natural beauty of the trees and water course on campus—features retirees who are considering the greater Dallas Metroplex are drawn to.
"We worked closely with the architects on the 'character profile' we wanted for our residents. The planning and design process were fully engaged and we, the client, were encouraged to be creative," adds Mallad.
With the addition of revenue-generating units to the overall community income stream, consideration can be given to underwriting the renovation of worn-out common spaces or older and more institutional healthcare environments. This opportunity responds directly to the demand ("what are you going to do for me?") of existing residents, while they endure the turbulence of a construction project in their midst. Ultimately, the improved amenities and up-scaled healthcare solutions are a welcome enhancement to the residence of choice.
Opportunities to contemporize finishes and modernize appliances and fixtures, while attending to the installation of universal design elements at showers, sinks, and doorways are all low-hanging fruits, but require strategic planning and logistical forethought to gain resident satisfaction. Infrastructure improvements attending to low water pressure, insufficient Wi-Fi capacity, or poor air quality can be considered during this season of rebirth.
Lighting, for example, is vital to crafting the right mood. In living units, floor plans are more open, often with taller ceilings, extra daylight, and generous windows connecting residents to the outdoors. Color, texture, and acoustics enhance the senior's world of diminishing capacities, weaving positive and stimulating experiences. Material and daylighting can help seniors with recognition, wayfinding, wellness, and safety.
Subordinate projects can include the adding and diversifying of dining options, expanding entertainment venues, and enhancing wellness components. These integrated improvements are driven by the personal compulsion of existing building occupants and community leadership.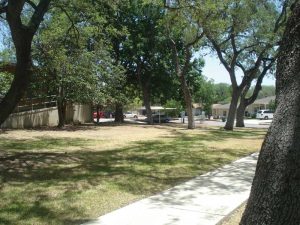 Any rebranding or renovation effort should begin with the recognition and commitment to 'change for the better,' while recognizing the risks involved. Defining plan and communicating the vision are paramount to shareholder buy-in. Working the plan and incorporating checks and balances with contingency alternatives has proven to lead to successful and sustainable outcomes.
Process and pragmatism
Residential care projects are complicated right from the beginning, requiring full-time attention to move the growing demand of decision-making forward in a pragmatic and linear process. The decision input is intentionally diverse and specialized to craft a design and final product that is tailored to the prospective resident's lifestyle expectations.
Despite all the process planning and stewardship, expert leadership will also recognize the need to modify the ongoing process to adjust for changing parameters brought on through external forces such as market demand and construction costs. Unlike acute-care settings, where the goal is for patients to recover and leave the facility as soon as possible, residential settings including ALFs, skilled-nursing facilities (SNFs), and continuing-care retirement communities (CCRCs), the design must speak to and allow for the highest-quality care possible over the longest time needed. Senior residents may need different kinds of care, but all of them seek real comforts, enriching experiences, supportive communities, and a real sense of empowerment and independence.
These desires reinforce the trend toward more hospitality-focused designs. Places designed for hospitality have a reputation for transcending generational differences, and that holds true even when developing housing for seniors. The thinking behind this strategy is people come back to places that feel grand, comfortable, and unique, has a pleasant ambience, and provides a good experience. This is why many successful senior living settings present a series of 'wow' moments within each project informing and connecting the residential and service spaces.
Using the luxury-hotel-as-housing model makes senior residents feel more positive and engaged, and also attracts younger consumers to the developments—a win, win.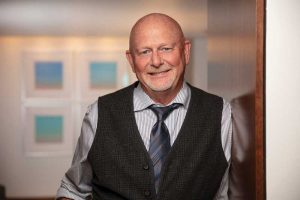 [8]Rockland Berg, AIA, is founding partner of three, an architecture practice headquartered in Dallas, Texas. Involved in senior living architecture for more than two decades, Berg is well-known throughout the market and speaks frequently on developing trends, including on NBC Nightly News. He can be reached at berg@threearch.com[9].
Endnotes:
[Image]: https://www.constructionspecifier.com/wp-content/uploads/2020/02/VO_0960-2_hires.jpg
[Image]: https://www.constructionspecifier.com/wp-content/uploads/2020/02/VO_0778.jpg
[Image]: https://www.constructionspecifier.com/wp-content/uploads/2020/02/VO_1133.jpg
[Image]: https://www.constructionspecifier.com/wp-content/uploads/2020/02/VO_0675.jpg
[Image]: https://www.constructionspecifier.com/wp-content/uploads/2020/02/DSC02442.jpg
[Image]: https://www.constructionspecifier.com/wp-content/uploads/2020/02/18388_PresbyterianVillageNorth_exterior01_0417_02.jpg
[Image]: https://www.constructionspecifier.com/wp-content/uploads/2020/02/DSC02439.jpg
[Image]: https://www.constructionspecifier.com/wp-content/uploads/2020/02/Three-Berg_LA5880-Color.jpg
berg@threearch.com: mailto:berg@threearch.com
Source URL: https://www.constructionspecifier.com/better-designs-for-quality-senior-living/
---