Big-D chosen to construct new Salt Lake Community College and University of Utah campus building
July 26, 2021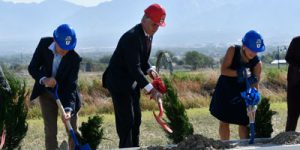 Big-D Construction has been selected as the contractor for the new Juniper Building at the Herriman Campus–a joint $57 million project between Salt Lake Community College (SLCC) and University of Utah.
The new campus will provide convenient access to residents of the fast-growing cities of Herriman, Riverton, Bluffdale and Draper. It is projected to serve more than 2000 students in its first year, and nearly 7000 by 2025.
Big-D will begin preparing the site in August for three months, with construction starting in October. The site will be closed to the public for the next two years.
Big-D obtained the winning contract this June by outbidding four other companies during the state process. The company has worked with SLCC on other projects, including the Center for Arts and Media at South City Campus and the Westpointe Workforce Training & Education Center at Westpointe Campus.
"We will be working with virtually the same team that we worked with on previous projects with excellent results," said Associate Vice President of Facilities Bob Askerlund.
Funding for the building was appropriated by Utah State Legislature in 2021, with additional support from SLCC, University of Utah, private donors, and infrastructure investments from Herriman City.
A ceremonial groundbreaking took place on July 15, and the project is slated to open in February 2023.
Source URL: https://www.constructionspecifier.com/big-d-chosen-to-construct-new-salt-lake-community-college-and-university-of-utah-campus-building/
---