Blindside waterproofing explored in latest e-book
February 18, 2019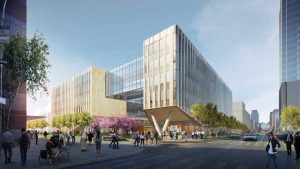 The primary purpose of below-grade waterproofing is not to keep water out of the basement, although that is an important consideration. Rather, its role is to protect the foundation and the entire building structure from the damaging effects of liquids and vapors.
On most new construction projects where there is plenty of land, a site is excavated, the foundation is poured, and traditional waterproofing is applied to the outside of the foundation wall. There is maneuvering room for heavy equipment and space for staging building materials. However, this is not always possible where space is limited or where sites are hemmed in by other buildings, infrastructure, or tight lot lines. The solution in many of these circumstances is blindside waterproofing. Blindside is a positive-side application—meaning it goes on the outside or the soil side of the foundation wall. Negative side waterproofing is on the inside of the wall.
As buildings moved toward concrete foundations that incorporated more steel, keeping moisture out became a priority. This is even more important now as foundations go deeper and more purposes are assigned to these below-grade spaces.
Part of the newest in a series of free, downloadable e-books, an article from the pages of The Construction Specifier discusses the factors to consider when selecting a waterproofing membrane. To get your copy of "A Guide to Moisture Management," visit www.constructionspecifier.com/ebook/georgia-pacific-a-guide-to-moisture-management-e-book[2].
Source URL: https://www.constructionspecifier.com/blindside-waterproofing-explored-in-latest-e-book/
---