Budget-conscious beauty at new Georgia sheriff's office
July 4, 2017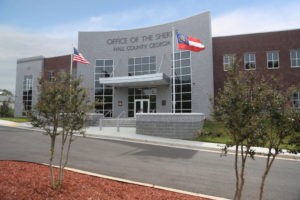 Space constraints at the Hall County Sheriff's Office[2] in Georgia meant the facility and its users needed to move to a new space—specifically, to a 13-ha (33-acre) Government Center in Gainesville. This presented the opportunity for not only a new facility, but also an improved one offering better costs, performance, and aesthetics.
"After looking at the renovation of existing space at numerous other locations, the Sheriff's Office decided the design and build of its own building at the administrative campus was the most practical and economical alternative," said Doug Straughan, principal partner at Hussey Gay Bell[3], the project's architect of record.
Among the goals for the project was a balance of contemporary aesthetics and cost-effectiveness—the team needed to meet the county's financial limitations without compromising services or visual appeal.
"The goal was to design a durable, low-maintenance facility with a contemporary look and feel that blended with the existing complex, yet stood out," said Straughan. "Given it was a municipal project paid through a special-purpose sales tax, we were extremely cognizant about meeting these requirements, while maximizing budget at every turn."
This goal was ultimately met, with the 4645-m2 (50,000-sf) facility's final cost coming in at $5 million or $100/sf. In part, this is due to the team reusing existing infrastructure, purchasing cubicles and furniture from affordable sources such as surplus stores, and sourcing interior painting and framing labor from the Sheriff's Office's almost 1200 inmates.
Although the project itself was accomplished affordably, this did not mean compromising its aesthetic. Three varieties of masonry were implemented for the new office, including:
polished-face architectural block, finished with a wet-grind process featuring 10 heads (from an 80-grit diamond to a 3500-grit polishing wheel);
integrally colored, prefinished split-face block contributing a rough-hewn aesthetic and four-hour fire rating; and
traditional brick veneer.
Collaboration was a critical part of these materials' selection and implementation, which proceeded in steps as Hussey Gay Bell showed samples, renderings, and finally full-sized samples to the client, "so they could see for themselves how the cool-gray masonry played against the warm, red veneers."
"It really helped coming to the table with some very quality but economical block options. We worked closely to present a wide variety of samples and options," said Straughan. "This flexibility and creativity allowed us to produce a high-profile, terrazzo-type look at a block-type price. They assisted in the selection of grout colors that matched with the brick and the split face, and worked closely with the contractor."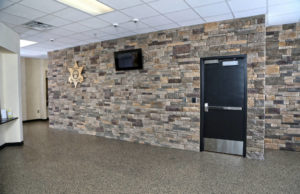 The use, quantity, and installation of each masonry type differed slightly—for instance, 7000 pieces of the face block and 8500 of the split face were employed. These combined with the brick veneer throughout the project for a contemporary, yet rustic feel. The wall system into which these are incorporated curves on the building's exterior and is accented by corner walls and two-story windows, as well as employing 150-mm (6-in.) metal studs and gypsum wallboard and sheathing.
"This kind of building is not something you see very often in North Georgia," said Straughan. "It's quite an achievement."
The building opened last September, and continues to serve more than 184,000 citizens.
Endnotes:
[Image]: https://www.constructionspecifier.com/wp-content/uploads/2017/07/HallCountySheriffBldg05.jpg
Hall County Sheriff's Office: http://www.hallcountysheriffsoffice.org/
Hussey Gay Bell: http://www.husseygaybell.com/
[Image]: https://www.constructionspecifier.com/wp-content/uploads/2017/07/HallCountySheriffBldg09.jpg
Source URL: https://www.constructionspecifier.com/budget-conscious-beauty-at-new-georgia-sheriffs-office/
---