California warehouse brightens up with skylights
by Carly Midgley | August 14, 2017 2:37 pm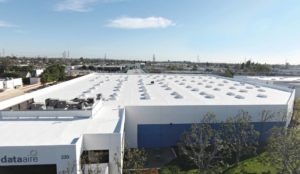 A recent upgrade has enhanced fall safety, leak protection, and daylighting at a warehouse in Orange, California. An air-control manufacturer serving data processing centers sought Title 24 compliance with a reroofing project that replaced old, fiberglass skylight units with 30 Underwriters Laboratories[2] (UL)-listed smoke vents and 58 industrial skylights.
The new units include numerous features contributing to durability, daylighting, and improved ventilation, with weather-rated venting bases, polycarbonate domes, aluminum-capped frames, continuous gaskets, and silicone seals set to last 50 years. Tested to withstand a 363-kg (800-lb) impact load, they also comply with Cal/OSHA[3] fall protection requirements thanks to white powder-coated security bars. Further, the units are listed under the International Code Council Evaluation Service[4] (ICC-ES).
The effects the replacement has had on the facility are significant. The minimum illumination recommended for this type of setting, where detailed mechanical work is performed, is 75 to 100 foot-candles (fc). Even a basic warehouse should achieve a measurement of at least 27 fc. However, a light study performed before the replacement revealed this warehouse's illumination only rated 9 fc. This was likely due to the sun's capacity to deteriorate fiberglass's performance over time.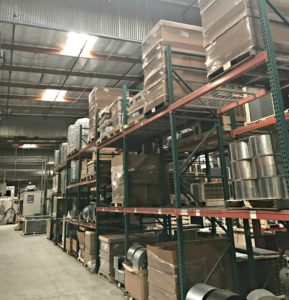 Another test was conducted after the reroofing project's completion, revealing a drastic increase from 9 to 120 fc. Individually, the skylights scored 150 fc, and the smoke vents stood at 90 fc. Both tests were completed at noon on partly cloudy days to minimize variations in light conditions. (Performance evaluations are recommended to be performed on skylights that have been in service longer than five years.)
The skylights' high visible light transmittance (VLT) of 70 percent was likely a contributing factor to their strong daylighting performance. However, they also help the facility save on energy. Air-conditioning costs are mitigated by the cooling effect of both the new roof itself and the new units, which possess a solar heat gain coefficient (SHGC) of 0.58.
The project was managed by Westcoast Roof Consulting[6] and performed by Howard Roofing.
Endnotes:
[Image]: https://www.constructionspecifier.com/wp-content/uploads/2017/08/DA-3-2700.jpg
Underwriters Laboratories: http://www.ul.com/
Cal/OSHA: http://www.dir.ca.gov/dosh/
International Code Council Evaluation Service: http://www.icc-es.org/
[Image]: https://www.constructionspecifier.com/wp-content/uploads/2017/08/Data-Aire-Interior.jpg
Westcoast Roof Consulting: http://www.westcoastrc.net/
Source URL: https://www.constructionspecifier.com/california-warehouse-brightens-up-with-skylights/
---