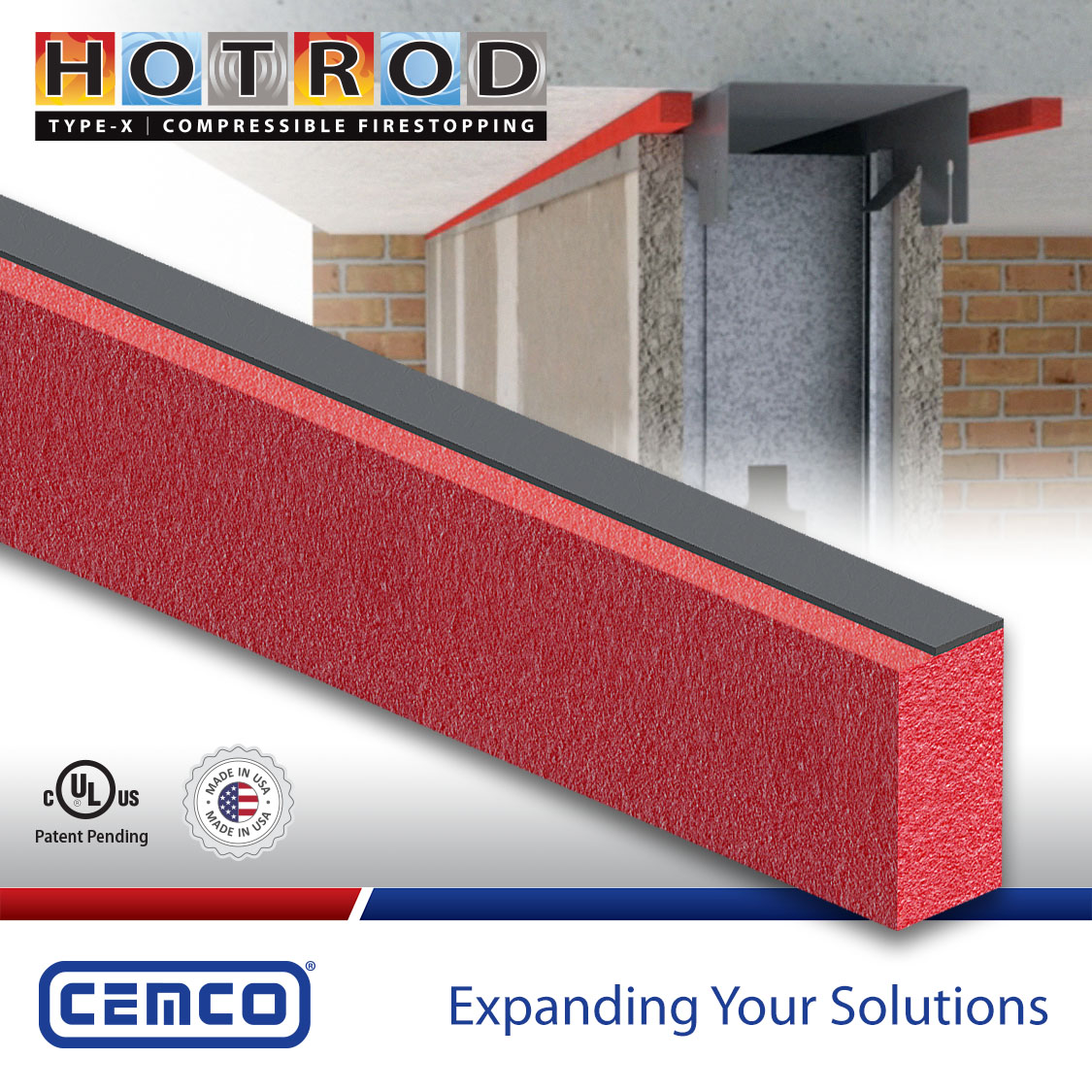 CEMCO HOTROD Type-X is a compressible intumescent firestopping that takes the place of both fire and sound sealant. It provides one- and two-hour fire-ratings for both dynamic and static joints according to UL 2079, Standard for Tests for Fire Resistance of Building Joint Systems (for standard walls and shaft walls), and is also sound-tested according to ASTM E90, Standard Test Method for Laboratory Measurement of Airborne Sound Transmission Loss of Building Partitions and Elements.
HOTROD installs up to four times faster than sealant with no 'come-back work,' and is specially designed to seal against uneven concrete for consistent fire, smoke, and sound protection in dynamic assemblies.
The product's rectangular profile is easily compressed into the deflection gap between the edge of the drywall and adjoining structure. Non-wicking and non-hygroscopic, the material does not absorb moisture. It will not shrink, pull away, or harden over time.
Manufactured in the United States, HOTROD provides one-hour fire protection with 12.5 x 25-mm (1/2 x 1-in.) profile and two-hour fire ratings with 25 x 25-mm (1 x 1-in.) profile. It offers a Sound Transmission Class (STC) of 51 and 68 for 92-mm (3 5/8-in.) unbalanced walls and 63.5-mm (2 ½-in.) double wall/double layers, respectively.
HOTROD can be installed by itself or covered with tape and joint compound for exposed walls. Offering failsafe installation, its red coloring is easily identified by the inspector. For more information, contact CEMCO at www.cemcosteel.com.
All information listed in this section was submitted by CEMCO.
Kenilworth Media Inc. cannot assume responsibility for errors of relevance,
fact or omission. The publisher does not endorse any products featured in this article.