CetraRuddy proposes new housing for NY's 'forgotten borough'
by sadia_badhon | April 30, 2021 7:44 pm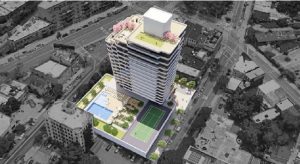 As a citywide housing shortage challenges New York's pandemic comeback, architecture and interiors firm CetraRuddy[2] unveils a proposal for new middle-income homes on Staten Island—also known as the city's 'forgotten borough.'
CetraRuddy's speculative design reimagines a vacant 0.4-ha (1-acre) site, just 0.8 km (0.5 mi) from the Staten Island Ferry Terminal, as a 20-story mixed-use tower with 140 residential units, 1858 m2 (20,000 sf) of ground-floor retail, and onsite amenities.
Long underutilized, this series of high-value parcels is currently for sale as an assemblage site. According to the brokerage representing the property, its development as housing holds the potential to transform the burgeoning St. George neighborhood.
"We thought early on residential was the best use for the site," CetraRuddy principal and Staten Island native Eugene Flotteron, AIA, told the Staten Island Advance. "It is also really well-oriented near the water and the ferry, and a vast majority of residential units would be oriented to those water views."
Flotteron notes the proposed tower could rise to 61 m (200 ft) under local zoning, enabling a developer to meet parking requirements in a building podium and maximize the benefit to residents by locating apartments on upper floors with better views.
While local and regional leaders say they see new residential development on Staten Island—the 155-km2 (60-mi2) New York City borough of about 500,000 permanent residents—as important for accommodating the city's projected growth and current housing needs, plans for large-scale multifamily projects serving a range of income levels have not kept pace with other boroughs, CetraRuddy said in a press release. If built, the proposal could help catalyze further projects.
Endnotes:
[Image]: https://www.constructionspecifier.com/wp-content/uploads/2021/05/Opener-3.jpg
CetraRuddy: http://cetraruddy.com/
Source URL: https://www.constructionspecifier.com/cetraruddy-proposes-new-housing-for-nys-forgotten-borough/
---