Cold-formed steel design standards
November 3, 2015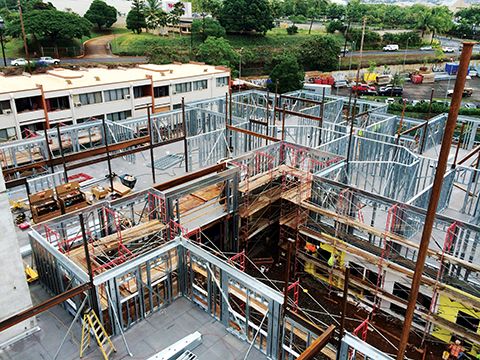 By Robert J. Wills, PE
Since the development of the first specifications for cold-formed steel (CFS) building construction in 1946, the American Iron and Steel Institute (AISI) has been working to develop design standards to improve performance and accessibility for designers and structural engineers. These standards have progressed over the years to incorporate the latest technologies in materials and design. Looking into 2016, AISI is working with engineers, designers, researchers, and other stakeholders to update its suite of design standards to reflect research advancements and innovations in cold-formed steel design.
Cold-formed steel is strong and versatile with the potential to deliver numerous benefits to designers, allowing structures that are thinner with complex geometries. In the manufacturing process, a metallic-coated sheet steel is roll-formed into products such as studs, joists, track, headers, angles, truss members, and other components. By reducing the amount of steel needed to create a durable, resilient, and code-compliant building, CFS contributes greatly to the steel industry's efforts to improve sustainability throughout a building's lifecycle and simplify natural resource management.
Cold-formed steel structures have the potential to deliver high-efficiency building designs by utilizing minimal material and advanced geometric shapes in structural members. Until recently, standards focused on design of the individual cold-formed steel structural members—making it difficult for designers and engineers to take full advantage of the capabilities and benefits of cold-formed steel members working together as a system.
Addressing this issue, the AISI standards currently in development will improve on the previous editions by introducing a more comprehensive and useful suite of standards for professionals. These standards are intended to be adopted into the 2018 model codes including the International Building Code (IBC) and National Fire Protection Association (NFPA) 5000, Building Construction and Safety Code.
AISI standards development
Standards development efforts in the CFS construction industry are led by AISI, which is accredited by the American National Standards Institute (ANSI). To ensure the standards represent and encompass the needs of all stakeholders, AISI utilizes the combined experience of experts from construction industry associations, designers, academics, and others formed into committees and task groups to develop them.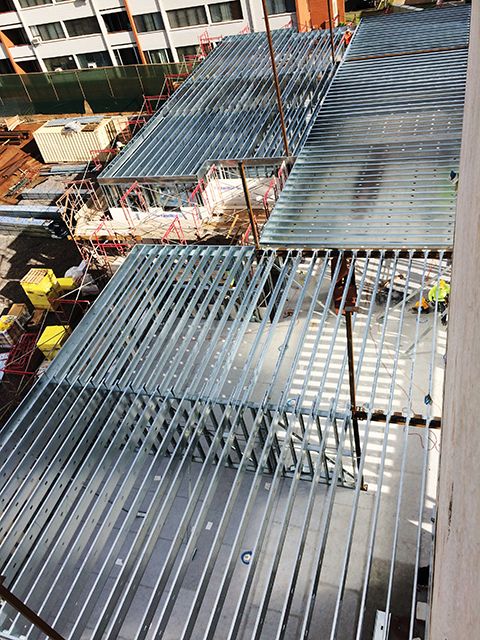 A core value of the AISI standards development process is transparency—open, balanced, and consensus-driven. This process ensures standards are founded in the current body of knowledge and incorporate the most recent research results and data.
As the construction and steel industries evolved, so did the standards process. Since 1966, AISI has represented members from across North America; in 2001, it worked with partners and standards organizations in Canada and Mexico to develop and publish the North American Specification for the Design of Cold-formed Steel Structural Members. Approved as an American National Standard by ANSI in the United States, this 'harmonized' standard allowed building professionals across North America to work from a common source, ensuring considerable time and cost efficiencies.
In addition to routine updates to the suite of AISI standards, the group's standards committees will address the following documents in the next two years:
AISI S100-16, North American Specification for the Design of Cold-formed Steel Structural Members;
AISI S220-15, North American Standard for Cold-formed Steel Framing–Nonstructural Members;
AISI S230-15, Standard for Cold-formed Steel Framing–Prescriptive Method for One- and Two-Family Dwellings;
AISI S240-15, North American Standard for Cold-formed Steel Structural Framing;
AISI S310-16, North American Standard for the Design of Profiled Steel Diaphragm Panels; and
AISI S400-15, North American Standard for Seismic Design of Cold-formed Steel.
COLD-FORMED STEEL RESOURCES
In addition to cold-formed steel standards, American Iron and Steel Institute (AISI) offers several other resources that support the design and use of cold-formed steel. These resources include a suite of standards covering the testing of individual connections, members, and complete systems. AISI also offers design manuals and guides that illustrate the practical application of the standards as well as other design considerations. Most AISI standards are available in downloadable format—free of charge—as a service to the design and construction community.* AISI S100 and other design support resources are available for purchase.**
Designers can also look to the Cold-formed Steel Engineers Institute (CFSEI) for technical notes, case studies, webinars/seminars, and other technology transfer tools covering various important topics beyond structural design such as fire, acoustic, and thermal performance.†
Notes
* For the free download, visit www.aisistandards.org[3].
** More notes are available for purchase at the AISI Steel Store, visit www.steel.org[4].
† CFSEI resources are available at www.CFSei.org[5].
Expanding the scope of the North American specification for CFS
The 2016 edition of AISI S100, is currently being updated with provisions that enable CFS design in various applications such as steel framing, deck, and roof systems. This edition will align closely with AISC 360, Specification for Structural Steel Buildings. By aligning the provisions for cold-formed steel with those for hot-rolled structural steel that are already in widespread use, AISI and other stakeholders hope to foster an increase in the use of cold-formed steel systems in buildings. While some variation is required to incorporate the material's unique provisions, the 2016 standard will shorten the learning curve for designers and engineers who are not familiar with CFS.
Additionally, AISI S100-16 will now include the Direct Strength Method (DSM), originally developed as an alternative to the Effective Width Method (EWM) and previously relegated to an appendix in the main body of the standard. DSM provides a more robust and flexible design procedure.
Under previous methodologies, empirical-based designs and testing methods were not optimized to take full advantage of cold-formed steel design potential. DSM is a powerful analysis-based tool, allowing product development and avoidance of costly, time-consuming, 'make-it-and-break-it' testing iterations. This capability greatly increases efficiency in product development and design processes, reducing cycle time and eliminating delays in product and project development.
Engineers have used DSM for individual product development, but its inclusion in AISI S100-16 will encourage its use for mainstream design. It is anticipated that increased use of the DSM will foster innovation in cold-formed steel design.
AISI S310-16, the profiled steel diaphragm panels standard, is also being revised to incorporate the changes made in AISI S100-16. It will have changes to the safety and resistance factors in Table B1.1 so they are consistent with the theory and calibration method presented in the standard.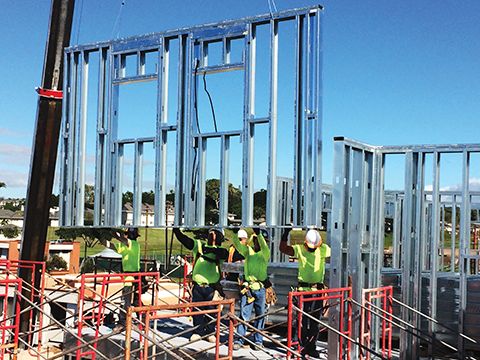 Major revisions to AISI S220-15
AISI S220 was developed in 2011 by a consensus committee, subjected to an independent review process, and approved by ANSI in less than six months. The standard applies to commonly recognized nonstructural members such as wall studs used in interior partition walls and to other members meeting the nonstructural definition and limitations. AISI S220 brought the design and manufacturing requirements for cold-formed steel nonstructural members into one standard, making it easier for design professionals and building officials to specify and approve cold-formed steel for building projects.
This updated version will include the addition of performance requirements for screw penetration, the expansion of testing requirements to reference the new AISI S915 and AISI S916 test standards, and testing requirements for screw penetration.
Combining six standards into one document
Six separate cold-formed steel framing standards are being merged to form a new standard—the 2015 edition of AISI S240. Combining the previous standards, which each independently addressed an individual cold-formed steel frame subsystem, it will allow designers to take a more comprehensive and systematic approach to the design process.
In addition to the consolidation of the six former structural standards, AISI S240 will provide new quality control and quality assurance (QC/QA) requirements for CFS structural framing. These provisions will be coordinated with the model building codes, giving engineers, architects, and construction specifiers assurance the cold-formed steel framing designed under AISI standards are code-compliant and meet their design expectations. In this regard, CFS framing is taking its place alongside other traditional structural materials such as hot-rolled structural steel and concrete, which have well-established QC/QA provisions.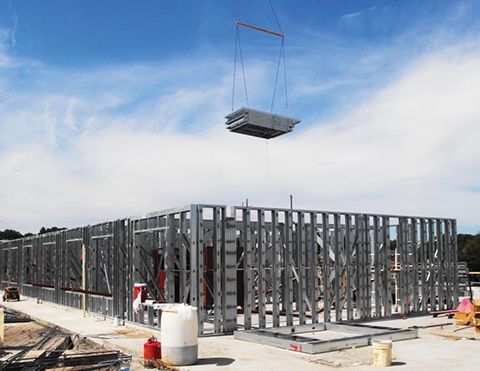 Seismic performance standards
The new AISI S400 represents a joining of two previous standards on the seismic design of cold-formed steel into one comprehensive standard. AISI S400 applies to the design and construction of cold-formed steel structural members and connections in seismic force-resisting systems. This standard will bring together the provisions for existing cold-formed steel seismic force-resisting systems and provide a 'home' for new CFS design solutions for buildings in regions where seismic activity is a concern.
Promoting sustainable building construction with steel
Through ongoing investments in research and development, the reliability and cost-effectiveness of cold-formed steel structures continues to increase. AISI's standards are updated on a regular basis, allowing designers and engineers to benefit from these research advances, producing effective and efficient designs using cold-formed steel. Additionally, the steel industry has made significant progress in increasing the efficiency and lessening the environmental impact of steel production over the years—making cold-formed steel a sustainable choice.
By encouraging the use of cold-formed steel in building designs, AISI helps designers develop more creative designs while using less steel. The increased strength, durability, and resiliency of cold-formed steel gives designers the freedom to create structures using fewer resources while maintaining building integrity and providing a sustainable solution.
Additionally, steel's high recyclability in comparison to other materials allows for steel construction products and systems to be sustainably managed at the end of a building's lifecycle. Where materials such as wood are often disposed of in landfills or downcycled for fuel or mulch, the CFS framing material in buildings can be collected and recycled as any number of steel products, including new steel-framed buildings.
These standards, which make cold-formed steel design more accessible to engineers and design professionals, are another step toward truly sustainable building design.
Conclusion
While the standards currently in development for cold-formed steel structures help increase efficiency and accessibility, future standards continue to evolve to introduce innovations in products and technology to the marketplace.
These standards create a path for the industry to reach the next step in this ongoing process. As building design, engineering advances, and system-analysis software are developed, the industry will be greatly empowered. AISI is currently working with a special task force to develop a roadmap for implementing analysis-based design in a standards environment.
Looking to the future, one can see the new possibilities and advantages that will be delivered by the ability to predict system reliability in real time during the design process. This type of analysis will allow designers and engineers to design seamlessly, while testing their models as they are developed. Cold-formed steel design standards will continue to develop in the coming years to foster innovation in the construction industry while allowing engineers and other design professionals to take full advantage of the material's strength, reliability, and sustainability in building construction.
Robert J. Wills, PE, is vice president of construction market development with the Steel Market Development Institute, a business unit of the American Iron and Steel Institute. He is responsible for overseeing the construction market programs in commercial buildings, residential construction, and the transportation/infrastructure markets, as well as the AISI Construction Technical Program. With more than 30 years of experience in the construction industry, he has served as a structural design engineer and in various roles with the AISI Codes and Standards program. He is a member of ASTM International, the American Society of Civil Engineers (ASCE), the National Fire Protection Association (NFPA), and the International Code Council (ICC).
Endnotes:
[Image]: http://www.constructionspecifier.com/wp-content/uploads/2015/11/steel_CEMCO-1-Plaza-at-Pearl-City.jpg
[Image]: http://www.constructionspecifier.com/wp-content/uploads/2015/11/steel_CEMCO-2-Plaza-at-Pearl-City.jpg
www.aisistandards.org: http://www.aisistandards.org
www.steel.org: http://www.steel.org
www.CFSei.org: http://www.CFSei.org
[Image]: http://www.constructionspecifier.com/wp-content/uploads/2015/11/steel_CEMCO-3-Plaza-at-Pearl-City.jpg
[Image]: http://www.constructionspecifier.com/wp-content/uploads/2015/11/steel_DSi-Engineering-1-Elan-Westside-Apts.jpg
[Image]: http://www.constructionspecifier.com/wp-content/uploads/2015/11/steel_DSi-Engineering-2-Elan-Westside-Apts.jpg
Source URL: https://www.constructionspecifier.com/cold-formed-steel-design-standards/
---