A collaborative approach to selecting a roofing system
January 5, 2018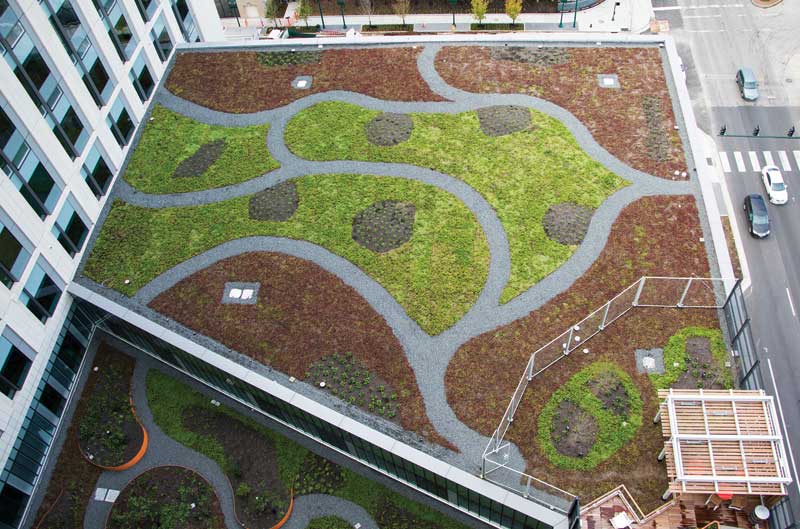 by Mark Gregory, CGC, CCC
Architects, specifiers, and roofing contractors play an important role when working with a building owner to design a commercial structure that protects occupants from the outside environment. The roof is an essential part of the building's design phase, and planning its construction from the beginning can be extremely complicated. Producing the best design possible at an affordable price is of the utmost importance for everyone involved.
To select, detail, and specify the most appropriate roof system for a project, both the commercial roofing contractors and the design team should have past experience with several of the available material options, as well as an understanding of the various roof assembly materials, system options, and roof design considerations.
Utilizing a collaborative approach from the first phase of the design process is imperative to identifying all of the criteria and required performance characteristics early. For example, during the initial inspection, a roofing contractor will determine what roofing systems the client has used in the past and whether that system meets the needs of an upcoming project. The design phase should involve clear communication of the designer's overall concept with specifications and drawings that can then be executed by a professional roofing contractor.
Components to consider
When selecting a roof, there are many different options available, including thermoplastic, ethylene propylene diene terpolymer (EPDM), metal, and vegetated assemblies. While each of these systems has its own advantages and disadvantages, it is vital the chosen assembly fits the building's usage, climate or location, energy and environmental performance, and warranty.
Building usage
A primary consideration during the design phase is the building's intended use. The occupancy, insulation requirements, and maintenance schedule must be fleshed out. For example, a warehouse would require a different roof system compared to an educational institution or hospital. Also, the aesthetics would be more important for a school or healthcare facility and the design of the roofing system may need to include certain textures and colors for brand identity or curb appeal.
Climate
The aspects of the climate that most affect the design of the roof system include expected precipitation (amount and type), temperature, and wind. A building in a dry climate does not need the same type of roof as a building subjected to heavy rains. (Annual amount of snow accumulation must also be considered.) Snow can drift and collect in corners, topping flashings and leaking into the facility. Hail can puncture a roof system, so in regions prone to this weather, a roof that can withstand the harsh elements is needed.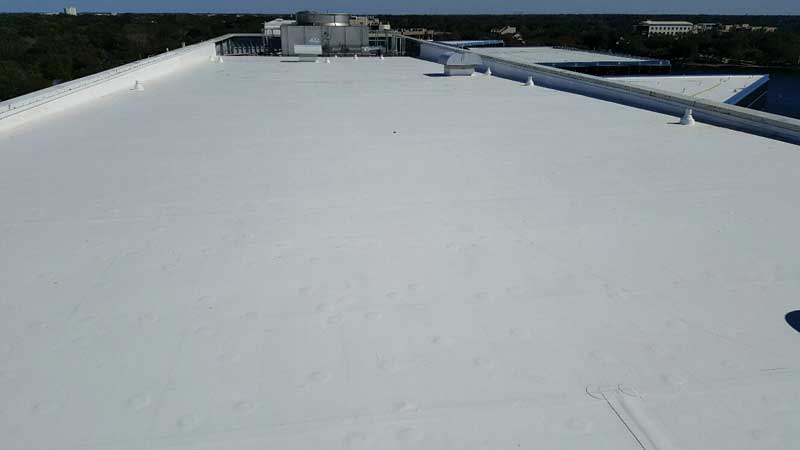 If the geographical location of the building experiences large temperature swings between summer and winter, a roof system that will expand and contract with thermal movement is a good choice. Climate obviously affects the amount of insulation required. Predominately hot areas should consider a reflective roof system to save on cooling costs. Savings in cold climates depend on several factors, including cost of heating energy compared with cooling, the slope of the roof, insulation, and size of the building.
In areas prone to high winds, identifying uplift requirements is important. Any location with wind gusts higher than gale force (i.e. up to 100 km/h [62 mph]) should take wind speeds into consideration. Even a 64-km/h (40-mph) wind can cause a poorly attached roof to detach from the building.
Efficiency
A building's roof was once just thought to be a way to keep the inside of a building dry, but the impact a roof can have on energy consumption is now better understood. The roof system is one of the largest surfaces of the building envelope; it has a significant impact on the energy-efficient operations of the finished project.
Every roofing system has a predetermined rate of reflectivity and emissivity. These characteristics help ascertain whether the membrane reflects or absorbs solar energy. The greater the reflectivity, the less energy is absorbed, helping cut the transfer of radiant energy. The lower rate of reflectivity, the greater the rate of energy absorption and the transfer of radiant energy.
Factors such as roof membrane color, increased insulation thickness, and different insulation types should be considered. After developing multiple scenarios, a well-thought-out decision can be made concerning which option makes the most sense and produces the best return on investment (ROI).
There are many programs offering the ability to develop different options for improving the energy efficiency of the roof system, including the Florida Power and Light Rebate Program and the Energy Star Roofing Program. Collaborating with professional commercial roofing contractors is ideal, as they have in-depth knowledge and can provide feedback for architects, specifiers, and building owners regarding how the choice of the roofing system affects energy performance.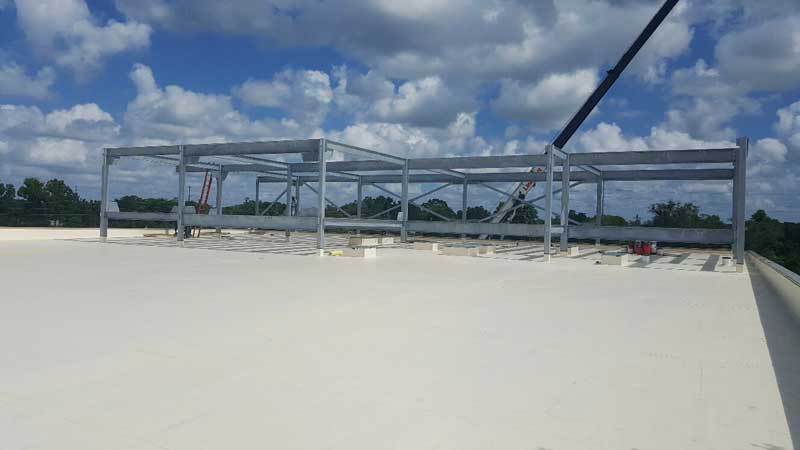 Warranty
Roofing system warranties can sometimes be confusing. Often, manufacturers do not have a published warranty. In some situations, the manufacturer or product has been on the market less than a decade, despite warranties ranging from 10 to 20 years. Features that should be considered for a commercial warranty include:
exclusions for consequential damages;
additional cost for the warranty;
exclusions for ponding water;
whether it is a 'repair-or-replace' warranty; and
transferability.
Roofing systems
A roof is arguably the most vulnerable part of a building's exterior. Ultraviolet (UV) radiation, wind, rain, hail, snow, and sleet—all literally impact a system's performance. Performance is based on good design, quality materials, proper installation, and a preventative maintenance program. There is an abundance of roofing systems, each with its own specific benefits, challenges, and considerations—this article examines some of the most common for commercial buildings in broad detail.
TPO
Thermoplastic polyolefin (TPO) is a single-ply reflective roofing membrane made from polypropylene and ethylene-propylene rubber polymerized together. TPO is typically installed in a fully adhered or mechanically attached roofing system, allowing the white membrane to remain exposed throughout the life of the roof. TPOs are often employed in hotter regions due to the high solar reflectivity. These membranes reflect UV radiation, keeping the surface of the roof and the building cool during summer months. Generally, TPO is a universal roof option; however, TPO roofing membranes have been noted to have an issue of accelerated weathering when subjected to high thermal or solar loading. This problem has been documented in southern states with year-round sun and high temperatures.
TPO is available in three different thicknesses—1140, 1525, and 2030 µm (45, 60, and 80 mil). Thicker membranes, while more expensive, have advantages. The thickest option can carry a puncture-resistance warranty in addition to the standard warranty provided by the manufacturer. In addition, thicker TPO membranes can withstand more damage than the thinner options, which are more prone to tears and leaks. TPO membranes can be installed on low- and high-slope surfaces and can be heated and reshaped. They are available in rolls ranging from 1.5 x 30 m (5 x 100 ft) to 4 x 60 m (12.4 x 200 ft); the seams are welded at 926 C (1700 F) with a hot-air gun to ensure long-lasting performance.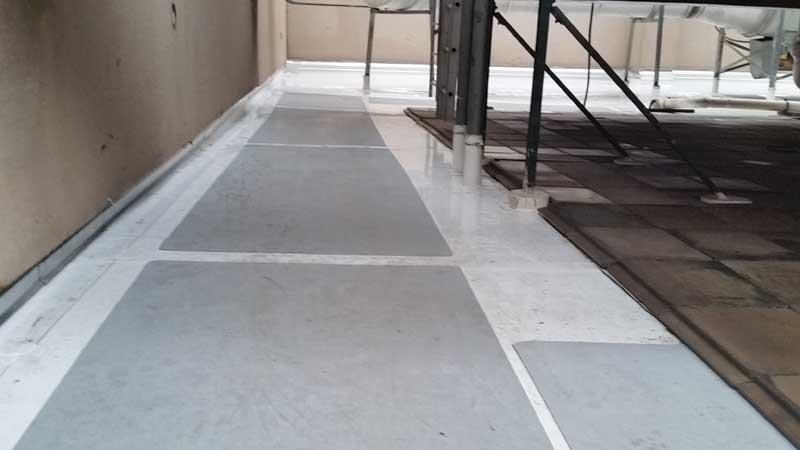 EPDM
Ethylene propylene diene monomer (EPDM) is a single-ply rubber roofing membrane composed of both ethylene and propylene compounds. This thermoset roof is resistant to a high degree of ozone, UV, weathering, and abrasion damage. Thanks to its tolerance to a wide array of weather conditions (e.g. snow, wind, and hail), black EPDM roofs can be an appropriate choice for colder climates, where heat retention is critical to lowering heating costs.
EPDM is available in both white and black, and is sold in a variety of widths ranging from 2.3 to 15.2 m (7.5 to 50 ft), and in two thicknesses—1140 and 1525 µm (45 and 60 mils). It can be installed fully adhered, mechanically attached, or ballasted, with the seams of the roofing system sealed with liquid adhesives or specially formulated tape.
When exposed to higher temperatures, EPDM membranes can shrink and pull apart—particularly at the seams. To keep the seams cooler and avoid shrinkage, EPDM is often coated with a reflective elastomeric top coat. This roof system is typically more expensive to install and requires an extensive repair and maintenance program to monitor and uphold the seams.
Mod-bit
Modified-bitumen (mod-bit) roofing systems comprise asphalt reinforced with either polymer or fiberglass. A blend of traditional and modern roofing technologies, they can be suitable for roofs susceptible to foot traffic, punctures, and tears.
Two different polymers—atactic polypropylene polymer (APP) and styrene-butadiene-styrene (SBS)—are used to modify the elasticity and temperature flexibility of the membrane. In a heat application process, the seams are heated to melt the asphalt together and create a seal. For a hot-mopped application, the process is similar to how conventional built-up roofs (BURs) are installed. Cold-applied adhesive membranes are one of the most common options.
However, this system is not suited to all projects. As it uses two to three layers of membrane, this option is more expensive than the alternatives. Modified-bitumen can also pose a fire hazard if installed on top of a wooden surface. Further, since there are no uniform standards in place in regards to quality control on this system, performance quality can vary depending on the manufacturer. Working with a reputable roofing contractor who can help you identify good manufacturers can help alleviate this issue.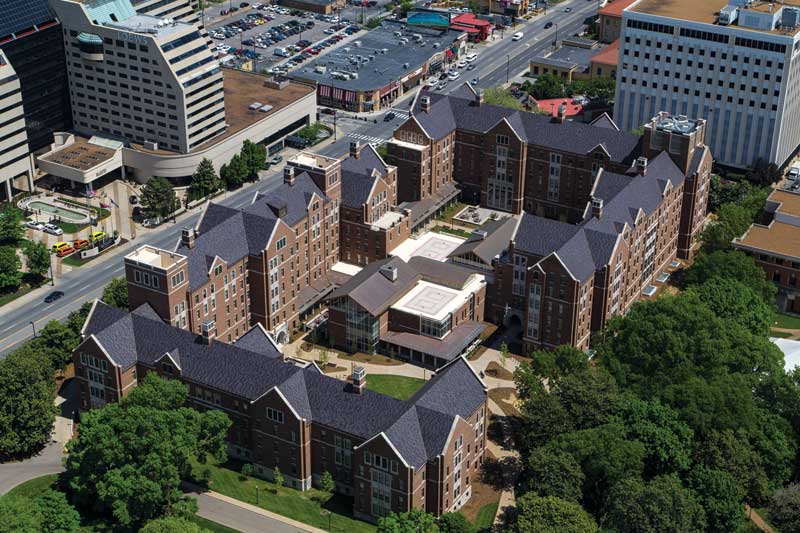 BURs
A built-up roof comprises multiple piles of felts, fabrics, or mats laminated together with bitumen, asphalt, or—in some states (e.g. Florida)—coal tar pitch. Incorporating alternating layers of piles and bitumen, it is finished with gravel application, mineral cap sheet, or weather-resistant coating. BURs are designed to suit a broad range of waterproofing applications and are highly resistant to punctures and weathering.
However, with two to five plies, labor and materials can be very expensive. As well, the installation of a BUR requires equipment that some roofing contractors may not have. This system also requires a mop-down installation method, which is unsafe to installers.
Metal
Metal roofs are systems in which standing seams or corrugated metal panels are mechanically fastened to structure points. Metal roofs provide architects, building designers, and owners with a variety of choices, ranging from the type of metal to dozens of color options. Due to the material's excellent strength, durability, and fire resistance, these assemblies are often chosen for projects exemplifying the energy-efficient and sustainable building movement. This roof system has a longer lifespan, but can be a costly upfront investment.
Cool and vegetated roofs
Cool roofs use a highly reflective surface to emit the radiant heat back instead of transferring it into the building below. Cool roofs are beneficial to a building and its occupants by reducing energy bills, decreasing air-conditioning needs, and lowering roof temperatures to help extend the assembly's service life. Further, cool roofs offer benefits beyond the building itself, as they can lower local air temperatures, peak electricity demand, and power plant emissions.
Vegetated roofs contain an abundance of plant life, absorbing rainwater, providing insulation, and helping lower urban air temperatures. These green roofs lower the need for heating and cooling, and can reduce the urban heat island effect. However, this roof type can be more expensive to implement compared to others, and will require continual maintenance.
Coatings
Coated roof systems can be a cost-effective solution for extending the life of an existing roof system. Coatings provide a highly reflective surface that may lower roof surface temperature, decrease indoor cooling costs, and ultimately reduce overall expenditures. By forming to irregular roof surfaces, coatings close cracks and splits. Once applied, they form a seamless, watertight seal over the entire roof.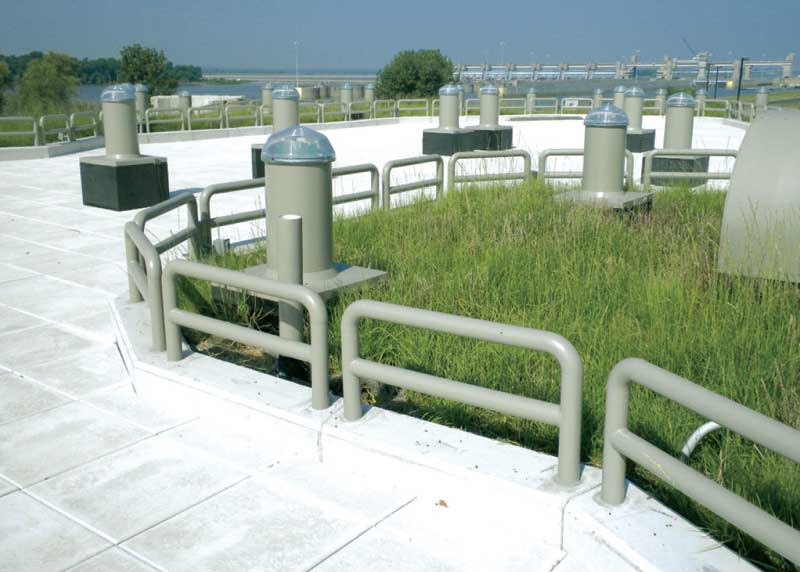 Roof maintenance
A collaborative approach including the architect, specifier, commercial roofing contractor, and building owner to design and install a roofing assembly is essential to prevent critical mistakes. The right system will protect the investment for decades, while the wrong selection could result in costly repairs, damage to the building and its contents, and possibly an early tear-off or reroof. The protection of the investment does not end with the right roofing system, but relies heavily on the roof maintenance program.
Installing a formal, in-house roof maintenance program is the first step in preventative or proactive maintenance, extending the system's service life. Not all roof maintenance needs to be performed by commercial roofing professionals—some work can be done by the building's maintenance personnel, who assist with basic items such as keeping the roof free of debris that could block the flow of water to the roof drains and cause ponding. Extreme cases of ponding can cause a roof collapse.
Roof inspections should be performed regularly by trained commercial roofing professionals. Early problem detection makes repairs manageable before they become serious. Inspections and maintenance should also be made after extreme weather events such as tornadoes and hurricanes.
Conclusion
The roof is one of the most important parts of a commercial building. A poorly designed or installed roofing system affects the rest of the structure. Fostering a collaborative working relationship with commercial roofing contractors and designers, with consideration for both parties' input and expertise, will improve the state of commercial roofing design. An extremely knowledgeable commercial roofing contractor can provide specific roofing systems, allowing the design team to select the proper roof system for the building's usage and climate.
Mark Gregory, CGC, CCC, is the general manager of RSS Roofing Services & Solutions in Florida. (Headquartered in St. Louis, Missouri, RSS is a subsidiary of MHS Legacy Group, a diversified national holding corporation.) He has more than 25 years of commercial roofing experience and is a Florida certified general contractor and roofing contractor. Gregory is a member of both the National Roofing Contractors Association (NRCA) and the Florida Roofing and Sheet Metal Associations (FRSA). He can be reached at mgregory@roofingsands.com[7].
 Further Discussion…
 After we published this article in the January 2018 issue of The Construction Specifier, a reader had concerns regarding the role of manufacturers. To read the letter and see the author's response, click here[8].
Endnotes:
[Image]: https://www.constructionspecifier.com/wp-content/uploads/2018/01/BJC-Rooftop-IMG_0518.jpg
[Image]: https://www.constructionspecifier.com/wp-content/uploads/2018/01/Landmark.jpg
[Image]: https://www.constructionspecifier.com/wp-content/uploads/2018/01/T-Mobile.jpg
[Image]: https://www.constructionspecifier.com/wp-content/uploads/2018/01/WUSM.jpg
[Image]: https://www.constructionspecifier.com/wp-content/uploads/2018/01/Kissam-Hall.jpg
[Image]: https://www.constructionspecifier.com/wp-content/uploads/2018/01/RSSNationalGreatRivers2.jpg
mgregory@roofingsands.com: mailto:mgregory@roofingsands.com
here: https://www.constructionspecifier.com/confusion-role-manufacturers/
Source URL: https://www.constructionspecifier.com/collaborative-approach-selecting-roofing-system/
---