Collaborative curtain wall design fast-tracks Seattle project
by Samantha Ashenhurst | April 13, 2018 8:49 am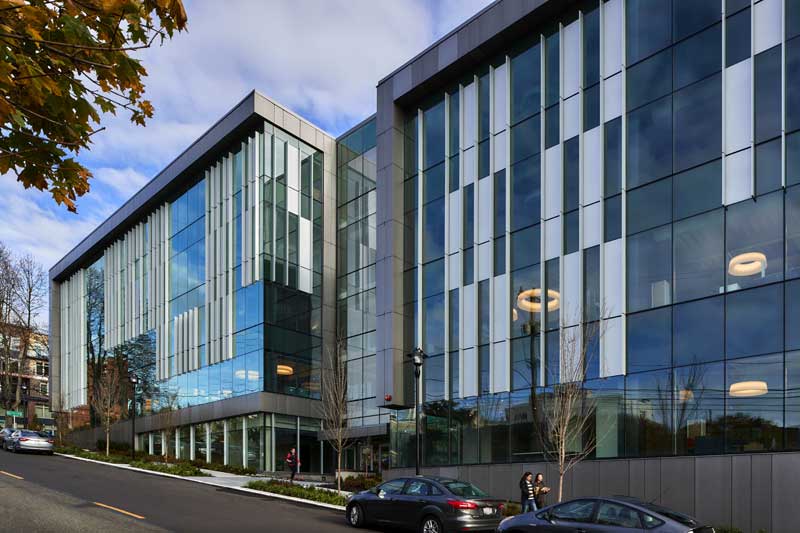 Located between a high-tech corridor and a trendy neighborhood, Seattle's Third & Harrison was envisioned by designers at Perkins+Will[2] as a new, sustainably-designed icon for urban professionals interested in working close to the city's natural elements.
"The half-block development is conceived as two glass pavilions—lightly resting on the ground and linked by a central atrium," said Ed Palushock, senior project designer at Perkins+Will. "To address the extreme topography and engage the neighborhood, there are three different building entries at three different levels."
With a 1-acre (0.4-ha) floor plate, the 17,187-m2 (185,000-sf) office building's amenities include adjacent pocket parks and underground parking in addition to vegetative roof-top terraces, which offer views of Elliot Bay and the Olympic Mountains. To ensure unobstructed sight lines and optimize daylight from within the five-story structure, designers required a glass curtain wall system.
"The client wanted a substantial amount of glass for natural light and views, but the challenge is that Seattle has some of the most stringent energy codes with prescriptive limitations on this material," said Palushock. "We also were on a fast-track design and construction schedule. We had less than one year for design, plus another year for construction on a constrained, urban site."
To minimize both construction costs and potential complications, designers from Perkins+Will invited input from the project's contractor and glazing subcontractor during the schematic design phase. The team collaborated on a unitized glazing system with a focus on construction speed and efficiency.
"We needed everyone at the table as early as possible," Palushock said. "Together, we met monthly to review design progress and detail development, address limitations, and develop solutions that Perkins+Will could put into our drawings. We continued to work through the remainder of the construction document phase, with the construction team rolling right into shop drawings."
Among the discussed details were the width and depth of both the window and curtain wall systems.
"Basically, we did not want to notice the framing," said Palushock. "We wanted to have it essentially disappear. It is all about the view."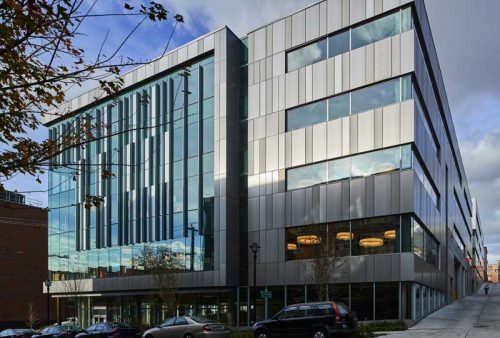 The design also detailed several goals related to energy-efficiency. To support these objectives, the project's window system featured polyamide thermal barriers to improve the buildings thermal performance while also maintaining the structural and long-term durability of the window unit. Additionally, the aluminum employed by manufacturers in both the curtain wall and window systems is a high recycled-content aluminum billet composition.
The manufacturer provided more than 2787 m2 (30,000 sf) of factory-assembled and -glazed curtain wall to expedite installation on site. Delivery of both the fabricated and finished material was sequenced in phases to optimize work within the confines of the job site.
"It was a concerted effort to coordinate the path of trades on-site so they were not tripping over one another," said Palushock. "Everyone understood how this needed to go together. The team dovetailed their work nicely and kept us informed of progress and pricing in real-time."
The project broke ground in December 2015, with curtain wall and window installation beginning in February 2016. The team completed the work on-schedule, wrapping up installation in September.
"We managed costs along the way from design to construction," said Palushock. "There were no surprises and everything went very smoothly."
Endnotes:
[Image]: https://www.constructionspecifier.com/wp-content/uploads/2018/04/01edit_WA_3rdHarrison-Holla.jpg
Perkins+Will: https://perkinswill.com/offices/seattle.html
[Image]: https://www.constructionspecifier.com/wp-content/uploads/2018/04/02edit_WA_3rdHarrison-Holla.jpg
Source URL: https://www.constructionspecifier.com/collaborative-curtain-wall-design-fast-tracks-seattle-project/
---