Combating condensation at a South Carolina pool
by Carly Midgley | April 20, 2017 3:45 pm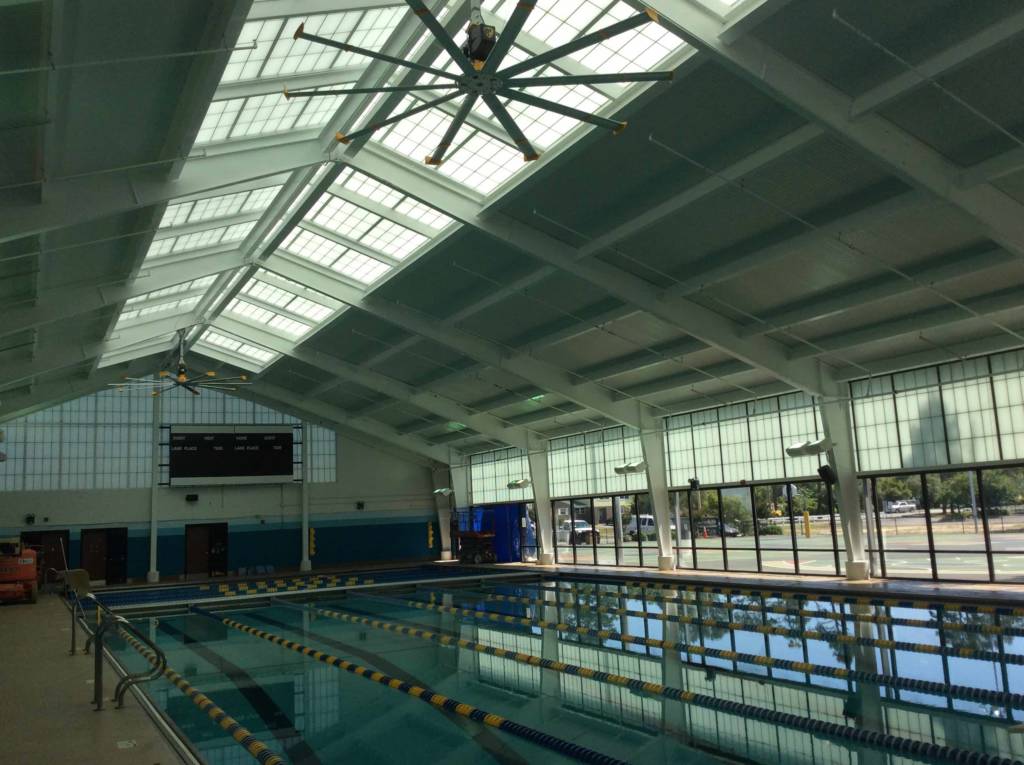 Moisture can be problematic in any building environment, but it is particularly prevalent in facilities such as natatoriums. For instance, condensation was responsible for a number of difficulties at the City of Myrtle Beach's Pepper Geddings Recreation Center. The sagging roof above the facility's 23-m (25-yd), six-lane pool was plagued by mold, mildew, and rust.
The original roof system implemented batt insulation and a liner within the natatorium. To resolve the issues posed by the environment, it was replaced with an insulated metal panel (IMP) system with resistance to chlorine.
"The insulated metal panel system is a complete system, it's got all three things going on in every panel," says Michael Walker, AIA, LEED AP, of Tych & Walker, the project architect. "The interior panel was coated with a product that is resistant to chlorine. It's an all-in-one product, the interior panel, the 150 mm (6 in.) of insulation to get the R-value we wanted, and the standing-seam metal roofing. It made all the difference in the world."
The insulation Walker refers to is a urethane core within the more than 836 m2 (9000 sf) of IMPs installed in the natatorium. The panels are 762 mm (30 in.) wide, with lengths ranging up to 14 m (45 ft) and interior faces coated in white. Both inner and outer faces are made of 22-gauge coated sheet steel, and the steel used for the outer face is pre-weathered. Given the fact the facility is only 1.6 km (1 mi) from the Atlantic Ocean, the outer faces also feature a flurothane coastal finish to better stand up to the salty climate. Additionally, 55 m (180 ft) of gutters coated to match the IMPs were installed by the project team.
"This was the first time we've ever installed an insulated metal roof panel," says Jimbo Spann, project manager and estimator with Spann Roofing & Sheet Metal, which installed the IMPs. "We just don't see a lot of applications like this around here. It was pretty straightforward."
Although Spann says this type of application is uncommon, the Pepper Geddings installation may change this—another natatorium nearby will be solving the same problems the same way: with IMPs.
For the Geddings installation, the project team had to contend with unusual conditions imposed by the environment, along with tight time constraints, as the pool had to be ready to open before the start of summer vacation.
"It was a tight schedule, and it was challenging working above a pool," says Spann. "Just logistical things you don't have on other jobs. Plus, before we could install roofing, the general contractor had to add some steel to the existing structure."
The roofing upgrade also enhanced factors such as the pool's aesthetics, adding an impact-resistant skylight system above it. The team spent four weeks onsite, completing the project in April 2015.
Endnotes:
[Image]: https://www.constructionspecifier.com/wp-content/uploads/2017/04/PepperGeddings7.jpg
Source URL: https://www.constructionspecifier.com/combating-condensation-at-a-south-carolina-pool/
---