Commercial guardrails: Specifying post mounting systems
by sadia_badhon | February 25, 2021 10:43 am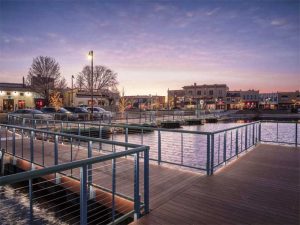 by Brad Adsit, CDT, LEEP AP, and Scott Cathcart
A key factor in successful commercial guardrail application is the attachment of the posts to the substructure (substrate). Many pre-engineered post attachment methods are available to meet diverse needs of commercial projects, including mounting to concrete, structural steel, and engineered wood, or projects with sleeper framing over ethylene propylene diene monomer (EPDM), and fluid-applied membranes.
Additional post attachment options can accommodate fascia mounting with an offset, core mount and block-out, pedestal and paver systems, and several parapet and pony wall applications. All of them can be used in conjunction with various types of connecting hardware, including lag screws, thru bolts, expansion anchors (for concrete), and other specialty connection hardware.
Post attachment options
The most common post mounting option for commercial guardrail applications include base (surface), direct fascia, fascia bracket, and stanchion.
Base (surface) mount
A base, or surface, mount solution is used to mount posts with an attached base plate directly on top of deck, patio, or stair tread surfaces. This type of mounting method can be used on both flat surfaces and angled runs and is a good choice for wide decks or walkways, and cases where there is no concern with posts consuming space on the structure.
In the majority of instances, concrete decks, wall top railings, interior pony walls, and exterior parapet walls will call for surface-mounted posts. Similarly, level wooden decks with at least 76 mm (3 in.) of structural backing at the post locations and rooftop decks with gutters or other obstructions that can prevent fascia mounting are well-suited for surface mounting.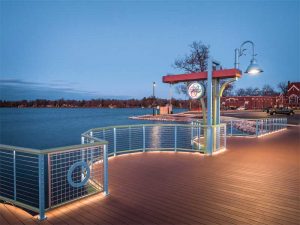 Despite the need for more bolts on a standard install when compared to fascia mounting, surface-mounted posts can be simpler to fix on a level surface. On raised structures, surface mounting enables the installation of posts from the top instead of using a ladder, lift, or leaning over the side of the structure. In most cases, the installer will be able to use shorter bolts since the mounting plate will make direct contact with the surface.
Direct fascia mount
While surface-mounted posts can require up to 152 mm (6 in.) of space around the perimeter due to the size and location of the mounting plates, direct fascia-mounted railing posts do not take up space on top of the deck. Additionally, fascia-mounted posts are less expensive, especially in cases where they are bolted directly through the post, typically utilizing two to three bolts instead of a mounting plate with four bolts.
Direct fascia mounting is usually recommended for smaller surfaces where space is an issue and the surface is uneven. It is important to be able to adjust the posts up or down, as needed. Fascia mounting also lends itself to situations where
a standoff plate needs to be used to avoid a drip-edge flashing or where minimal backing makes it necessary to use a four-bolt mounting plate.
Many decks, especially those on rooftops, use a waterproof membrane to ensure the structure is protected from water. Direct fascia mounting helps ensure the railing posts do not puncture the waterproof membrane. Additionally, it provides a cleaner aesthetic as they hide the deck hardware along the side of the structure.
When using this method, post spacing may have to be reduced to account for the reduced cross-section where the hole is drilled.
Fascia bracket mount
Fascia mount brackets are designed for side mounting to fascia or rim joists when decking or nosing trim extends beyond the edge of the fascia board. These brackets are often used for installation of posts on flat roofs and concrete decks and accommodate both straight and corner runs.
Posts are attached using metal brackets that have a 31-mm (1 ¼-in.) stand-off and are installed flush with the fascia board.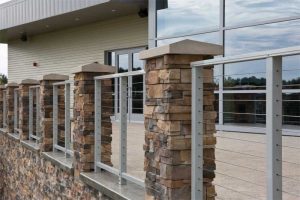 Stanchion mount
Stanchions are used to mount posts to stone or tile-covered concrete slabs, or on roof decks where the penetration of waterproof roofing membranes must be minimized. Short stanchions are attached to the structural members prior to pouring the slab or laying the roof membrane. Railing posts are then sleeved over the protruding stanchion ends and secured with screws. Stanchions are available in steel, aluminum, and stainless steel.
Post fastener method by substrate
Heavy timber beam (Douglas Fir or Western Red Cedar), EWP, glue-laminated timber (glulam), parallel-strand lumber (PSL), laminated veneer lumber (LVL), and treated framing lumber are the most common substrate materials to which guardrails are attached. Other materials include concrete, steel, and a pedestal system over substrate.
The fastener method chosen is often the most critical aspect of ensuring a railing frame can withstand the loads as prescribed by building code.
Heavy timber
Guardrail attachment methods include base, direct fascia, and fascia bracket mount applications. All of these methods can use either lag screws or thru bolts, with specific considerations that depend on project variables and the type of wood being used.
The American Wood Council's (AWC's) National Design Standards (NDS) dictate thread engagement requirements for lag screws into wood and respective tension strengths. This standard is referenced in the International Building Code (IBC).
Treated framing lumber
Guardrail attachment options include base, direct fascia, and fascia bracket mount applications. Lag screws or thru bolts can be used. When opting for the former, it is crucial to ensure adequate blocking to achieve necessary thread engagement. When using thru bolts, sufficient access must exist to install the washer and nut.
It is important to focus on the method of preservation, which may require particular fastener alloys or specially coated fasteners (hot-dipped, zinc-coated, galvanized steel, stainless steel, silicone bronze and/or copper, as specified per IBC requisites).
Concrete
All mounting methods can be used with concrete. The method chosen will depend on unique project specifications/variables. When using an attachment method requiring fasteners, options can include expansion and epoxy anchors and various embed hardware. It is important to pay attention to products designed and tested with both cracked and uncracked concrete, as typically referenced in International Code Council-Evaluation Service Report (ICC-ESR) documentation.
In addition to concrete strength (f'c), effective embedment (depth of anchor), edge distance, and anchor spacing are all important engineering considerations when mounting to concrete. The slab must be an adequate depth to accept proper anchor mounting.
Mounting options may be limited with post-tensioned concrete slabs because the tendons may be (and often are) too close to the slab edge, effectively eliminating the possibility of drilling/cutting the slab. Inadvertently damaging one of the tendons can release a tremendous amount of energy very quickly, potentially causing serious injury or death while irreversibly damaging the substrate.
Similarly, special care should be taken to not collide with or drill through rebar or interfere with rebar locations.
Steel
As with concrete, all mounting methods can be used when attaching posts to steel. Whether fastening to an H-beam, I-beam, C-channel, box beam, hollow structural section (HSS), architecturally exposed structural steel (AESS), or other structural steel members, project specifics need to be taken into consideration. Fastening methods can include drill and tap, welded studs, welded stanchions, and thru bolting.
When welding stanchions to a steel member, it is important to use similar metals and properly account for environmental conditions. For example, in coastal areas or in environments that regularly use de-icing chemicals such as magnesium chloride, potential galvanic reactions can occur when dissimilar metals make contact with one another.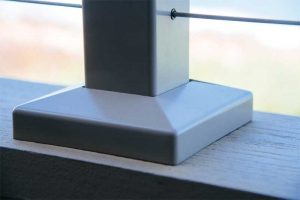 Floating deck systems (pedestal or sleeper framing)
Typical attachment methods include a stanchion or base mount. These systems add distance between the walking surface and mounting surface, which impacts the structural loading on the post and attachment connection. As a result, the moment load is increased due to the elongated lever length. Therefore, the mounting system that is used must be adequately designed and strong enough to accommodate a higher bending strength on the post and larger withdrawal (tension) capacity on the fasteners.
Comparison of pre-engineered and field-fabricated guardrails
Pre-manufactured guardrail systems can offer a number of advantages over the field fabricated systems. In addition to providing more post-to-substrate connection methods, pre-engineered guardrails have a lower risk of corrosion-induced degradation, shorter installation time, and fewer callbacks along both supply chain and product consistency and integrity. Moreover, it has a lower cost of ownership over time, requires less maintenance, and offers more comprehensive warranty coverage.
With pre-engineered guardrails, all structural requirements of the railing frame have been designed and tested in real-world applications prior to the material arriving onsite, and code compliance has already been approved.
When considering a pre-engineered guardrail solution, it is recommended to determine whether the manufacturer has the capability to do one-off engineering reports and/or project-specific analysis, which are often required by some building departments. This will simplify interactions with officials.
In the case of field-fabricated guardrails, a number of challenges can arise. First, 90 percent of all commercial guardrails are constructed of steel, which is prone to corrosion and rusting. When finishing of guardrail is performed in the field, the metal is exposed to the elements until it can be painted.
Guardrail manufacturers, by the nature of their production process, have more control over fabrication. A mass manufacturing, American Architectural Manufacturers Association (AAMA)-accredited facility enables application of more consistent, higher-performing protective coatings and finishes.
Additionally, warranties for field fabricated systems typically do not exceed one year. In the case of pre-fabricated types, the warranties are usually longer in duration and more inclusive.
Finally, factory-produced systems offer more extensive and affordable options, while eliminating the uncertainties that may be encountered during field fabrication. Streamlined material sourcing provides more efficiency and potential scheduling benefits along with increased customizability without sacrificing time and expense.
Long-term cost of ownership
When determining the guardrail for a project, it is important to evaluate the long-term cost of ownership. While traditional steel railing may appear to be less expensive, this is not the case over the life of the product.
When pre-engineered railings are used, change orders and the risk of callbacks and warranty work are minimized, as all calculations have been determined upfront, thereby eliminating guesswork. Additionally, aluminum and stainless steel guardrails require less maintenance than steel guardrails.
Additional specification considerations
Before selecting a guardrail manufacturer, commercial architects and builders should make sure the system and mounting options are IBC code-compliant for all use groups and also check to see if the manufacturer provides engineering reports for its post mounting options. This avoids the need to perform one-off engineering calculations in the field, saving time and reducing the chance for errors.
Additionally, the manufacturer should offer a range of mounting options to meet the varying requirements that can occur within a single project. Finally, it is important to select a company with good ratings for service and a comprehensive warranty that will stand behind its workmanship.
When specifying mounting options for commercial guardrail applications, it is important to carefully consider both the substrate and connection hardware to help ensure structural integrity and safety along with an aesthetically pleasing result. Pre-engineered guardrail solutions offer a number of advantages over field fabricated options, providing an elegant and long-lasting railing solution.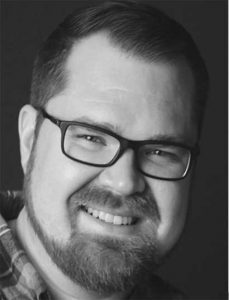 [5]Brad Adsit, LEED AP, CDT, is director of product development at Feeney, Inc. Adsit initially studied architecture and is finalizing a degree in civil engineering. He can be reached at badsit@feeneyinc.com[6].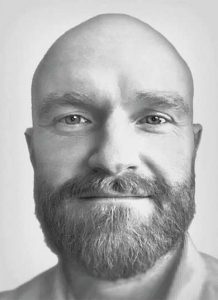 [7]Scott Cathcart is vice-president of business development at Feeney, Inc. His responsibilities include leading the company's commercial and multifamily sales team, with the goal of improving the customer experience. Cathcart earned a bachelor's degree in business administration from the University of Denver. He can be reached at scathcart@feeneyinc.com[8].
Endnotes:
[Image]: https://www.constructionspecifier.com/wp-content/uploads/2021/02/Oconomowoc-Boardwalk-Hi-Res-3.jpg
[Image]: https://www.constructionspecifier.com/wp-content/uploads/2021/02/Fowler-Lake-Railings.jpg
[Image]: https://www.constructionspecifier.com/wp-content/uploads/2021/02/Gleaneagle-golf-club-railings.jpg
[Image]: https://www.constructionspecifier.com/wp-content/uploads/2021/02/DSC_0129-2.jpg
[Image]: https://www.constructionspecifier.com/wp-content/uploads/2021/02/Brad-Adsit-and-Scott-Cathcart-FINAL-e1614218413887.jpg
badsit@feeneyinc.com: mailto:badsit@feeneyinc.com
[Image]: https://www.constructionspecifier.com/wp-content/uploads/2021/02/Brad-Adsit-and-Scott-Cathcart-FINAL-1-e1614218468664.jpg
scathcart@feeneyinc.com: mailto:scathcart@feeneyinc.com
Source URL: https://www.constructionspecifier.com/commercial-guardrails-specifying-post-mounting-systems/
---