Coney Island concert venue uses PVC roof to maximize performance
January 13, 2017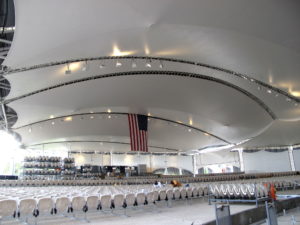 In June, a 5000-seat concert venue joined the attractions of Coney Island in Brooklyn, New York, as part of Riegelmann Boardwalk's new Seaside Park and Community Arts Center. The Ford Amphitheater, a $53-million project, relied in part on its eyecatching roofing to achieve project goals.
The project was completed thanks to the work of a variety of contributors, including tensile roofing consultant FTL Design & Engineering Studio and general contractor Hunter Roberts Construction Group. The design and installation of the amphitheater's fabric roof was completed by its manufacturer, while WSP USA and Mueser Rutledge Consulting Engineers were responsible for geotechnical engineering. GKV Architects, meanwhile, took charge of crucial restoration efforts on an existing restaurant.
Coney Island's Childs Restaurant enjoyed great popularity with tourists in the 1930s and 1940s, but by the 1960s and 1970s, this had faded. The structure was renovated to accommodate the Ford Amphitheater, now comprising backstage and VIP space as well as a restaurant area.
"This is a shining example of adaptive reuse of a really wonderful structure," says Nic Goldsmith, FTL's senior principal. "By augmenting an older building with a tensile structure and other enhancements, you get a new destination that brings in energy, money, and culture, all at once."
To accomplish the diverse goals of the project, the team had to overcome a variety of challenges. For instance, the amphitheater had to be aesthetically distinct with an 'open-air' feel, but could not detract from the historical landscape. The team also needed to be mindful of the venue's proximity to a retirement community—meaning they had to find a way to ensure highly effective acoustic insulation.
Some of these objectives were achieved through installation of the structure's new roof, which includes 3800 m2 (40,900 sf) of polyvinyl chloride (PVC) membrane exterior and 3025 m2 (32,565 sf) of PVC membrane liner. The roof assembly is cheaper and more flexible than many traditional options.
This roof features a pair of acoustical curtains with structural steel leaning arches, which extend more than 30 m (100 ft) and make the fabric demountable, allowing year-round usability of the venue. The wide variety of color choices supported by PVC also facilitates this year-round functionality, with this particular roof possesses a white membrane that reduces heat gain in summer.
"The intricate complexities of the site and its use required a seasonal structure that could be demounted during the off season and stored onsite," says Goldsmith. "Fabric solutions offer one of the few possibilities for such a condition, and the PVC fabric was especially well-suited for this application."
The material's suitability stems from more than just its adaptability. PVC is fire-resistant and meets energy code standards, including those set by the U.S. Environmental Protection Agency (EPA) and Department of Energy (DOE). It is also flexible during and after installation.
Created by combining carbon, hydrogen, and chlorine, the single-ply membrane features weldable seam technology—meaning it can, if softened, be 'fused' with other sheets to form a single continuous membrane. The softening process also makes it possible to infuse the membrane with components such as ultraviolet (UV) light inhibitors and fungicides resistant to soiling. The material's remnants are also recyclable, making it not only an advantageous choice, but also a sustainable one.
Endnotes:
[Image]: http://www.constructionspecifier.com/coney-island-concert-venue-uses-pvc-roof-to-maximize-performance/img_6671x/
Source URL: https://www.constructionspecifier.com/coney-island-concert-venue-uses-pvc-roof-to-maximize-performance/
---