Considerations for anodized aluminum cladding
by brittney_cutler | June 6, 2022 12:00 pm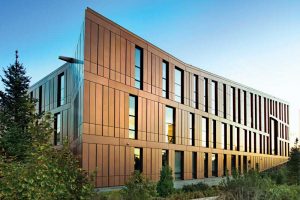 By Tammy Schroeder
Anodizing protects and enhances aluminum cladding in exterior and interior applications. Installed on a building exterior, anodized wall panels must withstand continuous exposure to direct sunlight's ultraviolet (UV) radiation, precipitation including salt spray, and pollution and other climatic conditions of the project's location. For interiors, anodize cladding often is specified for its consistent durability in holding up to daily wear, bumps, and scratches from people within the building.
The anodize process
Unlike architectural painted coatings that are applied on top of a material's surface, anodizing is a finish produced by electrochemically controlling, accelerating, and enhancing oxidation. Anodize is an integral part of the aluminum substrate.
Architectural aluminum anodize typically involves a two-step electrolytic process where the aluminum material is submerged in a series of tanks. After the material is cleaned from grease, oil, dirt, and other contaminants, the first step is placing it into a tank containing an acid and water solution.
The acid dissolves a thin layer on the surface of the aluminum which allows it to develop a smooth uniform finish. Up until the early 2000s, anodize mainly was produced through a conventional, caustic etch process which relied on an aggressive alkaline chemical. Now, most modern finishing facilities rely on an acid etch fluoride-based ionic chemistry. The acid etch process takes approximately 15 minutes and removes only 0.01 kg (0.002 lb) per 0.09 m2 (1 sf) compared to the caustic etch, which took up to 80 percent longer and removed 90 percent more aluminum[3].
The anodize tank is charged with an electrical current which causes natural oxide to form on the aluminum's surface. This heavy oxide film has a controlled, uniform thickness, and an extremely hard surface which protects the metal substrate from deterioration. In fact, the hardness of anodize is comparable to a sapphire, the second-hardest substance on Earth. This material property imparts the finish with excellent resistance to wear and abrasion, making anodize an optimal finish choice for aluminum cladding systems.
To minimize potential inconsistencies, one should specify 5005 aluminum alloy, in anodize quality, for flat sheet as well as consider sourcing all the metal from one lot of material from a single supplier. When anodizing flat sheet for exterior wall cladding panels, the aluminum needs to be a minimum thickness of 1 mm (0.04 in.).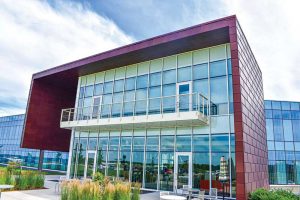 Clear anodize results after the material has gone through the cleaning, etching, and anodizing process. The result highlights the aluminum's natural silver color. If other metallic tones are specified, the aluminum continues an additional step, where the anodized aluminum is immersed in the electrolytic color tank(s).
Specification standards
The specification terminology for anodize finishes can be complex. At its simplest, specify a Class I anodic finish to meet AAMA 611, Voluntary Specification for Anodized Architectural Aluminum, for exterior wall cladding applications. AAMA 611-20 is the most current version of this industry-accepted standard published by the Fenestration and Glazing Industry Alliance (FGIA)[5].
To codify the specification of anodized aluminum, the Aluminum Association has designated Architectural Class I and Class II in subcategory 'A' for anodic coatings. These classes pertain to the minimum dry film mil thickness of the anodic coatings. Class I has a thickness of 18 µm (0.7 mil) or greater, and Class II has a thickness of 10 to 18 µm (0.4 to 0.7 mil)[6].
Coating thickness can be measured by an 'eddy current,' a nondestructive test instrument, or by cutting a cross-section of the anodized aluminum, mounting it in a slide, polishing the edge, and reading the coating thickness directly with a microscope.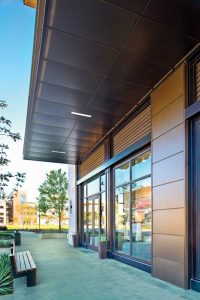 The Aluminum Association Designation System's (AADS) Class I and II should not be confused with the six types and two classes of anodic coatings described in the military model specification, MIL-PRF-8625 (formerly MIL-A-8625), used primarily for non-architectural applications.
Almost all exterior architectural aluminum applications, including cladding, require a Class I specification. The greater mil thickness allows the anodized aluminum to withstand continuous weathering and outdoor exposure with minimal maintenance. Class II coating is recommended for interior applications or light exterior applications that receive regularly scheduled cleaning and maintenance.
In accordance with AAMA 611, Class I anodize also is a suitable choice for coastal climates and other salt spray conditions, including locations were salt is used to de-ice roads and sidewalks. Finishes meeting this standard possess exceptional resistance to corrosion, humidity, temperature, warping, discoloration, and wear.
Sustainability guidelines
Along with its consistent appearance and high performance, the modern acid etch anodize process also is more environmentally responsible than old, conventional, caustic etch chemistry. Since a smaller amount of the material is removed, not only less waste is sent to the landfill, but also the byproducts are recyclable. As the acid etch process takes less time, it is less resource intensive and reduces the amount of water and electric energy required. Further, emissions associated with energy production and use are also reduced.
Anodize with acid etch chemistry creates a matte finish. This also has the advantage of helping to hide small defects in secondary (recycled) billet or die lines and scratches that may occur on the aluminum's surface.
Anodized aluminum is an inert material that is not combustible, poses no health risks, has a long life cycle, and is 100 percent recyclable. Since there is no degradation to the metal's inherent properties and strength, anodized aluminum wall cladding can be 'upcycled' as future building components or other products.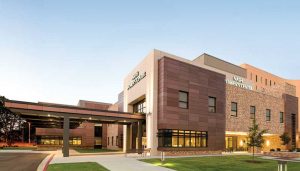 When specifying anodized aluminum for green building projects, material ingredient disclosure and documentation is increasingly needed. Simplifying transparency and evaluation, the International Living Future Institute (ILFI) offers a publicly accessible online database of building products and materials that have earned a Declare Label. Declare screens a product's ingredients directly against the Living Building Challenge (LBC) Red List and flags chemicals of concern[9].
Declare LBC Red List Free products align with other requirements within the ILFI's LBC and Core Green Building Certification and are recognized by the U.S. Green Building Council's (USGBC's) Leadership in Energy and Environmental Design (LEED) rating system, the International WELL Building Standard, and the U.S. Environmental Protection Agency's (EPA's) Recommendations of Specifications, Standards, and Ecolabels for Federal Purchasers. These requirements include ingredient disclosure thresholds, volatile organic compound (VOC) content and emissions, embodied carbon, and responsible sourcing.
A Declare Label as LBC Red List Free demonstrates full compliance with the highest level of LBC criteria. This means 100 percent of the product ingredients were disclosed to 100 ppm and confirmed they do not contain any Red List chemicals or applicable VOCs associated with the product. At least one finishing service provider has earned a Declare Label as LBC Red List Free for all its anodize finishes and colors[10].
Standard and specialty color range
Today, the consistent, matte finish produced by current, environmentally responsible anodize processes is preferred to the less consistent, higher gloss seen with the conventional, caustic etch process. The frosted matte appearance is more recognizable with darker colors and nearly imperceptible with lighter colors and clear anodize.
With quality control closely monitored by both computerized systems and experienced personnel, the finished material should fall within the acceptable color range. Anodize finishes meeting AAMA 611 will not differ in color by more than 5 Delta E. Some finishing providers deliver a narrower range of 1 to 3 Delta E. The range of variation usually is more detectable in lighter colors. Once installed, natural shading and lighting can also be perceived as tonal differences within a wall cladding system. To further minimize variation, one can disrupt side-by-side comparisons by using masonry or other materials to separate wall panels within a cladding system covering a large area.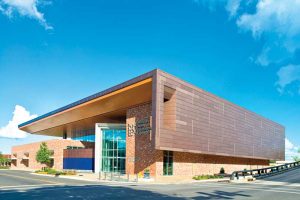 Anodize color is determined during the electrolytic color process that immediately follows the anodization. The anodized aluminum is immersed in a bath containing an inorganic metal, such as tin, cobalt, or nickel. The metal deposits in the anodic pores by means of electrolytic current. This sometimes is referred to as a two-step color process. Different colors result depending on the type of metal and the length the aluminum soaks in the bath. Darker colors are created by extending the immersion time and increasing metal deposition.
Standard anodize color range from light to dark:
∞ Clear
∞ Champagne
∞ Light bronze
∞ Medium bronze
∞ Dark bronze
∞ Extra-dark bronze
∞ Black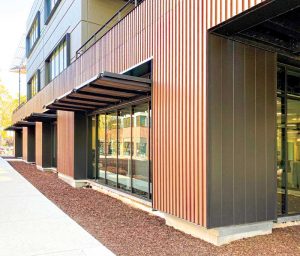 Expanding the traditional color palette for anodize, specialty colors include copper and bordeaux. These are achieved with a third step where the anodize aluminum first is immersed in an electrically charged tin solution followed by a copper bath. While real copper is used, the anodize finish produced will not develop a green patina as it ages or leave run-off stains on adjacent building materials. Beyond color, anodized aluminum cladding offers visual enhancement and design flexibility. For example, post-finish treatments can mimic the look of a brushed, pre-aged, vintage quality.
Since the metal is easy to shape and cut, it can be fabricated into almost any geometric form with straight or curved edges. Panels intended as a shade, screen, or scrim can be perforated into punched patterns using circular, rectangular, or other shapes of various dimensions and spacing. For signage and artistic accents, the aluminum may be crafted freehand by a skillful tradesperson or with a computer-guided cutting machine.
Most finishing service providers and metal cladding manufacturers recommend any cuts, welds, or shaping are completed before the anodize process. With cut material, this ensures the inside edge also is finished. If welding is necessary, specify 5356 wire and the lowest possible heat is used to prevent halo discoloration in the anodized material.
Due to the extreme hardness of anodic coatings, it also is recommended all forming and bending be done prior to anodizing. Most post-production bending can cause anodize to "craze," which produces a series of small cracks in the finish creating an undesirable, web-like appearance. One should consult with the finishing service provider to ensure the best appearance, the highest performance, and a fully warrantied finish.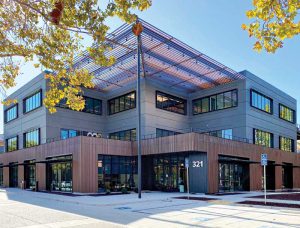 [13]Basic care and maintenance
Most finishing providers offer up to a 10-year extended warranty for anodized aluminum, but its lifespan can last decades with routine maintenance.
The hardness and durability of anodize upholds its appearance and performance. Anodize is a factory-controlled finishing process; therefore, it cannot be touched-up like a painted surface because anodize is integral to the metal.
Even with its resiliency, anodize aluminum's natural aesthetic still may be marred by harsh chemicals and neglect. Some conditions may only affect the surface finish and not reduce the service life of the aluminum, but mortar, cement, and other alkaline materials can corrode an anodize finish if they are allowed to dry on the metal's surface. If reasonable care is taken during handling, and high and low pH chemicals can be avoided, the anodize finish will remain in good repair.
If an aluminum panel suffers a severe scratch or gouge, a paint that resembles the anodize color may be used for small areas. An experienced field service finishing professional would pretreat the damaged area with a chromate conversation coating and then carefully touch up only the visible, raw aluminum. The painted surface will look different than the anodized material, but properly applied, the metal will have more protection than if it remained exposed.
As an alternative to paint touch-up or for anodized wall cladding with more extensive damage, building owners and facility managers may choose to replace or overclad the panel(s) with new, anodized aluminum. If the repair or replacement was not manufactured and finished at the same time as the original, there will be some variation; but it will provide a similar look and specified requirements.
Contributing to maintaining anodized cladding's optimized aesthetic and performance, finishing service providers and cladding manufacturers can provide specifications professionals with cleaning and care instructions. As examples, strong acid or alkali cleaners and abrasive cleaning pads, should not be used and may affect the finish warranty.
While it is a hard and hearty finish, the best advice is to be gentle. A clean water rinse using moderate pressure will help remove most dust and dirt from anodized aluminum with minimal impact to the surrounding environment, further supporting the project's sustainability and longevity.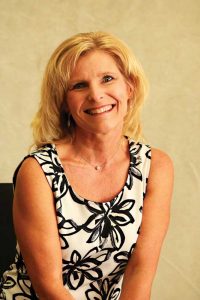 Tammy Schroeder, LEED Green Associate, is the director of marketing at Linetec, one of the largest independent architectural metal finishing companies in the U.S. With more than 20 years of experience, she serves as an industry educator on high-quality, high-performance architectural finishing and services. She enjoys sharing her knowledge with architects, specifiers, and architectural product manufacturers working in commercial and residential building markets. Schroeder can be reached at tammy.schroeder@linetec.com.
Endnotes:
[Image]: https://www.constructionspecifier.com/wp-content/uploads/2022/05/Linetec-DriDesign_UMassAmherst-DesignBldg_0948.jpg
[Image]: https://www.constructionspecifier.com/wp-content/uploads/2022/05/Linetec-DriDesign_CA-AVC_PPrice25.jpg
aluminum: http://www.canart.com/acid_vs_caustic.html.
[Image]: https://www.constructionspecifier.com/wp-content/uploads/2022/05/Linetec-MetalDesignSystems_ISU-EDCF1.jpg
(FGIA): https://store.fgiaonline.org/pubstore/ProductResults.asp?cat=0&src=611.
(0.4 to 0.7 mil): http://www.anodizing.org/page/aluminum-association-designation.
[Image]: https://www.constructionspecifier.com/wp-content/uploads/2022/05/Linetec-DriDesign_TX-ShopsClearfork23.jpg
[Image]: https://www.constructionspecifier.com/wp-content/uploads/2022/05/Linetec-DriDesign_NC-NashWomensCenter_1451.jpg
concern: https://living-future.org/declare/declare-about.
colors: https://linetec.com/anodize/declare-red-list-free.
[Image]: https://www.constructionspecifier.com/wp-content/uploads/2022/05/Linetec-DriDesign_MS-Arts_1753B.jpg
[Image]: https://www.constructionspecifier.com/wp-content/uploads/2022/05/Linetec-SMS_CA-MtnViewCorpCtr_321n1.jpg
[Image]: https://www.constructionspecifier.com/wp-content/uploads/2022/05/Linetec-SMS_CA-MtnViewCorpCtr_321ne1.jpg
Source URL: https://www.constructionspecifier.com/considerations-for-anodized-aluminum-cladding/
---