CONSTRUCT 2017: Knowledge today, innovation tomorrow
September 1, 2017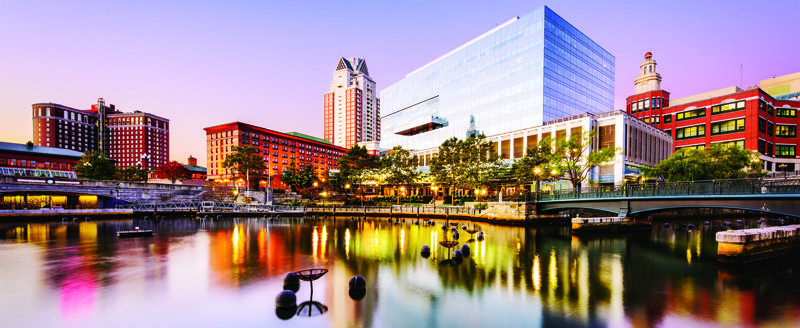 From September 13 to 15, CONSTRUCT, produced by Informa Exhibitions, will bring architects, specifiers, engineers, and other design/construction professionals to the Rhode Island Convention Center for the opportunity to attend educational sessions led by trusted experts, experience first-hand the newest in building products and services, and network with peers and other industry professionals.
The 61st CSI Annual Convention, held in conjunction with CONSTRUCT, also gives the Institute a chance to honor its membership and continue developing CSI's mission.
The show offers fun social events, technical tours, and vanguard speakers, as well as a much-heralded education program (both in classroom seminars and amidst the expo hall floor) that allows design/construction professionals to gain new insight and earn valuable credits.
Over the next few pages, The Construction Specifier looks at the various professional development offerings while also providing attendees with a schedule, floor plan, and list of the many exhibitors coming to Providence. On page 8, we also explore the advantages of being part of the Young Professionals (YP) Day. To stay completely up to date, you will also want to keep checking www.constructshow.com[2], and connect with CONSTRUCT on Facebook[3], Twitter[4], and YouTube[5] to keep current on what is going on with the show and in the industry.
Continuing Education
WEDNESDAY, SEPTEMBER 13
8:00 a.m.−9:00 a.m.
W01−High-performance Window Replacement and Renovation
Tony Cinnamon and Sarah Sinusas
For existing buildings, high-performance glazing systems can address many concerns, but complete window replacement may not be practical or desirable on every project. This session discusses field testing and analysis used to assess windows, and considers strategies to select a suitable replacement or restoration approach.
W02−The Immersive Web and Why it Matters to the Built Environment Professions
Damon Hernandez
Immersive technology is blurring the line between the physical world and the digital, simulated one. Technologies like augmented and virtual reality (AR/VR) are 'upgrading' how many architectural/engineering/construction (AEC) firms conduct business, communicate with clients, and collaborate on projects.
W03−Unlocking Door Hardware Specifications
Laura Frye
Door hardware plays critical roles in fire, life safety, and accessibility. The attendees will leave with a better understanding of how to read and comprehend a door hardware specification, and gain insight on how to interpret the ever-confusing hardware set.
W04−The Architect's "Means and Methods:" Navigating the Chaos and Complexity of Today's Construction Documents
Michael Czap and Gregory Buchanan
The production of construction documents has become much more complicated since the days of pencil and paper. Learning from proven lean thinking and process management theories, this session will explore approaches to the work that leverage the efficiencies of tools like building information modeling (BIM) and databases.
9:20 a.m.−10:20 a.m.
W05−View from the Top: The Owner's Representative
Brent Redmon
This session allows you to move to the other side of the table and get a better feel for the expectations of the owner's rep, as well as how to make the project a success. Those attending will learn from real-world examples of project failures that occurred due to communication breakdowns and bad documents.
W06−The ADA Quiz: Multifamily Edition
Steven Cain
Americans with Disabilities Act/Fair Housing Act (ADA/FHA) requirements have been around for more than 25 years, but there is still confusion and misinformation on exactly what the requirements are, when they apply, and which document or standard should be referenced to find the answer.
W07−The Future of Making Things: The Balance of Digital Technology and Fabrication with the Craft of Building
Christopher O'Hara
One can lose sight of the opportunities design and fabrication technologies offer to improve the built environment in modest ways. This discussion of Studio NYL case studies focuses on primary structures and façades ranging from small art installations to stadiums and high-rises.
W08−Constructability and Critical Transitions of Air, Vapor, and Moisture Barriers
Corey Zussman
This session identifies the different substrate conditions and critical transitions on a complex building. It provides the tools to understand the sequencing for completing the installation, as well as for preventing constructability issues and potential rework in the field.
10:35 a.m.−11:50 a.m.
W09−The Complete Wall: Hands-on Demo of Detailing for a Continuous Air, Water, and Thermal Assembly
Tiffany Coppock
Come get your hands dirty! This session provides an interactive learning environment demonstrating how to create a continuous and effective building envelope, including the air barrier, weather barrier, and the continuous insulation, along with fasteners and flashing. Small groups will work on mockups that include transition examples like windows, penetrations, roof connections, and foundations.
W10−Test Your Code Knowledge: Means of Egress
William Koffel
Brush up on code knowledge during this highly engaging and fun session. Using live polling devices, each participant will respond discreetly to a series of questions based on Chapter 10 of the International Building Code (IBC) and National Fire Protection Association (NFPA) 101, Life Safety Code.
W11−Who'll Stop the Rain: Considerations for Specifying Rainscreen Systems
Andrea Baird
This session provides clarity on the rainscreen specification process through the lens of a forensic architect. It offers an overview of wall systems, reference standards, test methods, a detailed list of requisite design considerations, and a survey of recent project experience lessons learned.
W12−AIA Contract Documents 2017: Revised General Conditions, Owner-Architect, and Owner-Contractor Agreements
Salvatore Verrastro and Lane J. Beougher
This program offers insight into the American Institute of Architects' (AIA's) revision process and the key changes. The participants will understand how the revisions impact their practice and examine how the new Sustainable Projects Exhibit can be used to provide a positive outcome regarding the health, safety, and welfare of building occupants.
1:10 p.m.−2:25 p.m.
W13−TCNA and ANSI: Specifying Successful Tile and Stone Systems by the Book
Jim Whitfield
Based on the Tile Council of North America (TCNA) and American National Standards Institute (ANSI) ceramic, stone, and glass tile standards, this session explores the coordination between the documents and how to effectively use them in specifications. It discusses recent changes to the standards, along with how they benefit project specifications.
W14−Building Information Modeling: Specifications, Software Applications,
and Integrated Project Delivery
Jeffrey Pilus
BIM has revolutionized the way that construction documents are being produced. The speaker explains how different firms use the process, and how information imbedded in the model can improve performance specifications. He will review 'Level of Development' per AIA G202-2013 and explains how to transition technical specifications from UniFormat alphanumeric designation into MasterFormat systems of classification.
W15−The Dangers of Delegated Design
Brian Schoolman
There is a trend of delegating more design responsibilities for elements of construction projects from design professionals to contractors. While this may be convenient for the designer, delegated design operates in a legal gray area of statutory, regulatory, and contractual requirements. What do you need to know?
W16−How Resilience in Building Materials, Energy Efficiency, and Building Codes Impact Project Specifications
Paul Bertram
Design professionals and developers are taking steps to design buildings that go beyond minimum life safety requirements and incorporate the principles of resilient, performance-based design. The public safety benefits of resilience in building codes and energy efficiency can also help communities withstand extreme weather disruptions.
2:40 p.m.−3:40 p.m.
W17−Avoiding a Waterproofing Failure: The Architect's Role
John Guill
Waterproofing failures are the top source of post-construction claims, even though the products and procedures exist to produce reliable waterproof assemblies. This talk explores project photographs, drawings, and constructed conditions for below-grade construction of an actual project where design coordination was ignored. It demonstrates some common mindsets and oversights, and how they can lead to expensive correction.
W18−Selling with Guide Specifications
Michael Chambers
This program looks at how to use guide specifications to effectively communicate product values, functions, and system integration. It also demonstrates how to effectively review and comment on design professional specifications.
W19−What You Should Know Before and After Roofing Installations
Richard Freewalt and Erin Borradaile
This session breaks down the various components and information needed in roofing submittal packages and offers an overview of installation testing methods. The speakers share lessons learned and cover specification coordination, along with common deficiencies, communication requirements, and commissioning.
W20−Preparing for the Architecture Registration Exam 5.0
Michael Riscica
Architecture Registration Exam (ARE) 5.0 is the biggest update to the test in 15 years. This session explores methodology, study techniques, and other tips for those preparing for their first exam.
W21−Through the Eyes of the Contractor: Using Specifications to Bridge the Gap Between Design and Construction
Martin Houston
This presentation provides first-hand insight into how the general contractor uses the project specifications to understand the project materials and quality goals, how the specifications are used to effectively communicate with bidders and secure qualified bids, and how they can be crafted to more effectively communicate the project quality goals.
4:00 p.m.−5:30 pm
W22−What You Don't Know Can Hurt You: New Issues Regarding Fire Protection for Steel Structures
Craig Boucher and Eric Montplaisir
Building code changes, structural design changes, and updates in test methodology and listing of fire-resistive designs at third-party fire-testing laboratories have all resulted in radical shifts in fire protection for steel structures, but these alterations may have gone unnoticed. This session explains what you need to know.
W23−Specs 101 for the Uninitiated
Cherise Lakeside
Explore some of the basic principles of specification organization, language, procedures, general requirements, and roles and responsibilities. This session is appropriate for anyone who would like a better understanding of specifications and their role in the project delivery process, as well as basic procedures to avoid conflicts.
W24−Specifying Target Value Delivery
Beth Stroshane
As lean and target value delivery are broadly adopted, specifiers who are hired during the construction document phase could find themselves becoming obsolete. Documenting performance criteria, quality levels, products, and installation takes place much earlier in the process and may be completed by someone else. This session maps out target value delivery so specifiers can find where their scope went and have the vocabulary to chase it.
W25−The Cavity Wall Conundrum: Balancing Water Intrusion, Airtightness, Thermal Resistance, and NFPA 285 Compliance
Todd Skopic
Many designers are pushing the envelope with open-joint rainscreens and other unconventional wall orientations. Without
a robust weather-resistive barrier (WRB), though, water gets in. Also, the code requires continuous insulation (ci) and, possibly, continuous air barriers. The air barrier, typically directly behind the ci, is tied to combustibility issues and compliance with NFPA 285. What is a designer to do?
W26−Hot Topics and Emerging Trends in AEC
Panel session
Get together with peers to discuss hot topics, emerging trends, challenges, and opportunities, from augmented reality to offsite/modular construction (and everything in between). This is an open forum where the exchange of ideas, opinions, and information is encouraged. Ask questions of the panel of thought leaders or share your own insights.
Thursday, September 14
7:45 a.m.−9:15 a.m.
H01−Proper Specification Writing for Glazed Aluminum Curtain Walls
Joseph Berchenko
Do you know how to properly specify testing and performance requirements? How about sealants and accessories or finishes and tolerances? In using MasterSpec Section 084413, "Glazed Aluminum Curtain Walls," the speaker reviews a specification section line by line to explain what it all means.
H02−State-of-the-art Details for Masonry Construction
Richard Filloramo
This session includes state-of-the-art details and specifications for masonry (brick, stone, and concrete masonry unit [CMU]), tile, and restoration projects that have emerged as a result of new code, energy, safety, and moisture control requirements. It assists with anchored masonry veneer, adhered veneer, rainscreen walls, flashing details, top of wall details, partition walls, column details, large-format tile, terrazzo details, and many other related wall systems.
H03−Symbiosis: The Importance of Collaboration between the Owner, Architect, and Contractor
Marvin Kemp
Symbiosis is defined as a close, prolonged relationship between two or more species. In construction, we have relationships of mutual benefit or dependence, too. This presentation compares two projects with varying levels of trust and interdependence. Using real-world examples, it points to specific red flags indicating potential problems.
H04−Understanding and Ending Moisture-related Flooring Problems
Peter Craig and Scott Tarr
Along with case studies, experts will address where moisture leading to flooring problems originates, how it moves and migrates, and how to protect concrete slabs-on-ground. The speakers discuss what can be done to avoid or correct a moisture-related flooring or coating problem.
H05−Beyond the 2015 Energy Code: Exceed IECC, Meet Local Regulations, and Make Buildings Better
Wendy Talarico
There are many ways to make buildings better, exceed code, stay within the budget, and even save owners money. Simple steps include effective use of light-emitting diodes (LEDs), taking advantage
of commissioning and blower door testing, and increasing the efficiency of HVAC systems. This talk also explores resiliency, techniques for avoiding thermal bridging, and ways to ensure both more efficient insulation and better air barrier installation.
Friday, September 15
7:30 a.m.−8:30 a.m.
F01−What is a Building Enclosure?
Joseph Lstiburek
What happens when the inside gets into the thing separating it from the outside? Worse, what happens when the outside gets into the thing separating it from the inside? Do you let the inside out and the outside in, or kick them both back? Do you let the outside in…or kick it back? The answer depends on many factors, including materials, interior environmental loads, exterior environmental loads, and energy flow. Join Dr. Joseph Lstiburek, dubbed the "dean of North American building science" by Wall Street Journal, for this entertaining and practical presentation about the building enclosure.
F02−Architecture Disrupted: Transforming an Evolving Industry
Bradford Prestbo and Gerard Gutierrez
We are departing from a model in which architecture is commodified and our focus is on a discrete structure or site. Instead, we are becoming social problem-solvers, actively understanding and shaping cultural, environmental, and economic spheres. The future of our profession relies on us transitioning from narrow technical experts to broad social thinkers and doers. The industry needs to expand beyond a conventional fee-for-labor business model and be more entrepreneurial by seeking other revenue streams, such as product design, software development, acting as an incubator, and taking equity stakes in projects.
F03−Biophilic Design: Incorporating Natural Elements into Your Design
Kim Loftis
Biophilic design is the incorporation of various natural elements using techniques to improve occupant health, employee productivity, and overall interior environment. This session features case studies and supportive data to show how commercial, educational, and medical building projects can benefit, using solutions from water features and daylighting solutions to acoustic treatments and analogs of nature in elevated visual planes.
F04−The Accessible Restroom: Why Doesn't ADA Just Give Me the Solution?
Daniel Hargreaves
Public restrooms are one of the most critical building amenities because they must be responsive to a wide range of human needs and also provide service to people with an equally wide range of abilities. This program takes an in-depth look at designing an accessible restroom, including putting together all the components in ADA, while addressing the current code.
F05−Acoustics and Noise Control in Building Design
Jason Ehrlich
This session simplifies acoustics and noise control theory, breaking down sound frequencies in an easily understood manner, with sound clips for illustrating reverberation levels. Acoustic strategies will be presented for common building types where noise control is often required, and treatment considerations will be discussed for rooms with different acoustic design goals.
8:45 a.m.−9:45 a.m.
F06−Conflicting Expectations: Understanding Standard of Care Provisions
Joshua Flowers
How can service providers talk to their clients about reasonable expectations for errors and omissions? This session addresses risk management best practices related to the standard of care on design and construction projects, including negotiating standard of care provisions in industry standard agreements and client-drafted forms, insurance and compliance issues, and current research on setting client expectations for projects.
F07−She's a Specifier, He's a Product Rep: Different Roles, Same Goals
Cherise Lakeside and Eric Lussier
While specifiers do not buy building products, their overall influence on a project is undeniable. This session explores the different perspectives on what product reps do right and wrong before, during, and after a sales call, as recognized by an architectural specifier and an experienced rep. Discussion of specifications, sales practices, substitutions, social media, and communication techniques will take place to improve the architectural sales call for both sides.
F08−Avoid Catastrophic Estimating Errors Through a Proactive Construction Quality Program
Corey Zussman
Being proactive and anticipating the issues leading to common construction failures is key to getting it done right the first time—in the field, on the original construction set, and at the originally estimated cost. This session explores a proactive quality program that starts at the schematic and design development stage, while describing common construction and what is needed to build successfully, through several detailed failures or near-misses from past projects.
F09−LEED v4: Market Transformation in Action
Emma Hughes
LEED is the world's most widely used green building certification. Its latest version includes many updates that have left practitioners grappling with how to specify and evaluate products and technologies. Participants will learn the major updates and explore the various changes made to the way building products and materials are evaluated.
F10−Roofing: Where the Building Touches the Sky
Joseph Lstiburek
Flat roofs, sloping roofs, shingle roofs, membrane roofs—do you vent or do you not vent? Do you need an air barrier or not? Do you need a vapor barrier or not? What happens with metal roofs? Ice dams? What happens when you have a pool? How about an ice rink? Questions, questions, and questions—Dr. Joseph Lstiburek has the answers.
Welcome Receptions
On Tuesday, September 12, from 6 to 8 p.m., Union Station Brewery offers fun, food, and beverages for those attending CONSTRUCT for the first time. There is no cost to attend the Tamlyn-sponsored event, but registration is required and limited to 200 people.
On Wednesday, September 13, the CSI Welcome Reception—sponsored by BSD, Informa, ClarkDietrich, PPG Paints, and Roxul—takes over the Rhode Island Convention Center's ballroom from 6:30 to 9:00 p.m. Your ticket gets you a sit-down, family-style New England clambake dinner, along with two drinks, live entertainment, special prize drawings, and more. Proceeds from a fundraising event will be divided between the Rhode Island School of Design and the CSI Foundation.
Keynote with Thom Mayne
The CONSTRUCT 2017 General Session and Keynote Presentation features important information about the show and CSI, as well as Pritzker Prize-winning architect Thom Mayne's talk. The founding principal at the interdisciplinary architectural firm Morphosis, he will reflect on his work and career, taking attendees on a journey that includes:
an introduction to fabrication and technical design practices;
an exploration of project cost management opportunities through planning, design, and construction controls;
a discussion of opportunities for product development within architectural practices; and
a review of sustainable building practices to maximize returns in spatial, cultural, and environmental terms.
The event takes place from 9:30 a.m. to 11:00 a.m. on Thursday, September 14.
Specifications in the Age of Smart Cities
As the world quickly emerges in the form of large, urban environments, the design/construction industry is being challenged with integrating buildings and infrastructure into the urban fabric of 'smart city' initiatives and innovations. Big Data, the Internet of Things, augmented/virtual reality (AR/VR), kinetic energy, autonomous vehicles, and drones are a few of the rapidly evolving innovations specifiers and other industry players need to understand.
The stewardship of the digital DNA of the built environment through data-centric tools like computer-assisted design (CAD) and building information modeling (BIM) is no longer valued just for the individual building project, but rather its extended value in the interconnection and interoperability of this data in the context of smart buildings, neighborhoods, and cities.
On Friday, September 15, speaker Paul Doherty leads a 'Game-changer' session from 10 to 11 a.m., entitled "Specifications in the Age of Smart Cities: How Specs Are Changing the World." Its goal is to teach participants how to:
construct a solution framework to address the holistic opportunities of an interconnected world as a best practice;
identify emerging technologies, standards, and processes;
recognize the effects of culture and technology on their work processes and workplaces; and
implement tools and services that provide practical, measured success.
Let's Fix Construction: An Interactive Luncheon
From 12 to 1 p.m. on Wednesday, September 13, an interactive problem-solving session (and buffet!) will strive to identify multiple prevalent problems within the industry. Led by Cherise Lakeside and Eric Lussier, teams will be allotted time to brainstorm an out-of-the box, collaborative, forward-moving solution to a given architectural/engineering/construction (AEC) problem. The intent is to improve communication, collaboration, unique ideas, and the sharing of perspectives from different disciplines.
CSI Night Out
Close out the week with the best party at CONSTRUCT! Join us at Skyline at Waterplace from 7 to 10 p.m. to network, enjoy live music, and take in the scenic views of Providence. Registration for CSI Night Out (limited to those 21 and older) includes two beverage tickets, appetizers, and entertainment. Skyline is within walking distance of the host hotels. Come casual and ready to party! Event sponsors include BSD (Platinum), Behr (Gold), ATAS International Inc., AWI, Allegion, LP Building Products, PPG Paints, DuPont (Silver), and Tnemec (Bronze).
CSI Honors & Awards ceremony
On Thursday, September 14, a ceremony from 6 to 7:30 p.m. will feature CSI awards including the Outstanding Chapter Commendations, Distinguished Membership, The Construction Specifier Article of the Year, and investiture of new CSI Fellows. It will be followed by the CSI Celebration of Fellows—a preregistration-required cocktail event sponsored by ATAS and Sherwin-Williams.
Click here[6] to view the full schedule.
[7]
CONSTRUCT 2017 EXHIBITOR BOOTHS (AS OF AUGUST 3)
AceClamp – 1231

Acorn Wire and Iron Works – 1134

Advanced Building Products – 1207

AES Industries. – 312

AGC Glass Company North America – 1103

Air Barrier Association of America (ABAA) – 1034

Airex Manufacturing Inc. – 1330

Airline Louvers – 409

Alpine SnowGuards – 1208

American Gypsum Company – 603

ARCAT Inc. – 803

Architectural Engineering and Construction Institutes of ASCE – 1328

Architectural Products Magazine – 316

Archovations Inc. – 1217

ARCOM–The Specification Experts – 703

Ardex – 937

Armatherm Inc. – 641

Ashford Formula – 1127

ATAS International Inc. – 705

Atkore International – 1019

AWI Quality Certification Corporation – 602

Barrette Outdoor Living – 509

BEHR and KILZ Paints & Primers, A Masco Company – 927

Benjamin Moore Paints – 737

Berridge Manufacturing – 512

Best Bath Systems – 426

Best, Precision, Stanley – 919

Bristolite Daylighting Systems – 1109

Building Systems Design Inc. – 613

CHI Overhead Doors – 1121

Carlisle Construction Materials – 704

CEMCO – 1112

Century Chutes LLC – 1202

CertainTeed Roofing – 419

Chief Buildings – 427

CHUTES International – 1221

ClarkDietrich Building Systems – 1126

Cline Aluminum Doors Inc. – 506

CoatingsPro Magazine – 319

Contractors Register Inc. – 418

CornellCookson – 839

Cosella-Dorken Products Inc. – 1131

CSI – 713

CSW Industrials – 813

Custom Building Products – 1302

CustomTech by Custom Building Products – 1304

D&P Custom Lights and Wiring Systems Inc. – 1027

DACS Inc. – 634

DaVinci Roofscapes – 1316

Detex – 1111

dormakaba – 513

Dow Building Systems – 410

Draper Inc. – 806

Duncan Galvanizing – 1230

DuPont – 505

Durability + Design – 437

ECHOtape – 1107

EcoSupply – 305

Emme Controls – 431

Entrematic – 530

EPIC Metals – 1007

Excel Dryer Inc. – 831

Fabcon Precast – 535

FabricMate Systems Inc. – 417

FCIA – 639

Ferguson Perforating – 537

Firestone Building Products – 604

Flex Membrane International Inc. – 1135

FreeAxez LLC – 1216

FSR – 1205

GAF – 802

Georgia Pacific Gypsum LLC – 631

Global Security Glazing – 1331

Gordian – 317

Green Link Inc. – 411

Hacker Industries Inc. – 1318

Hager Companies – 907

Henry Company – 327

Hilti Inc. – 519

Hohmann & Barnard Inc. – 1006

Hunter Panels – 516

Husky Yellow Guard by Poly-America – 1229

Innovative Access Solutions, LLC – 402

International Cellulose Corp – 837

International Masonry Institute – 1317

Intertek – 318

Invisible Structures Inc. – 536

JointMaster ­­­– A Division of Inpro – 1228

Keene Building Products Inc. – 637

Ketcham Medicine Cabinets – 1333

Key Resin Co. – 1017

Kinetics Noise Control – 930

Kingspan Insulated Panels – 1106

L & T Import and Export Corp – 326

Lafayette Venetian Blind Inc. – 835

Low-E Insulation – 405

LP Building Products – 527

Ludowici Roof Tile – 526

Maple Flooring Manufacturers Association – 1220

Marino\WARE – 313

Marvin Windows and Doors – 913

Master Wall Inc. – 1036

MIA+BSI: The Natural Stone Institute – 638

Mohawk Sign Systems Inc. – 331

Momentive Performance Materials Inc. – 935

National Air Duct Cleaners Association (NADCA) – 1329

National Comfort Products – 416

New Millennium Building Systems – 403

Noble Company – 1117

Northern Facades Ltd. – 740

NTA Inc. – 636

Nucor, Vulcraft/Verco Group – 1226

Nystrom Inc. – 736

O'Keeffe's Aluminum Ladders – 1116

Oldcastle–Echelon Masonry – 309

Overly Door Company – 738

Owens Corning, LLC – 1204

OXX – 434

Pacific Stair Corp – 303

Paskr Inc. – 1209

PDQ Industries Inc. – 1130

Pecora Corporation – 321

Pella Commercial – 1031

Plastic Components Inc. – 1119

PPG Industries Inc. – 1003

Pratt & Lambert Paints – 408

Quality Powder Coating – 1037

R.H. Tamlyn & Sons LP – 731

Reef Industries Inc. – 1203

RetroPlate Concrete Polishing System – 1129

Ron Blank & Associates Inc. – 702

Roofing Contractor/Walls & Ceilings – 310

Roxul Inc. – 1009

Rust-Oleum – 640

SAFTI FIRST Fire-rated Glazing Solutions – 1118

Salsbury Industries – 1312

Schindler Elevator Corporation – 605

Schluter Systems LP – 435

School Guard Glass – 1219

SCHOTT North America Inc. – 1004

SCIP – 406

Sherwin-Williams – 1011

Sika Sarnafil – 936

Smart Vent + ILC Dover – 1102

Speedymason LLC – 430

Stadium Savers Ltd. – 1104

STEGO Industries LLC – 607

Sto Corp – 407

Tnemec Company Inc. – 903

Tower Industries Inc. – 1326

Tremco Commercial Sealants & Waterproofing – 1234

Trim-Tex Inc. – 1227

Tubelite Inc. – 1002

U.S. Rubber Recycling Inc. – 1212

UL – 1235

Ultimate RB Inc. – 503

Ultra-Tec Cable Railing – 1313

V&S Galvanizing LLC – 1040

Versico – 606

Viper II Vapor Barriers – 1315

W.R. Meadows Inc. – 502

Weather Shield Windows & Doors – 335

Williams Products Inc. – 1319

Wood Haven Inc. – 1210

Wooster Products Inc. – 413

York Flashings – 1035
For updates, visit www.constructshow.com.[8]
Endnotes:
[Image]: https://www.constructionspecifier.com/wp-content/uploads/2017/08/bigstock-Providence-Rhode-Island-USA-158864507-e1504201392171.jpg
www.constructshow.com: http://www.constructshow.com
Facebook: https://www.facebook.com/constructevent
Twitter: https://twitter.com/CONSTRUCTshow
YouTube: https://www.youtube.com/user/hwconstructshow
here: https://www.constructionspecifier.com/wp-content/uploads/2017/08/92-93.pdf
[Image]: https://www.constructionspecifier.com/wp-content/uploads/2017/08/CONSTRUCT0917_FloorPlan.jpg
www.constructshow.com.: http://www.constructshow.com
Source URL: https://www.constructionspecifier.com/construct-2017-knowledge-today-innovation-tomorrow/
---