Construction begins on adaptive-reuse project on historic Arizona building
March 10, 2021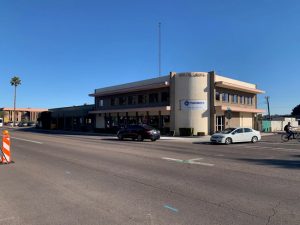 Navaera[1] has started construction on its adaptive-reuse project for the former Bratzel Building in downtown Scottsdale, Arizona.
The project will revitalize the 783-m2 (8427-sf) building originally designed in 1966 by Frank Lloyd Wright apprentice Ray Parrish.
The project will modernize the former industrial building and transform it into a modern, energy efficient office environment suitable for high-tech research and development. According to Matthew Adler, a managing principal at Navaera responsible for the project, "Navaera believes strongly in adaptive-reuse projects that enable our organization to keep stories and memories of our communities alive, while also reducing unnecessary waste in constructing our office environments. We are excited to be moving into the downtown Scottsdale area, with its array of amenities and central location."
Navaera has engaged Bayley Construction[2] as general contractor for the project.
Jeremy Vermilyer, Bayley's superintendent on this project, said, "I am excited to bring new life to the former Bratzel Building here in Scottsdale, where one of our offices is also located. It is always a fun challenge renovating a building from the mid-'60s. With hard work and a great team like ours, nothing is impossible."
Upon completion of the project, Navaera will occupy the second floor of the renovated facility. Two suites will be made available for lease on the building's ground floor, which will range in size from 93 to 381 m2 (1000 to 4100 sf). The project is expected to be completed in May 2021.
Endnotes:
Navaera: https://www.navaera.com/navaera.html
Bayley Construction: https://www.bayley.net/index.html
Source URL: https://www.constructionspecifier.com/construction-begins-on-adaptive-reuse-project-on-historic-arizona-building/
---