Controlling noise with metal ceiling systems
May 17, 2019
by Sean D. Browne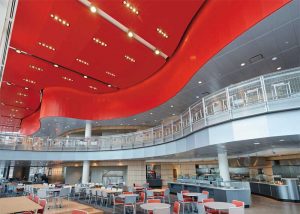 Specifiers who choose acoustical ceiling systems in commercial applications are discovering what the ceilings industry has observed for quite some time: the growing use and popularity of metal ceiling systems is a direct result of their eye-catching visuals, noise control, and long service life.
One of the main reasons for their popularity is the sleek, upscale, high-tech look metal brings to a space. This sophisticated feature makes them ideal for use in high visibility areas, such as lobbies, conference rooms, corridors, theaters, and transportation terminals, as well as in several corporate, retail, and hospitality environments. Long popular in European commercial design, today's metal ceiling systems are offered in a wider variety of sizes, forms, and shapes than ever before.
Durability is another reason for their growth. Metal ceiling panels are often chosen over other options because of their service life, especially in areas where access to the plenum is frequent or where the ceiling is exposed to occupant interaction, frequent cleaning, or other potentially damaging situations.
Most metal ceiling systems are manufactured from electrogalvanized steel or aluminum. Many of them also feature a factory-applied powder-coated finish for added durability. Humidity resistance and low maintenance are other important considerations in the selection of metal.
Aesthetics plus acoustics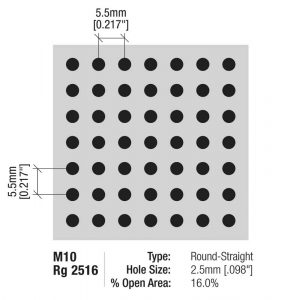 Specifiers do not always associate metal with good acoustics. Yet, metal ceilings can provide very effective acoustical control in addition to their eye-catching aesthetics, making them a versatile and functional design element. To obtain the acoustic benefits, however, the panels must be perforated and backed with a sound-absorbent liner behind the perforations, usually in the form of a thin black acoustical fleece, mineral fiber panels, and/or an encapsulated fiberglass infill.
Thickness, density, and mounting method affect the sound absorption of the backloaded acoustic material. In typical backloading applications, the material is laid on top of the perforated metal panels with an air gap between the material and the deck.
The number, size, and shape of the perforations also impact the acoustical performance of the ceiling panel. Depending on the perforations, sound can pass through the ceiling panels and be absorbed by the material behind them.
Factors determining how much sound can pass through perforated metal panels are:
metal thickness;
number of perforations;
perforation diameter;
distance and spacing between perforations; and
percent of open area of panels.
Larger perforations, closely spaced, on thin metal provide the highest level of sound transparency available while thicker metal with smaller holes spaced further apart will have less transparency, thereby blocking sound from the absorptive material behind the panels (For more information, read "Acoustical Uses for Perforated Metals: Principles and Applications" by Theodore J. Schultz, PhD, at www.iperf.org[3].).
Consider the perforation pattern in Figure 1. This panel allows more than 95 percent of sound to pass through it to be absorbed by the backing material. Acoustical tests performed at a National Voluntary Laboratory Acreditation Program (NVLAP) facility on the panel yielded the following: with only a thin acoustical fleece, the has panel achieved a noise reduction coefficient (NRC) of 0.80, meaning it absorbs 80 percent of the sound striking it. With both a thin acoustical fleece and a fiberglass infill, the NRC is 0.90.
Perforations vary in size and pattern depending on aesthetic appeal. For years, only limited perforation choices were available, but today they are offered in a myriad of options. It is even possible to have extra microperforated panels where the holes are so small, they are essentially invisible. It is also possible to have custom perforations, allowing designers to transform images to the metal ceiling panels, and offering a unique visual with acoustical performance.
Multitude of choices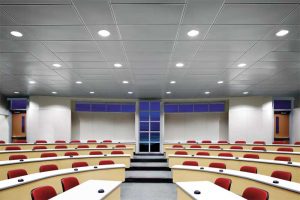 The chosen perforation pattern affects the acoustical absorption of the ceiling. When selecting metal ceilings, there are three general categories of perforated panels to consider when aesthetics and acoustics are needed for a space.
Highly perforated
These ceilings have a perforation area of more than 20 percent of the ceiling area. They are available in a variety of patterns and shapes, including circles, squares, diamonds, bars, and slats. Since the panels are essentially transparent to sound, performance is dependent on the acoustic treatment placed behind the ceiling.
Generally, when the open percentage of the metal is above 20 percent, the acoustical absorption of the backing material is 100 percent preserved. To validate this, the Industrial Perforators Association (IPA) performed an analysis of three perforated metal panels with fiberglass backing. The panels were 46 percent open area, 37 percent, and 23 percent. All were tested for acoustical absorption and compared to the fiberglass alone.
The tests[5] found "there was virtually no diminishment of the fiberglass blanket's sound absorption performance by the presence of any of the perforated metal panels. They were equally transparent with only minor and insignificant variations. Each of the tests followed the performance of the bare blanket very closely at all frequency levels."
Highly perforated ceilings are frequently found in retail applications, especially boutique environments, and hospitality installations such as restaurants. They are also used in many types of high ceiling applications such as gymnasiums. Since there is so much open area, use of a black acoustical backer is recommended.
Moderately perforated
These ceilings have an open area of less than 20 percent. The perforations are predominantly circular, although other shapes are available. These ceilings are commonly used in commercial applications, including office and educational buildings, and healthcare facilities.
If the acoustical goal is to lower the sound of occupant voices, it is advisable to choose a panel with an open area as close to 20 percent as possible. Additionally, the smaller the perforation, the better.
Minimally perforated
These ceilings have an open area of less than two percent, but can still provide good acoustical performance if properly designed and backed with an appropriate infill. Minimally perforated ceiling panels can be installed in a range of applications to reduce occupant sound level and/or the background noise created by an HVAC system.
Visually, the perforations can hardly be seen and give the appearance of an unperforated ceiling. Consequently, if a visible perforation pattern is aesthetically desired in the ceiling, it is recommended to select one of the other choices above.
Variety of finishes
Metal ceilings are offered in a variety of finishes that coordinate with other interior metal finishes. The most popular colors are white, silver gray, and gun metal.
Today, there are even metal ceiling panels offering the rich, warm look of wood, but at a much more affordable cost than real wood. These ceilings are made possible by a technology embedding a realistic image of maple, cherry, walnut, and other wood species onto the surface of the metal ceiling panel. The powder-coated finish (post-coated) produces a consistent color tone and grain, greatly reducing the variations occurring in real wood panels. And, the panels can be perforated for acoustic control.
Metal ceilings with real wood veneers are also available. These ceilings are usually offered in three standard veneer finishes—maple, light cherry, and dark cherry. Custom finishes are also available.
For a more contemporary look, a broad range of metal mesh panels are available. The mesh family of ceilings is typically offered in three types of panel patterns—welded wire, woven wire, and expanded metal.
 Case study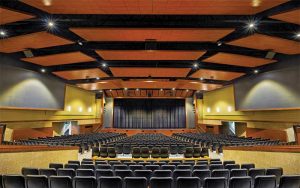 The ability of a metal ceiling to provide aesthetics and acoustics, along with a custom color, was recently demonstrated in Boston. As part of a new multi-use residence hall, the Berklee College of Music desired a space that would serve as a dining area during the day and a performance venue for students at night. Due to the dual function, both aesthetics and acoustics were key considerations in its design.
To meet the challenge, the Boston-based design team at William Rawn Associates created the 'Caf', a two-story, 400-seat space featuring a 10-m (32-ft) high ceiling, a gracefully curved second floor balcony, and a floor-to-ceiling glass wall.
According to designer Brian Putnam, the design team wanted to impart a dynamic quality to the space to complement its urban setting. One way the team accomplished its goal was to use metal torsion spring panels in a custom red color in the ceiling.
"Red was chosen because it is the school color and both eye-catching and highly visible from the street," Putnam said.
Apart from its looks, the light weight of aluminum ceiling panels and their durability were some of the considerations for a metal ceiling.
"Torsion spring ceiling panels were chosen because they have no exposed grid and still allow accessibility where needed," Putnam added.
The ceiling panels are installed in a series of clouds mirroring the balcony's 'ribbon wall,' which has been designed with sweeping curves to redirect sound. All of the metal panels in the ceiling are perforated and backed with a fiberglass infill for acoustic control.
"To create the space we desired, we knew we would be heavily reliant on the ceiling, both in terms of aesthetics and acoustics," Putnam said. "It is amazing how much of a signature element it has become."
Variety of shapes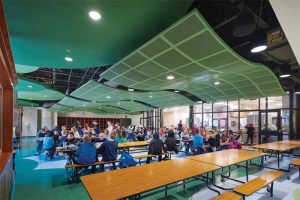 In terms of shapes, the most common design choice is a 0.6 x 0.6-m (2 x 2-ft) panel although metal ceilings are also available in geometric, linear, and plank versions as well as radial and curved systems in an assortment of sizes.
Other choices include undulating 3D metal ceilings available in 'hills' and 'valleys' to create a distinctive serpentine effect. A variety of 'free-floating' ceiling clouds and canopies are also available, many of which are curved to create a 'wave' profile.  Some are available in 'kits' to minimize or eliminate onsite cutting and measuring.
Case study
The myriad of metal ceiling options provides specifiers with the opportunity to create signature ceilings in a wide variety of spaces. A case in point is the conference room at the new National Oceanic and Atmospheric Administration (NOAA) facility in Grandview, Missouri.
The room is used to host everything from staff briefings to national meetings. As a result, the design team at Burns & McDonnell, Kansas City, Missouri, felt it was important to create a space that would not only embody the center's mission, but also provide the staff with a space they could be proud of.
"We wanted to create a space that would leave a lasting impression of the facility," said Rhonda Hulkill, the senior interior designer, "and the best opportunity for making an impression is the ceiling."
The design team achieved its goal by creating a ceiling featuring custom 0.6 x 1-m (2 x 4-ft) metal ceiling panels installed diagonally across the room in "a herringbone pattern. The result is a visual reminiscent of lightning bolts. A 152-mm (6-in.) gap separates each of the bolts, while blue fluorescent lighting behind the panels represents the sky and adds even more interest to the ceiling visual.
All the metal panels are perforated and backed with an acoustical fleece to provide sound absorption.
"Considering the multiple uses of the space, acoustical performance was a key consideration," Hulkill said.
According to the associate architect Vicky Borchers, metal ceiling panels were chosen because of their durability and light reflectance.
"We wanted a certain amount of reflectance to extend the blue light into the room and give the space more life. Since the panels are floating, we also wanted sharp, crisp edges as they are visible," she said.
As far as making an impression, she reports that the conference room has become the facility's signature space.
"It is definitely the space everybody remembers and also the first place the staff takes everyone," she added.
Ease of installation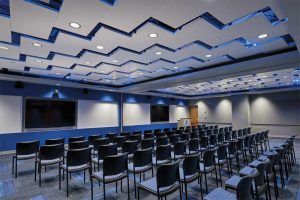 Some specifiers may think metal ceilings are difficult to work with. However, they can be installed easily in standard suspension systems and integrated well with standard light fixtures, including high hats and linear and geometric lighting.
Many metal ceilings are designed for installation in 24 mm (15/16 in.) exposed tee suspension systems, making them ideal for renovation applications as well as new construction. Since there is no need to replace an existing suspension system, renovation projects can be completed quickly. Other metal ceilings can be installed in 14 mm (9/16 in.) suspension systems.
In the case of 'free-floating' clouds and canopies, installation is made easier through the availability of kits containing all the components required for the job. All components are pre-engineered for fit and finish to help ensure consistent visual quality. They also allow faster and easier installation since the system requires no field modification and only assembly.
Assistance available
The increasing popularity of perforated metal ceiling systems for sound control has resulted in the need for much more collaboration between specifiers and ceiling manufacturers, especially in the case of custom installations.
To meet this need, some manufacturers now offer a consultative design service including project management for the ceiling system, from concept to completion. The team is comprised of specialists with expertise in both architecture and engineering whose sole mission is to partner with architects and designers in the implementation of signature ceilings. There are also a myriad of tools and custom reports available to determine the proper acoustical treatments needed when specifying metal ceilings for a specific space.
Sean D. Browne is the principal scientist for Armstrong Ceiling & Wall Solutions in Lancaster, Pennsylvania, where he leads the Armstrong acoustics program. A member of the Acoustical Society of America (ASA) and ASTM, Browne has engineering degrees from Florida State University and the University of Miami, and has been published in the journals of the International Symposium on Room Acoustics (ISRA) and Acoustical Society of America (ASA). He can be reached at sdbrowne@armstrongceilings.com[10].
Endnotes:
[Image]: https://www.constructionspecifier.com/wp-content/uploads/2019/05/Metal-Clgs-4.jpg
[Image]: https://www.constructionspecifier.com/wp-content/uploads/2019/05/Figure-1.jpg
www.iperf.org: http://www.iperf.org
[Image]: https://www.constructionspecifier.com/wp-content/uploads/2019/05/Metal-Clgs-1.jpg
tests: http://www.iperf.org/files/9013/9266/7856/IPA_Riverbank_Handbook.pdf
[Image]: https://www.constructionspecifier.com/wp-content/uploads/2019/05/Metal-Clgs-2.jpg
[Image]: https://www.constructionspecifier.com/wp-content/uploads/2019/05/Metal-Clgs-3.jpg
[Image]: https://www.constructionspecifier.com/wp-content/uploads/2019/05/Metal-Clgs-6.jpg
[Image]: https://www.constructionspecifier.com/wp-content/uploads/2019/05/Metal-Clgs-7.jpg
sdbrowne@armstrongceilings.com: mailto:sdbrowne@armstrongceilings.com
Source URL: https://www.constructionspecifier.com/controlling-noise-with-metal-ceiling-systems/
---