Cornell Tech opens world's largest Passive House building
by Samantha Ashenhurst | November 20, 2017 9:37 am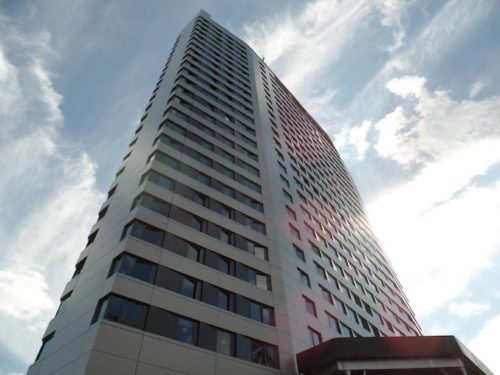 This past summer, the Cornell Tech[2] campus on New York City's Roosevelt Island opened the world's largest building to meet Passive House criteria. Nicknamed 'The House[3]', the 26-story residential tower with 350 units is projected to save 882 tons of carbon dioxide (CO2) annually.
Much of the project's success is credited to the design and implementation of an ultra-high-efficiency HVAC system. The unit was designed to provide comfortable room temperatures and exceptional indoor air quality (IAQ) at a lower cost than traditional systems. Julie Janiski, project manager at BuroHappold Engineering[4], which oversaw the development, recognized that a fitted building envelope was integral to the project's energy-efficient design.
"To achieve Passive House standards," Janiski explains, "it's important to have an extremely tight building envelope and that requires an energy-efficient way to bring fresh air to all the living spaces while exhausting air from kitchens and bathrooms. [This] required a lot of ductwork delivering air at very low CFM [i.e. cubic feet of air per minute]. The ducts had to be tighter than traditional manual sealing typically provides in order to ensure that those low CFM targets were fully delivered in the living space."
Experts from Taitem Engineering[5] managed the project to ensure the ducts were completely sealed. The team used an advanced, computerized sealing technology—a method that operates from the inside of the ducts to close leaks. Sealing equipment connects to the ductwork via a long, flexible tube. The sealant is then blown into the duct interior where it locates and seals leaks.
"We divided and sealed the ductwork one section at a time," explains Evan Hallas, operation manager at Taitem. "The computerized…system measures results as the sealant is being applied, so we knew the results were impressive before we were even done."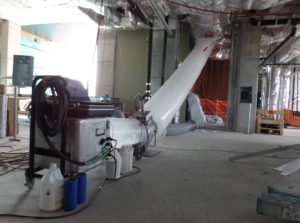 Final tests showed the sealing technology reduced leakage by an average of 98 percent with final leakage rates below one percent.
The method also reduced production time. The building's system includes 55 vertical risers, each running the height of the 82-m (270-ft) building, as well as hundreds of horizontal runners branching from risers to each individual room, kitchen, and bathroom in the residence. Taitem Engineering's three-person crew sealed the entire duct system in just eight days.
"It seems a bit like magic when you watch the aerosealing process," says Ryan Lobello of Handel Architects[7], the firm on the project. "The report generated by the sealing system gives an equivalent hole size for the amount of remaining leakage, and it was so small we couldn't even really draw a representation of it."
Endnotes:
[Image]: https://www.constructionspecifier.com/wp-content/uploads/2017/11/Cornell_1.jpg
Cornell Tech: https://tech.cornell.edu/
The House: https://tech.cornell.edu/campus/the-house-at-cornell-tech
BuroHappold Engineering: https://www.burohappold.com/
Taitem Engineering: http://www.taitem.com/
[Image]: https://www.constructionspecifier.com/wp-content/uploads/2017/11/Cornell_2.jpg
Handel Architects: http://www.handelarchitects.com/
Source URL: https://www.constructionspecifier.com/cornell-tech-opens-worlds-largest-passive-house-building/
---