Corrosion-resistant finishes for high-traffic projects
December 20, 2018
by Tammy Schroeder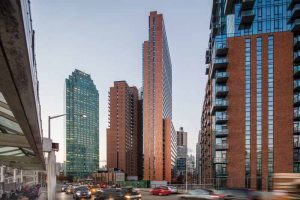 The risk of corrosion should be a key consideration when specifying finishes for a building envelope's architectural aluminum products. Regardless of the project's proximity to the sea, transportation facilities, transit-oriented developments (TODs), and many other high-traffic city centers can present significant challenges in protecting exterior-facing elements that are made of architectural aluminum.
Without proper precautions and finishes, corrosion to finished aluminum components can damage the structural integrity of the building envelope and lead to systemic failure. Such failures can have dangerous and costly results when they affect the connecting points and places within urban landscapes and skylines.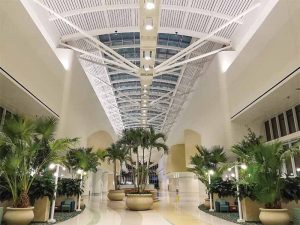 Windows, storefronts, entrances, curtain walls, sun shades, canopies, skylights, column covers, rainscreens, and exterior panels—all are commonly manufactured from aluminum and integrally connect to a building's façade. In almost any city, these architectural aluminum products are continually exposed to not only weathering, but also pollution, chemicals, and the constant bumps and scuffs of pedestrians. While salt spray performance considerations are reserved for coastal conditions, it is important to remember salt mixture often is used to de-ice roads, making it an equal concern in colder climates.
As a prominent part of the building's exterior, the finished aluminum adds color and aesthetic appeal to the project. The coating also protects the building from unsympathetic surroundings. The American Architectural Manufacturers Association (AAMA) continues to set the highest standard for architectural finishes, especially in highly corrosive environments. When selecting a coating to withstand such conditions, design professionals must select either the highest-performing organic paint coating meeting AAMA 2605, Voluntary Specification, Performance Requirements, and Test Procedures for Superior-performing Organic Coatings on Aluminum Extrusions and Panels, or a Class I anodize meeting AAMA 611, Voluntary Specification for Anodized Architectural Aluminum. Case study examples will be presented throughout the article to demonstrate how coatings and finishes can protect architectural aluminum products.
High-performance painted coatings
Using high-performance, 70 percent polyvinylidene fluoride (PVDF) resin-based coatings on architectural aluminum products provide architects, specifiers, and building owners the capability to select nearly any conceivable color or combination of colors, while shielding the building against weathering, pollution, and aging.
PVDF is known for its chemical stability and resistance to ultraviolet (UV) radiation. It is used in architectural applications as a coating on aluminum providing exceptional resistance to environmental exposure.
The carbon-fluorine bond in the 70 percent PVDF is one of the strongest known. These paint coatings can withstand enduring and intense UV radiation. Such attributes support long-term color and gloss retention as well as chalk resistance.
These coatings also meet AAMA 2605. This specification requires paint coatings to meet rigorous testing performance standards including more than 4000 hours of salt spray and heat- and humidity-resistance tests.
Orlando airport's painted skylights stand up to sun and salt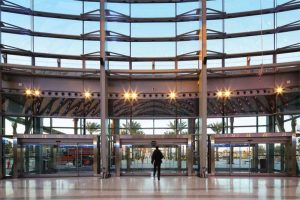 The new Intermodal Terminal Facility (ITF) at Orlando International Airport's South Airport Complex offers a seamless travel experience for 44.3 million annual passengers. Designed by HKS Architects, the ITF features a 743-m2 (8000-sf), heavy-duty commercial skylight. This daylighting system helps connect those arriving and working within the space to the welcoming surroundings and the Florida sunshine.
"Although the aesthetics are certainly important, the skylight specifications are more performance-driven than aesthetic," acknowledged David Thomas, AIA, associate principal at HKS. "Firstly, we did not want it to leak and the skylight system needed to meet Florida product approval. The finish also needed to withstand the harsh climate and local airport conditions."
Corrosion resistance was among these conditions and specification considerations for the ITF skylight's finished aluminum framing. The low-rise, segmented barrel-vault skylight spans 12.3 m (40 ½ ft) wide x 60 m (97 ½ ft) long. Hundreds of aluminum-framed segments compose the total skylight system. Each aluminum extrusion was manufactured with recycled content and finished in a bright silver color using a 70 percent PVDF resin-based coating system.
Prior to finishing, the extrusions were stretch formed to the skylight's required radius. Maintaining close and consistent tolerances, this process yields a smooth and even curved surface. To obtain the best finish quality and to keep parts fully warranted, it is necessary to thermally improve and finish the aluminum framing members after they have been stretch formed. Installing the thermal barrier in the metal after it has been curved helps minimize stress on the thermal barrier and ensures performance as specified.
New York subway skylight specified for lasting performance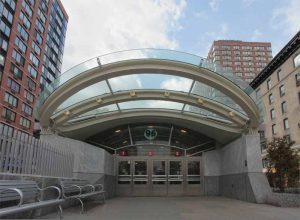 Intended to last for decades, the updated transit station at 96th Street and Broadway in New York City was completed $20 million under budget and on time. Working with the Metropolitan Transportation Authority (MTA) on the $98-million renovation, general contractor (GC) Citnalta Construction Corporation worked with Atlantech Systems to install the glass and aluminum skylights capping each of the station's entrances.
New York's seasonal changes, de-icing road salt, urban pollution, and high-traffic use make corrosion resistance a notable consideration when specifying finishes for architectural aluminum products. The skylights' aluminum framing was finished in a silver white color using a two-coat, 70 percent PVDF resin-based coating system.
Two narrow, large-circumference barrel-vault skylights flank the east and west sides. The north and south entries are covered by two cylindrical vault skylights. Each required complex geometry to determine the different ellipse halves and the cylindrical radii.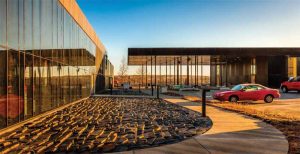 Since the skylight perimeters curve in both plane and elevation, the tubular perimeter skylight framing consists of aluminum plates. The sides are cut to the cylinder radii, while the tops and bottoms are cut to the plane ellipses. The plates are then fully welded together and ground smooth prior to paint application.
Maintaining their intended performance and appearance, the renovated skylight-covered station entrances shelter more than 64,000 daily commuters.
Corrosion-resistant requirements
Section 8.8 of AAMA 2605 refers to corrosion-resistance requirements. Coatings must pass the following stringent guidelines.
Humidity
The sample is exposed in a controlled heat and humidity cabinet for more than 4000 hours at 37.8 C (100 F) and 100 percent relative humidity (RH). There must be no formation of blisters to an extent greater than 'few,' as defined by ASTM D714, Standard Test Method for Evaluating Degree of Blistering of Paints.
Cyclic corrosion testing
Score the film sufficiently deep to expose the base metal. Expose the sample for 2000 hours according to ASTM G85, Standard Practice for Modified Salt Spray (Fog) Testing, Annex A5, dilute electrolyte cyclic fog/dry test. The sample must score a minimum rating of seven on scribe or cut edges and a minimum blister rating of eight within the test specimen field, as defined in ASTM 1654, Standard Test Method for Evaluation of Painted or Coated Specimens Subjected to Corrosive Environments.
South Florida exposure
The coating shall maintain its film integrity, color and gloss retention, chalk resistance, and erosion-resistance properties for a minimum of 10 years on the south Florida on-fence testing site.
Color retention
Maximum of 5ΔE units of color change after the minimum 10-year exposure test. A ΔE unit is the variance or color difference measured on a vector scale from a specific point in the color space.
Chalk resistance
Chalking shall be no more than that represented by a No. 8 rating for colors and No. 6 for whites after 10 years of test fence exposure. Per ASTM D4214, Standard Test Methods for Evaluating the Degree of Chalking of Exterior Paint Films, chalking is measured on a numerical scale with higher numbers representing better chalk resistance.
Gloss retention
Gloss retention shall be a minimum of 50 percent after the 10-year exposure testing, as described by ASTM D523, Standard Test Method for Specular Gloss.
Resistance to erosion
Less than 10 percent film loss is required after the 10-year exposure testing. AAMA notes in high-humidity areas such as coastal or industrial environments, corrosion resistance may be diminished.
High-performance anodize finishes
Class I anodized finishes meeting or exceeding all requirements of AAMA 611 also resist the ravages of time, temperature, corrosion, humidity, and warping. Anodized aluminum withstands extreme temperature changes and weather conditions, constant exposure to vehicle exhaust, and daily use by passengers. Over-sprayed de-icing salt can be managed with a simple rinsing as needed. With basic maintenance, architectural aluminum products enjoy a long life cycle.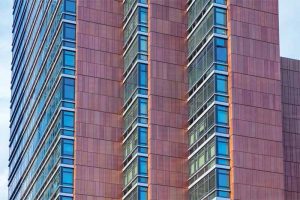 Since it is an integral part of the substrate, the anodizing process produces a uniform, hard oxide film. The film protects the rest of the aluminum substrate from deterioration, thereby providing excellent wear and abrasion resistance. The coating produced is extremely durable, and the hardness of the surface is comparable to a sapphire—the second-hardest substance on earth. This characteristic makes anodization an ideal choice for high-traffic areas where resistance properties are important.
In the most challenging applications, anodized aluminum will perform as specified and will not reduce the service life of the aluminum, but may affect the natural beauty of the surface finish. Avoiding conditions that can quickly corrode an anodized finish, such as contact with mortar, cement, and other alkaline materials, is recommended.
To meet AAMA 611 requirements, Class I anodization must have a dry film minimum thickness of 0.02 mm (0.7 mils) and adhere to the following guidelines.
Abrasion resistance (Michael Clarke test)
This is a go/no-go abrasion test using abrasive papers coated with silicon carbide, garnet, and glass, respectively. The test is used to discriminate between films of the correct hardness and those that may give poor service because they are too soft. The specification grade of abrasive paper is:
abrasive type: glass;
grade: 'flour;' and
Mohs Hardness Scale number: 4.5 to 5.5.
Corrosion-resistance testing
Expose the sample for 3000 hours according to ASTM B117, Standard Practice for Operating Salt Spray (Fog) Apparatus, using five percent salt solution. Test samples shall show no more than 15 isolated spots or pits, none larger than 1 mm (39 mils) in diameter, in 4 m (12.5 ft) of test area grouped from five or more test pieces.
South Florida exposure
The coating shall maintain its color and gloss retention and erosion-resistance properties for a minimum of 10 years on the south Florida on-fence testing site.
Color retention
Maximum of 5ΔE units of color change after the minimum 10-year exposure test.
Gloss retention
Gloss uniformity shall be within established gloss range. AAMA 611 covers many types of anodic coatings and each has its own designation. The specific designation determines what the gloss range should be. For acid etch, medium matte, anodizing, the gloss range should range between 10 and 30. This does not mean the gloss should vary this much within a project. Gloss varies very minimally on anodize.
Forged in New York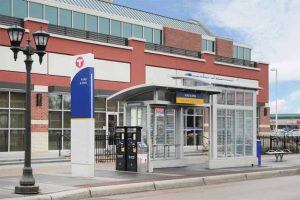 The Forge, a 272-unit luxury residential tower in New York City, sits solidly within its urban environment displaying a façade of copper-colored anodized aluminum cladding. Developed as a 'village in a building' by Brause Realty and Gotham Organization, the wedge-shaped site and its stringent zoning requirements led the Forge to take a slender form with stepped massing in a neo-modernist style. While it is a single 38-story, 2471-m2 (266,000-sf) structure, the property appears as if it could be three separate wafer-like buildings set side by side with a fourth, far shorter one nestled at the foot of the other three.
On the Forge's south side, the copper-colored aluminum wall system clads the entire height of the building, accentuating its vertical presence. To create the industrial metallic look specified by architect FXCollaborative, more than 8574 m2 (92,000 sf) of aluminum wall panel system was finished in a proprietary copper-colored anodization and painted an additional 446 m2 (4800 sf) in a black iron color.
The building's anodized aluminum thus resembles real copper's lasting luster, but without shortcomings such as salt run-off stains, galvanic corrosion, patina, or intensive maintenance. It does not require a clear coat or ongoing treatment to maintain color stability. Anodized aluminum also weighs less than half as much as real copper, for easier transportation and installation.
The Forge's other elevations also showcase the copper-anodized cladding punctuated by julienne strips of windows to maximize daylight and views toward the East River and Manhattan, all while preserving outdoor zones. The project is pursuing Leadership in Energy and Environmental Design (LEED) Silver certification through the U.S. Green Building Council (USGBC).
Minnesota bus shelters withstand harsh conditions with anodized aluminum frames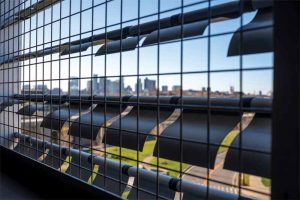 Minnesota's Metro Transit owns and maintains more than 700 transit shelters throughout the twin cities. The region's first bus rapid transit (BRT) system—the A Line—recently added 38 shelters and 40 signage pylons. Constructed of aluminum and finished in a clear anodization, the shelters and signage offer high-traffic durability in an urban setting. Given their proximity to the roads, corrosion resistance to de-icing salts in winter and weather resistance in every season were top considerations in specifying the finish on the shelters.
"It was important the design be replicable for future expansion, as well as easily maintainable," said Katie Roth, project manager for Metro Transit BRT/Small Starts. "We wanted the aesthetic to convey speed of service, shown in the sleek curvature of the arched roofs. Of course, we needed weather protection and personal security, and we also wanted to maintain openness and an easy flow."
The shelters are sized in small, medium, and large and installed according to site conditions and ridership patterns. Brought to life in finished aluminum, the framing members feature narrow sightlines and maximum viewing areas.
The signage pylons accompanying the shelters contribute to Metro Transit's branding with a custom logo on top, provide real-time information, and serve as a beacon for riders. The station platforms integrate fare-collection machines, transit signal priority, and security elements, as well as push-for-heat buttons and plates and edge-lit light-emitting diode (LED) map cases. All of the electrical wiring is concealed inside the finished aluminum framing.
Working with Metro Transit, Minneapolis-based Luken Architecture created the concept for the BRT shelters as part of an overall design team led by Kimley Horn and Associates. More than 1000 riders contributed to the design by sharing their preferences for improved appearance and functionality.
Durability and sustainability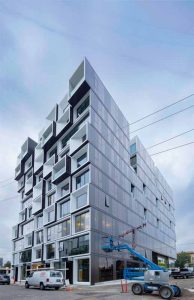 Anodized aluminum is an inert, noncombustible, 100 percent recyclable material and poses no health risks. At the beginning of the new millennium, environmentally responsible finishers changed from the traditional caustic etching process to a sustainable etch system allowing customers to use secondary (recycled) billet in the anodizing process.
Small surface defects, such as those common in recycled material, are hidden by the finish's 'frosty' matte appearance. The resulting surface also reduces glare in bright sunlight. Gloss level reading is typically reduced from 15 to 25 with conventional anodize, down to a gloss level of three to 12 for environmentally responsible color anodize.
This anodizing process reduces landfill waste produced with conventional etch processes by 75 to 80 percent. Landfill waste directly relates to the production of greenhouse gas (GHG). The anodize also has the viscosity of water and will not collect in the small recesses of aluminum extrusions or narrow aluminum tubes. This property serves to enhance the durability and life cycle of the finished architectural aluminum product.
For painted architectural aluminum elements, paint manufacturers and applicators recommend the use of a PVDF-based paint system on aluminum material for all corrosive environments. Offering one of the longest life cycles, a 70 percent PVDF resin-based coating system pretreated with chrome phosphate along with an inhibitive chrome-rich primer should be used. This coating type meets or exceeds all the requirements of AAMA 2605.
Beyond ensuring the highest-quality application, environmentally responsible finishers can also manage liquid paints' volatile organic compound (VOC) content in their facilities before the coated material returns to the product manufacturer or arrives at a jobsite. Using a 100 percent air capture system, they can safely destroy the VOCs with a regenerative thermal oxidizer. Innovative finishing applicators can even reuse the heat energy byproduct to improve process energy efficiency. This process of reuse is completed before the material exits the paint line.
Portland's Slate earns LEED Gold
The 10-story, mixed-use TOD known as Slate combines environmentally friendly and durable design choices to earn LEED Gold certification. Helping revitalize the Burnside Bridgehead area in Portland, Oregon, Slate offers direct access to public transit, pedestrian walkways, and bicycle lanes. The project spans 13,657 m2 (147,000 sf) and contains 75 market-rate apartment units on the upper six floors, creative co-working office areas on floors two to four, and retail space at street level.
Designed by Works Progress Architecture for co-developers Urban Development Partners and Beam Development, the property conveys a 'push and pull' theme exemplifying the location's vibrancy. The glass, metal, and concrete façade consists of articulated, modulated, rectangular shapes, including some set back and some projecting over the sidewalks below.
"It creates the illusion of a shifting stack," described Works Progress Architecture's Ian Roll. "On the north and south sides, the curtain wall has a flat, clean, crisp look that transitions to a sculpted, figural texture on the east and west elevations. The curtain wall is crucial in registering the intentional lines and visual elements."
Enhancing the exterior aesthetics with high-performance finishes providing corrosion resistance, Slate's architectural aluminum exterior elements showcase six colors and two finishing methods. The aluminum framing members for the curtain wall, window, and entrance systems were finished in AAMA 611 Class I black anodize, plus slate gray and dark bronze colors using PVDF resin-based paint coatings to meet AAMA 2605 specifications. Additionally, the aluminum panel system was painted with PVDF resin-based architectural coatings in stone white, gun barrel, and block 45 silver colors.
Along with enhancing Slate's durability, the finishing provider offered thermal improvement services for the high-performance building envelope systems. Adding a polyamide thermal barrier between the aluminum framing members helped in achieving the building's energy-efficiency goals. Seasonal opportunities for natural ventilation also help reduce the demand on HVAC systems and associated energy use. Weather permitting, the operable windows on Slate allow tenants to enjoy fresh air, natural light, and views. All of these environmental attributes are recognized by USGBC through LEED.
Specifying the right finish for aluminum components on transportation facilities, TODs, and other high-traffic city centers not only supports the environmental and structural integrity of the building envelope, but also creates a lasting impression of quality and safety.
Tammy Schroeder, LEED GA, is a senior marketing specialist at Linetec and serves as an industry educator on architectural coatings. With 18 years of experience in the finishing industry, she shares her knowledge of liquid paint coatings, powder coat, and anodize with architects, specifiers, and architectural product manufacturers in commercial and residential markets. Schroeder can be reached at tammy.schroeder@linetec.com.
Endnotes:
[Image]: https://www.constructionspecifier.com/wp-content/uploads/2018/12/Linetec_NY_TheForge_010ArchPhotoInc-EduardHueber.jpg
[Image]: https://www.constructionspecifier.com/wp-content/uploads/2018/12/FL-OIA-ITFso_Acurlite.jpg
[Image]: https://www.constructionspecifier.com/wp-content/uploads/2018/12/ARTIC_BAdler-ThorntonTomasetti2.jpg
[Image]: https://www.constructionspecifier.com/wp-content/uploads/2018/12/Linetec_SuperSky_NY_96thSt_WmLemke4.jpg
[Image]: https://www.constructionspecifier.com/wp-content/uploads/2018/12/LPOE-ME2_PaulCrosby.jpg
[Image]: https://www.constructionspecifier.com/wp-content/uploads/2018/12/Linetec_NY_TheForge_018ArchPhotoInc-EduardHueber.jpg
[Image]: https://www.constructionspecifier.com/wp-content/uploads/2018/12/Linetec_Duo-Gard_BRT-FordFinn.jpg
[Image]: https://www.constructionspecifier.com/wp-content/uploads/2018/12/EXTECH_MA-BOS-LoganGarage3.jpg
[Image]: https://www.constructionspecifier.com/wp-content/uploads/2018/12/OR_Slate_9304JoshuaJayElliott-courtesyWorksProgressArchitectureLLP.jpg
Source URL: https://www.constructionspecifier.com/corrosion-resistant-finishes-for-high-traffic-projects/
---