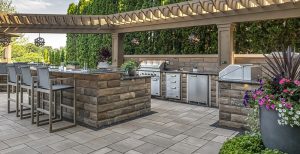 A retaining wall system that allows for unique patterning, texture and color changes with extensive design flexibility was unheard of until Unilock introduced U-Cara Multi-Face Wall System.
This two-component system, consisting of a structural base and a collection of interchangeable fascia panels, excels in strength, ease of installation, and design capabilities. It gives designers the ability to flex their creativity and create structural retaining walls or vertical hardscaping features that harmonize with existing architecture.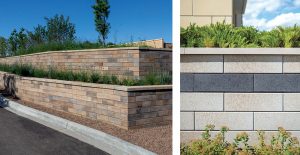 The U-Cara SureTrack backer blocks create strong and dimensionally accurate single- or double-sided walls, perfect for addressing grade changes on a site. SureTrack backer blocks are also ideal for creating fire pits, kitchens, planters, steps, seat walls, water features and more.
Additionally, U-Cara is available as a wall mount system for cladding and in a modular system for easy installation of grill islands, bar tables, and pillars. From roof deck amenity spaces to residential and commercial developments, U-Cara can create striking architectural features that are only limited by your imagination.
Request information about U-Cara here or download this brochure to learn more.
All information listed in this section was submitted by .
Kenilworth Media Inc. cannot assume responsibility for errors of relevance,
fact or omission. The publisher does not endorse any products featured in this article.