CSI news and notes
by brittney_cutler | July 1, 2022 9:00 am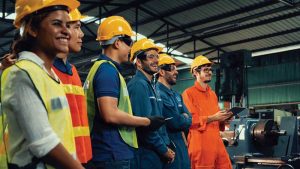 CSI Online—Three Free Resources You Can Use Right Now
By Peter Kray
CSI makes it easy for you to access the online resources you need anytime, from anywhere.
Here are three key features on the CSIResources.org website you can use to:
Is it time to make a move to a new gig, or are you searching for the right person to join your team? Start the process by visiting the CSI Career Center, the architecture, engineering, construction, and owner (AECO) industry's source for recruiting top talent.
Currently, more than 1900 job seekers have access to the best job opportunities in the industry and get them delivered straight to their inbox. Also, some 1451 employers are now using the tool to reach a targeted, motivated audience of top AECO professionals.
Check out the most recent jobs that have been posted. You can also create an alert to receive immediate notification of new postings.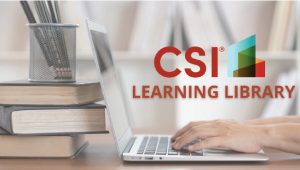 2. Use the Learning Library
One of CSI's most useful resources is its Learning Library, which offers content and continuing education options to help you maintain all your CSI credentials, keep current on upcoming webinars, and explore an ever-growing collection of educational archives to learn at your time and pace.
At the library, you will find a number of upcoming webinars and past session recordings available to view on demand. Most sessions are between 45 and 60 minutes long and are accompanied by a post-session survey and/or short evaluation.
Upon completing a session, you will become eligible to download a certificate of completion and awarded learning hours which can be used towards maintaining your CSI certifications and any professional development requirements you may have. To access the Learning Library, visit www.pathlms.com/csi.
3. Interact with the CSI Community
The CSI Community Connect Forum is your go-to resource to connect with other construction industry professionals in real-time, keep up on current events, and even share interesting information about yourself.
For example, here is a recent conversation which ties directly into today's market concerns:
Contractor Selection on Government-Funded Projects in Today's Market
"My client, a Texas municipality, is about to advertise for bids on a building project that, in addition to meeting state purchasing requirements, is partially funded with federal relief money. There is consideration for requesting competitive sealed proposals (best value) due to current challenges in the supply chain. Obviously, awarding this type of contract takes more time than a private owner would, which increases price risk. I am interested in any common-sense solutions that satisfy the purchasing requirement without over-burdening the budget or later being unprepared for dealing with a request for increases that could not be anticipated."
—Don Roundtree CSI, CCCA,® CDT®
Login or create a new account at CSIResources.org to read the replies and share your insight at the CSI Community Connect Forum.
Endnotes:
[Image]: https://www.constructionspecifier.com/wp-content/uploads/2022/06/Career-Center-Stock-Image.jpg
[Image]: https://www.constructionspecifier.com/wp-content/uploads/2022/06/6-29-2022-9-21-45-AM.jpg
Source URL: https://www.constructionspecifier.com/csi-news-and-notes-3/
---