Designs finalized for University of Nebraska's new Greek Village
by brittney_cutler | November 12, 2021 11:22 am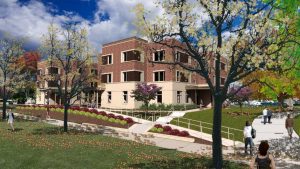 The University of Nebraska at Kearney (UNK) is finalizing design plans for a new Greek Village with KWK Architects, and its partner architect BWBR of Omaha, Nebraska. The $32.65 million project will include a new, three-story residence hall, and a renovation of the existing Martin Hall.
To support the campus' 12 fraternities and sororities, UNK plans to replace its current fraternity and sorority housing, University Residence South (URS) and University Residence North (URN), constructed in 1991 and 1992 respectively, with a three-story plus, 3995 m2 (43,000 sf) residence hall to be built east of the Nebraskan student union and directly north of Martin Hall.
The new hall's first floor will feature chapter lounges and the third floor featuring an open floor plan to allow for sororities to adjust in size for a total of 122 beds. Each sorority will have its own independent chapter room.
The 3948 m2 (42,500 sf) Martin Hall, last occupied in 2014, will be renovated with a similar layout as the new building with chapter lounges on the first floor, second and third floors for a total of 120 beds. It will also feature one chapter room per community in the basement, as well as a community 'great room' space on the main floor to encourage interaction among different organizations. The design renovations will preserve some of the building's historic elements, while adding new amenities and upgrades.
"The key to both buildings' designs is flexibility," said KWK principal Javier Esteban. "The upper floor is designed to absorb the fluctuations of fraternity and sorority populations from one year to the next. All access to each chapter will be controlled by card reader."
The estimated completion date for Martin Hall is January 2023 and August 2023 for the new residence hall.
Endnotes:
[Image]: https://www.constructionspecifier.com/wp-content/uploads/2021/11/BC_GreekVillage.jpg
Source URL: https://www.constructionspecifier.com/designs-finalized-for-university-of-nebraskas-new-greek-village/
---