The Door to Sustainability: Using high-performance rolling doors for more efficient buildings
October 5, 2017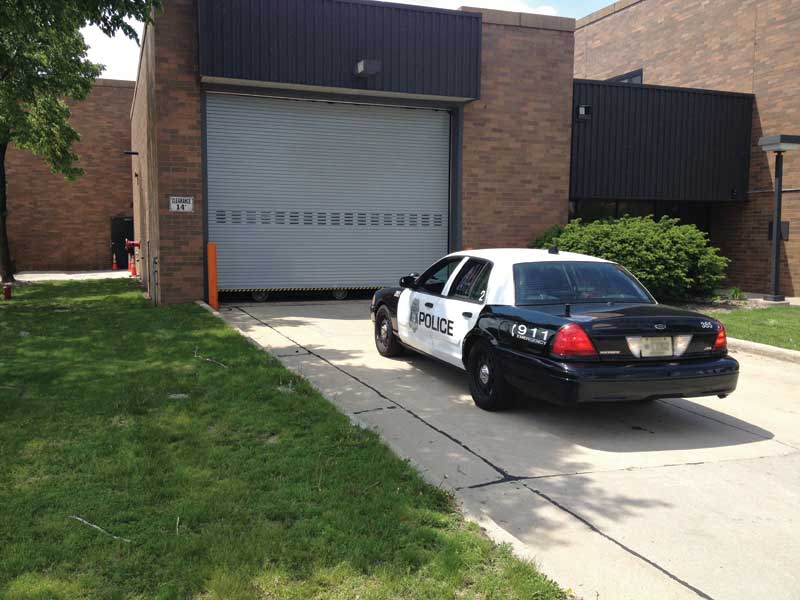 by Siva Davuluri
The nation's primary energy consumption was calculated at 98 quadrillion Btu in 2016, comprising 18 percent of the world's total. (This statistic comes from U.S. Energy Information Administration (EIA). For more information, visit www.eia.gov/tools/faqs/faq.php?id=87&t=1[2].) While fewer than five percent of global citizens call the United States home, per capita energy spending and waste is higher here than in any other country. (For further reading, access the Commission on National Energy Efficiency Policy at ase.org/policy/energy2030[3].) Further, since the residential sector accounts for only 21 percent of total energy consumption, the bulk of demand stems from commercial and industrial buildings types.
This reality, combined with new efforts from the U.S. Green Building Council (USGBC) and leading voices within the architecture and design community, has led to an increase in demand for significantly more efficient buildings across multiple sectors. However, architects, construction managers, and developers are still value-engineering products and systems out of their designs that could otherwise help change this equation.
One of the most effective ways architects can reduce energy usage and boost sustainability is to focus on areas of the building that lead to heat transfer and air leakage. For commercial and industrial facilities, this often means large entryways, loading docks, and other frequently accessed areas such as storage facilities, warehouses, and parking lots.
Standard rolling doors have historically been used in these types of areas. Simple and effective, rolling doors are appropriate for situations where side room and headroom are at a premium. However, the majority of designs lack insulation and are often slow to cycle open and close. This might not be a concern for buildings in temperate climates with steady, mild outdoor temperatures, but many architects are faced with wildly fluctuating temperatures and seasonal changes that can significantly impact the efficiency of their designs.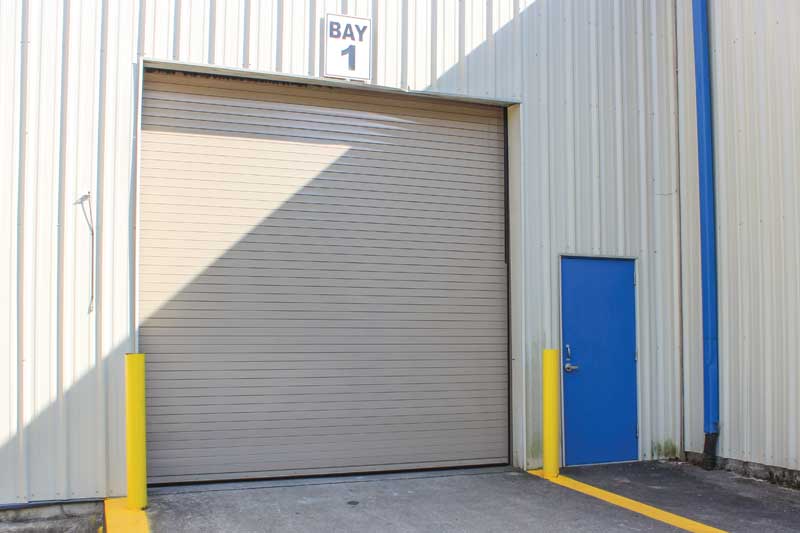 High-performance insulated rolling doors are one solution to this problem. Recent developments in rolling door technology contribute to more energy-efficient construction and provide greater occupant health and comfort. Additionally, certain high-performance insulated rolling doors can help a project earn credits under USGBC's Leadership in Energy and Environmental Design (LEED) program, as described later in this article. Further, these products can often offer operational, maintenance, and safety benefits as compared to standard varieties.
While high-performance rolling doors are often value-engineered out of projects due to initial cost, they help architects save their clients money, time, and plenty of maintenance headaches over the long run. Additionally, clients can expect to see a full return on investment (ROI) with the right doorin a high-frequency setting, leading to a low cost per cycle that adds significant value over the lifetime of the door.
Defining high-performance doors
The Door and Access Systems Manufacturers Association (DASMA) defines a high-performance door as:
a power-operated rolling, folding or sliding non-residential door, generally characterized by either 100 or more cycles per day or 20 or more inches per second opening speed, and is typically made-to-order and/or designed for higher durability, and/or designed to break away due to equipment impact. (For more from Door and Access Systems Manufacturers Association (DASMA) International, visit www.dasma.com/index.asp[5].)

Breaking it down, the industry definition of high-performance doors states they must be power-operated, typically used in a nonresidential setting, need to cycle (i.e. open and close) often or quickly, and usually designed for durability and/or quick repairs.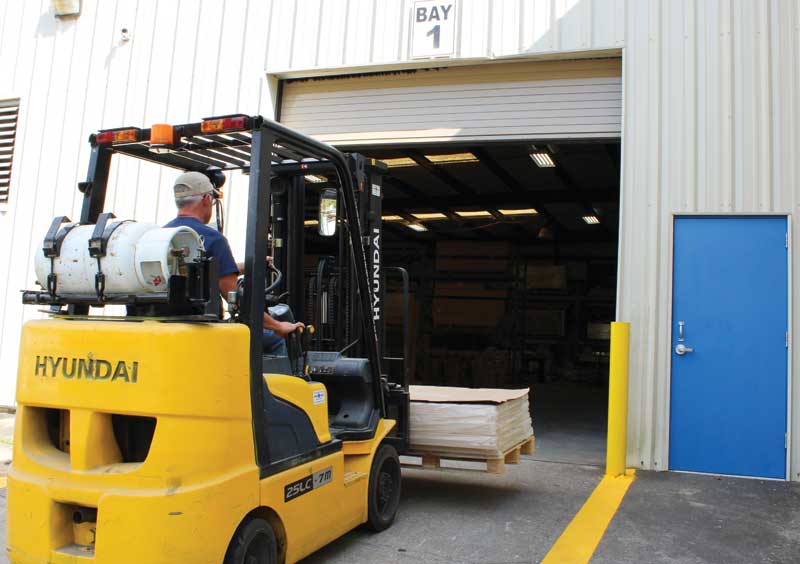 When specifying a high-performance door, it is best to look at the entire construction of the closure to ensure all components of the door are durable, in addition to speed and other performance attributes. Chances are, the door will either fail to meet or drastically exceed the client's needs, and so the 'Goldilocks' approach is best here: if the application requires an opening that operates at 610 mm (24 in.) per second, a door that operates at 508 mm (20 in.) per second will be too slow, a door that operates at 813 mm (32 in.) per second will be overkill, and a door that operates at 610 mm per second will be just right.
Defining the desired door opening speed in inches per second will eliminate any doors that are not quite the right fit for the application. Door opening speed is determined by considering factors such as total opening height, frequency of opening, and additional factors such as:
number of parking stalls or fork trucks going through the opening;
traffic patterns;
equal flow of traffic throughout the day compared to rush hour traffic (with opening speed increasing for heavily used openings); and
placement of activation devices to signal the door to open (e.g. placing activation devices further away reduces need for high opening speed).
It is also a good idea to look into springless models, as they minimize maintenance and eliminate the need to replace springs over time.
Performance
Peak cycle times are much more important than lifetime cycles when it comes to high-performance rolling doors. Defining peak cycle times and ensuring the door can handle the client's specific needs is the number-one priority. For example, instead of specifying a 200,000 cycle door, it is more helpful to state the peak period of cycling is 75 cycles per hour from 7 to 9 a.m. and 4 to 6 p.m. to ensure the door is able to handle the peak times appropriately.
Maintenance
Maintenance concerns may not always be at the forefront of an architect's mind, but they are crucial for a building owner or facility manager. Effective high-performance doors require virtually no maintenance outside of daily checks. No maintenance means no downtime, which is a huge operational benefit. While initial cost may be higher, the benefit of eliminating maintenance costs and resulting downtime compared to a standard rolling door makes it worthwhile to many owners.
A major contributor to the low maintenance requirements of high-performance doors is a springless design. Springs wear over time and have to be replaced to avoid failure. This is a major issue with high-cycle doors, as premature wear and failure can lead to spring snapping—and an inoperable door. A springless design is therefore desired and preferred for demanding settings.
Associated costs
There are very real, tangible costs to specifying and installing the wrong door, which can more than double the cost of a less expensive option. For starters, productivity can drop significantly. A standard service door can open at about 203 mm (8 in.) per second. This can feel like an eternity to someone driving a forklift truck and waiting for it to open. Pausing, even for as little as 20 seconds, can end up costing hours and days of productivity in a 24/7 operation that uses the door for every pass-through.
For example, when a door is out of service or closed for repairs, employees may need to spend extra time to drive forklifts out of their way to use an operational door. This means more products must go through fewer openings. If each employee takes an extra four minutes, multiplied by the 50 people working in the factory, this equals 200 minutes, or 3.3 hours per day. If this is a 365-day operation, the yearly impact is 3.3 x 365, or 1204.5 hours per year. If the average salary is $20 per hour, this translates into a very real cost of $24,090 in lost productivity, annually.
Not only can maintenance delays on doors force employees to reroute to a different door that is further away, but when a standard rolling door is run more often than is recommended, it can also overheat the motor, wear out components, or even snap springs, rendering the door unusable. In contrast, high-performance rolling doors open at speeds of up to 610 mm (24 in.) per second, and are constructed to withstand heavy continuous use.
If the client's facility requires a regulated temperature and a standard rolling door is specified, money will also be lost each time it slowly cycles. The typical opening speed of a standard door is enough time for blustery winter winds to enter a facility, or hot summer temperatures to counteract the air-conditioning. This can impact energy costs for the entire lifetime of the door.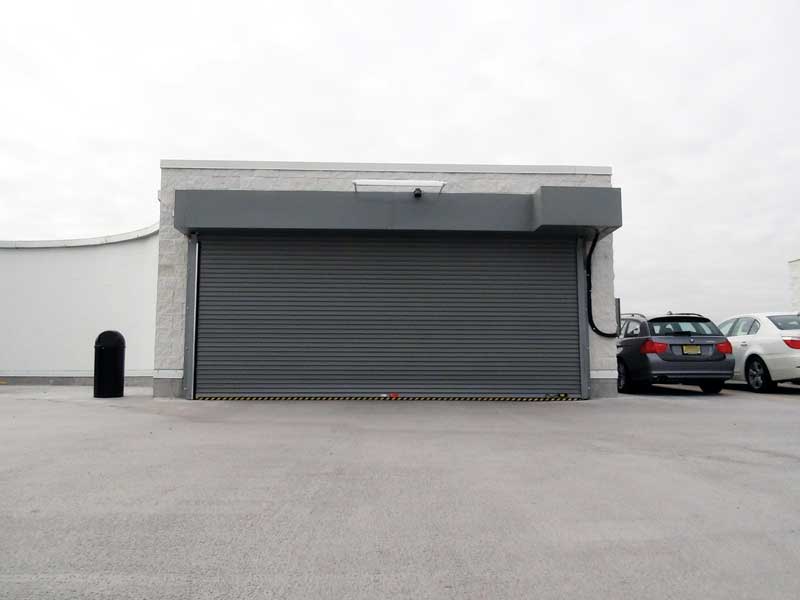 Contributing to LEED v4 points
High-performance insulated doors provide many innovative sustainability fundamentals for commercial building closure solutions. These contribute to greener, more energy-efficient, high-performance construction, as well as greater occupant health and comfort. Some of these attributes and benefits can include:
greater thermal resistance value (R-value);
highly reduced energy costs due to decreased air infiltration;
a chlorofluorocarbon (CFC)-free insulating process;
use of recycled content (such as for the curtain, bottom bar, hood, guides, shaft, and brackets);
durability;
a lack of volatile organic compounds (VOCs); and
specified wind load durability.
These doors can also contribute to earning LEED credit points. While no one product or material can earn LEED credits, insulated rolling doors can help development teams earn points in the following five categories when implemented as part of an integrated design and construction strategy:
Energy and Atmosphere (EA) Credit, Optimize Energy Performance (up to 20 points);
Materials and Resources (MR) Credit, Building Life Cycle Impact Reduction (up to six points);
Indoor Environmental Quality (EQ) Credit, Low-emitting Materials (up to three points);
Innovation Credit, Innovation (up to five points); and
Regional Priority Credits (RPCs).
For RPCs, choosing an insulated rolling door as an innovative construction envelope element could contribute to the achievement of up to four credit points addressing geographically specific environmental, social equity, and public health priorities. Recognizing a project location's priority environmental issues and addressing them through design, construction, and operation choices makes the use of an insulated rolling door a responsible choice.
When is it appropriate to install a high-performance door?
Before deciding between a standard rolling door and a high-performance one, it is important to ask yourself and clients these seven questions, easily remembered by the acronym PERFORMS.
Productivity: Is passage through a secure opening a key success factor in the productivity of the client's business?
When a door component breaks due to heavy use, the opening is often out of commission for hours or even days while the parts are manufactured, shipped, and installed. Architects must understand how the doors will contribute to productivity and affect their clients' businesses. If they are in an area that requires closure after every pass-though, or cannot stay open or closed for days at a time without a loss of productivity, then a high-performance product should be considered for the application.
Environment: Does the client need to control the temperature of an environment, even while exposing it to the elements on a regular basis?
If the building is in a very warm or cold climate, but requires frequent outside access, ensuring the door can open and close quickly is paramount to maintaining the interior temperature. In cases with truly extreme weather, one should consider an insulated high-performance roll-up door to cut down on air exchange during cycling as well as air leakage around the outside edges of the door.
Reliability: If the door cannot operate, will the client lose money?
Rolling doors are often installed in commercial, manufacturing, or similar applications. In these scenarios, the door is a vital gateway to allow materials in or goods out. It is the way deadlines are met, contracts are fulfilled, and business is won. No clients want to extend lead time because they can only successfully get products out of one door while the other three doors are broken, boarded up, and inoperable. Longer lead times can encourage their customers to look elsewhere to get products, meaning lost revenue for the commercial enterprise. Time truly is money, and if a roll-up door is a vital part of that equation,
a high-performance product with low maintenance requirements can be a good solution.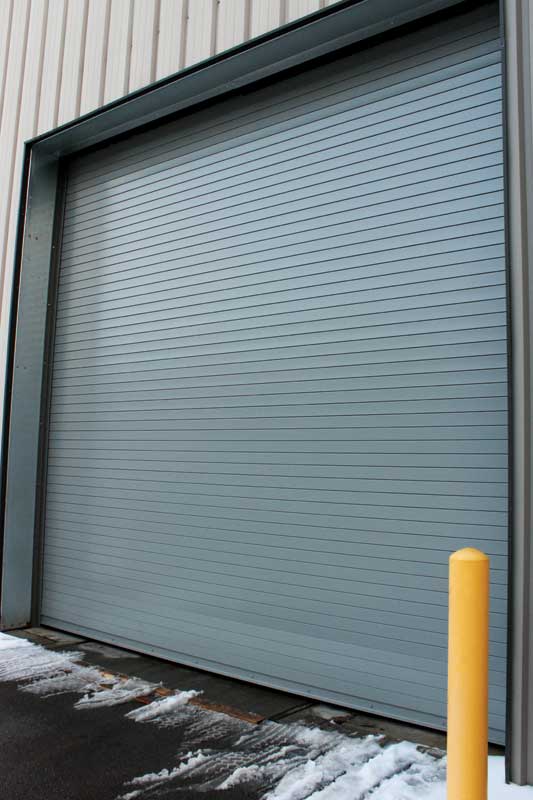 Frequency: Will daily cycles be in a short, peak time rather than spread out evenly throughout the day?
Total cycles matter, but timing matters more. For instance, let us assume a client needs a door that must open to accommodate 100 product deliveries throughout the day. In this scenario, the secure building requires showing proof of clearance to enter and closes after each pass-through. There is only one way to enter, and the vast majority of deliveries occur between 9 to 11 a.m. and 3 to 5 p.m. This means the door will have roughly 200 daily cycles, but the vast majority will be in two separate two-hour windows. The specified door must be able to handle the high use in the short window of time without breaking down or wearing out.
Operating speed: Does the client need the door to open as quickly as possible?
Total opening time can make a huge difference in an operation. If the placement of the activation device is factored into door speed, it is possible to calculate exactly how to make the opening experience flawless:
Vehicle Speed x Door Opening Time = Activation Device Distance From Door
For example, an average fork truck drives at a speed of 2 m (6 ft) per second. The door it drives through opens in five seconds. Therefore, the activation device should be placed 9 m (30 ft) away from the door to ensure a smooth experience.
Routine traffic: Is the traffic going through the opening vital to business operations?
If a door is optional, a high-performance product may not be the right fit. However, as an example, if one is designing an airport cargo facility that needs to move cargo quickly in freezing weather to achieve a shorter layover, then the door's operation matters. The type of traffic going through the opening—including forklifts, utility vehicles, delivery vehicles, and heavy machinery—can necessitate a high-performance product.
For instance, in a condominium, the primary means of entrance for vehicular traffic is generally a rolling steel door or grille. If that door is down due to certain unreliable design elements such as spring failure, it will affect the ability of the residents to go in and out of the building.
Maintenance: Does the client want to avoid ongoing maintenance expenses?
Ongoing maintenance can mean anything from routinely replacing vital parts of the door—such as standard-issue springs—to service calls when a door breaks and is inoperable. One must consider the downtime and expense caused by scheduled and unscheduled maintenance. While high-performance products may have a higher initial price point than standard roll-up doors, the absence of maintenance requirements (outside of daily-use checks) can mean the high-performance product has a lower total cost of ownership.
Security: Is there a chance for unauthorized entry?
Since high-performance doors operate at a much faster rate than standard rolling doors, they help keep out vandals, would-be thieves, and other unauthorized individuals in a facility. This is ideal for multi-use commercial and residential condominium applications where liability and safety are major concerns for clients.
Answering yes to two or more of these questions means it is likely a high-performance rolling door is needed.
Conclusion
The architecture and design industry will continue to advance its mission to reduce energy usage and increase sustainability. Considering industrial and commercial spaces account for 51 percent of energy consumed by end-user sectors in the United States, architects designing within this space can create real and lasting change by addressing heat transfer and air leakage.5 High-performance rolling doors, especially insulated products, are one solution to these problems. While they may have higher initial costs compared to a standard rolling product, the cost to repair and replace parts over the life of the building—
as well as the frustration and loss of productivity associated with the inability to use the opening—will far surpass the initial expense.
Siva Davuluri serves as director of product strategy for high-performance doors at CornellCookson. He has been in his current role for five years at the Mountain Top, Pennsylvania-based company, which is the largest coiling door manufacturer in the United States. Davuluri has more than a decade of experience in design, development, and commercialization of new products. He graduated from North Dakota State University with a master's degree in mechanical engineering, and completed a master's degree in business administration at Cornell University. Davuluri is also a member of the technical committee for high-performance doors at Door and Access Systems Manufacturers Association (DASMA) International. He can be reached via e-mail at siva.davuluri@cornellcookson.com[9].
Endnotes:
[Image]: https://www.constructionspecifier.com/wp-content/uploads/2017/10/1024-Door-002.jpg
www.eia.gov/tools/faqs/faq.php?id=87&t=1: http://www.eia.gov/tools/faqs/faq.php?id=87&t=1
ase.org/policy/energy2030: http://ase.org/policy/energy2030
[Image]: https://www.constructionspecifier.com/wp-content/uploads/2017/10/Extreme-300-Series-Insulated_Thermiser-Max.jpg
www.dasma.com/index.asp: http://www.dasma.com/index.asp
[Image]: https://www.constructionspecifier.com/wp-content/uploads/2017/10/Extreme-300-Series-Insulated_Thermiser-Max_2.jpg
[Image]: https://www.constructionspecifier.com/wp-content/uploads/2017/10/1024-Door-001.jpg
[Image]: https://www.constructionspecifier.com/wp-content/uploads/2017/10/Extreme-300-Series-Insulated_Thermiser-Max_03.jpg
siva.davuluri@cornellcookson.com: mailto:siva.davuluri@cornellcookson.com
Source URL: https://www.constructionspecifier.com/door-sustainability-using-high-performance-rolling-doors-efficient-buildings/
---