Download our free e-book on masonry solutions
by Cindy Macdonald | October 1, 2018 3:06 pm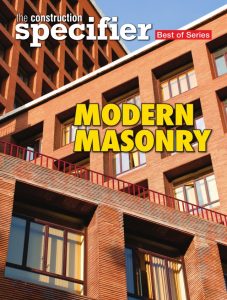 New techniques and products are changing the rules for an age-old construction method: masonry.
The Construction Specifier's "Best of" series of sponsored e-books continues with a look at state-of-the-art masonry techniques for old and new buildings.
Modern Masonry is a four-part e-book that takes a multifaceted look at the technical aspects of designing masonry wall assemblies and assessing the condition of deteriorated masonry buildings.
Readers will learn basic and advanced principles of structural masonry, including typical floor plans, plus design and attachment of brick veneer for exterior walls.
The e-book also discusses the evolution of masonry cavity wall designs and how to perform a large-scale building envelope study, to guide restoration and maintenance efforts at educational institutions or healthcare facilities.
Download the Modern Masonry e-book in two different formats—pdf or digital edition—by visiting https://www.constructionspecifier.com/ebook/hb-modern-masonry-e-book/[1]
Endnotes:
https://www.constructionspecifier.com/ebook/hb-modern-masonry-e-book/: https://www.constructionspecifier.com/ebook/hb-modern-masonry-e-book/
Source URL: https://www.constructionspecifier.com/download-our-free-e-book-on-masonry-solutions/
---