Download our new e-book on concrete for free
June 8, 2020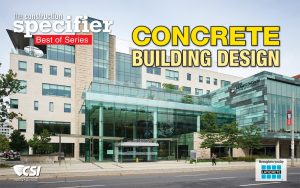 The magazine's series of sponsored e-books continues with an exploration of the various aspects of constructing with concrete.
The Construction Specifier has announced the newest volume in its series of free, downloadable e-books—a technical discussion of concrete construction. The material has relatively a low impact on the environment due to increasing investments in sustainable manufacturing technologies.
The curated collection of magazine articles also analyzes how reliance on plastics has resulted in deterioration and corrosion of concrete structures.
It also illustrates how unclear drawings and specifications can lead to under-designed rail post anchorages, loose railings, spalled concrete, and severed reinforcing steel, and why sealant joints demand considerable attention to design, product selection, and installation if the building is to perform as intended.
Download the Concrete Building Design e-book in two different formats—pdf or digital edition—by visiting www.constructionspecifier.com/ebook/laticrete-concrete-building-design-e-book[2].
Endnotes:
[Image]: https://www.constructionspecifier.com/wp-content/uploads/2020/06/Laticrete.jpg
www.constructionspecifier.com/ebook/laticrete-concrete-building-design-e-book: https://www.constructionspecifier.com/ebook/laticrete-concrete-building-design-e-book
Source URL: https://www.constructionspecifier.com/download-our-new-e-book-on-concrete-for-free/
---