Durable Waterproofing for Concrete Masonry Walls: Field testing methods of water repellency
by Molly Doyle | June 24, 2014 11:42 am
by Robert M. Chamra, EIT and Beth Anne Feero, EIT
There are two main field testing methods used for water repellency of concrete masonry units (CMUs), for quality assurance before being placed in a wall: droplet and RILEM tube testing. Completed assemblies can also be tested with RILEM tubes or other standard water spray tests such as ASTM E514, Standard Test Method for Water Penetration and Leakage Through Masonry.
Droplet testing
The droplet test is a quick and simple test to observe the water mitigation capabilities of a CMU. This test requires the unit to be placed horizontally on a level surface with the face shell oriented upward. Droplets are placed at different locations around the unit from a height of 50 mm (2 in.) or less.
The specimens are to be placed in ambient temperature (22.9 ± 5.6 C [75 ± 10 F]) and moderate relative humidity (50 ± 15 percent) and are monitored for evaporation facilitated by sunlight or wind; they are recorded at one-, five-, and 10-minute intervals. At the conclusion of the test, the droplets are classified as standing, partially absorbed, totally absorbed, or dry. Additional testing methods should be implemented to further evaluate failed droplet tests.*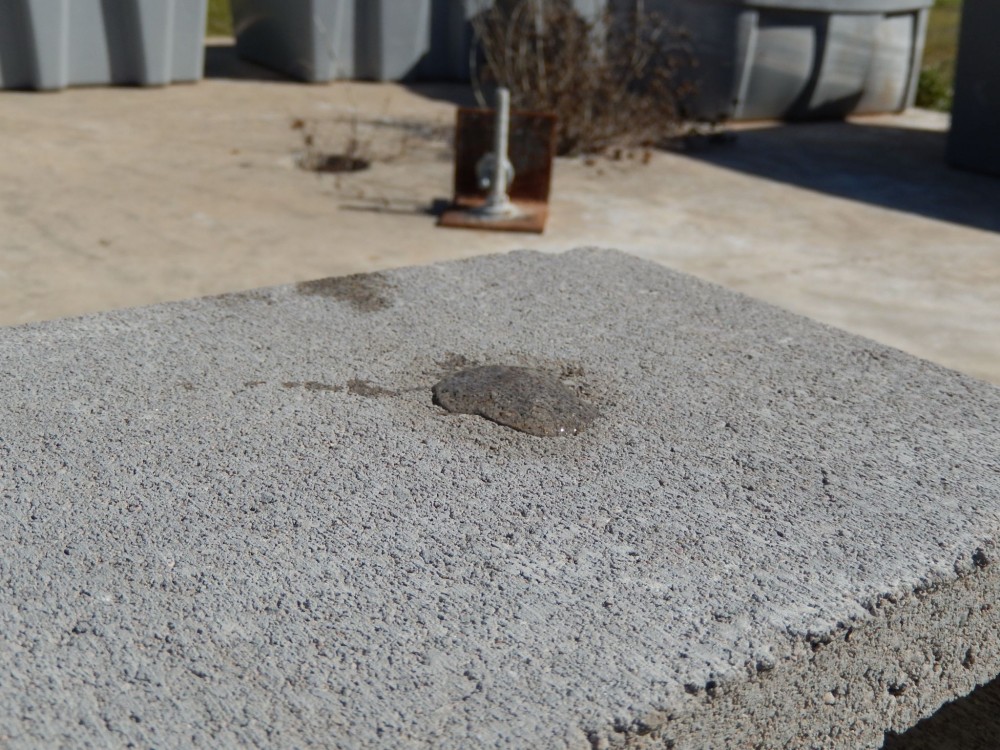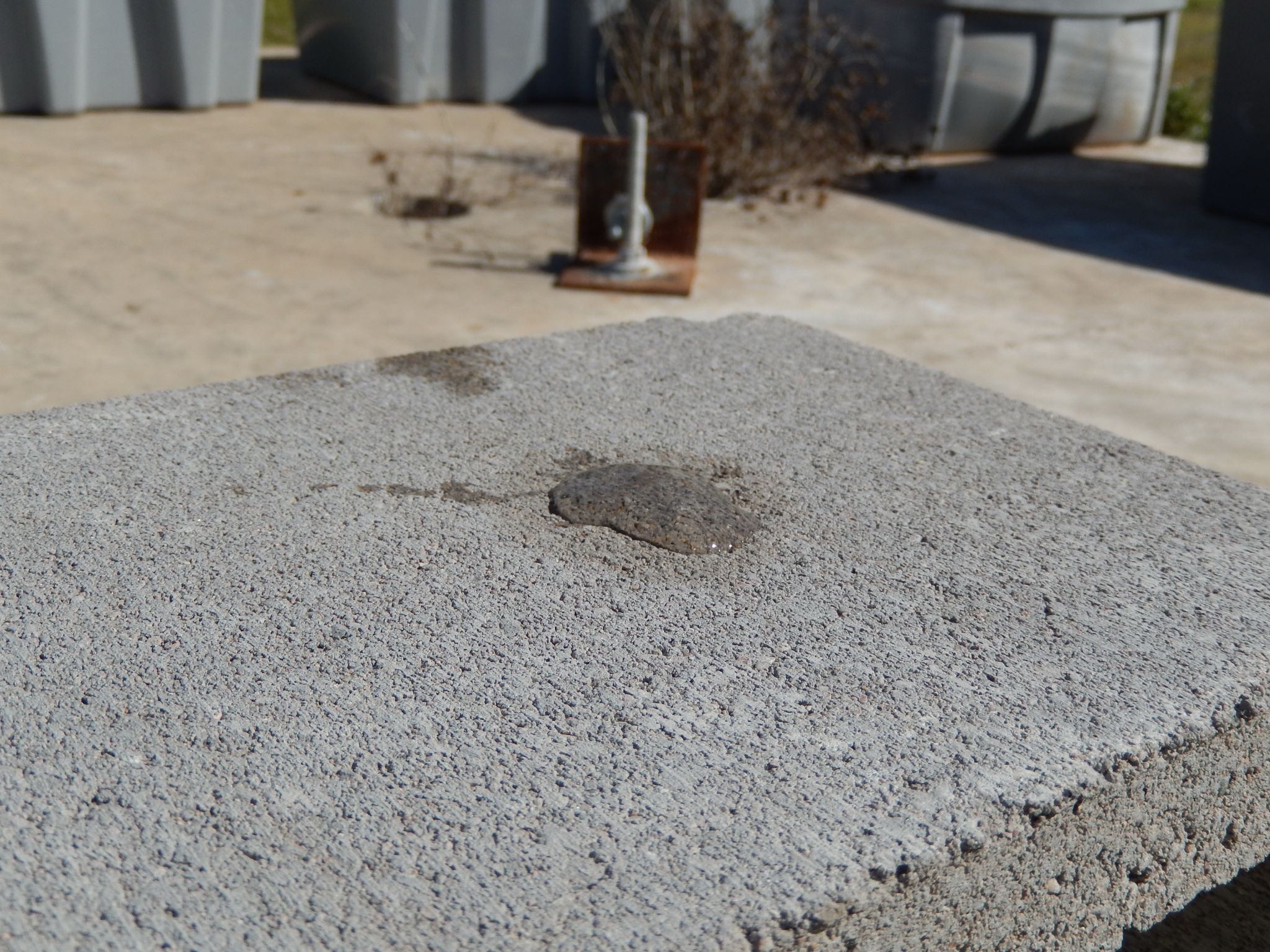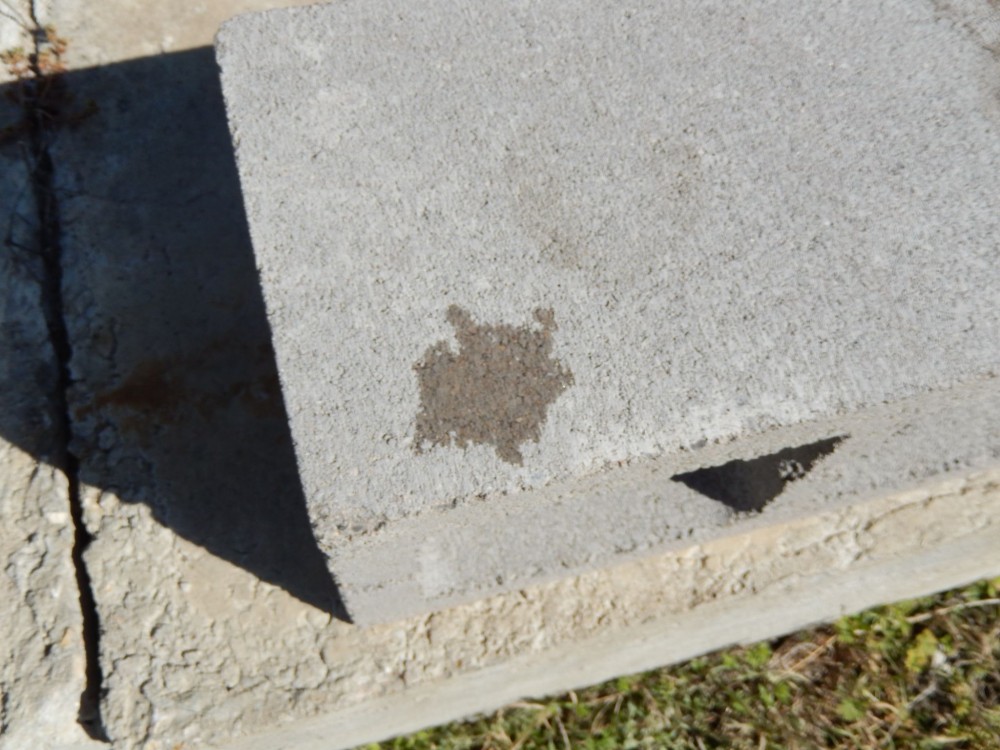 RILEM tube testing
The standard RILEM tube can hold 5 ml (0.17 oz.) of water, which correlates with the static pressure of a 158-kph (98-mph) wind-driven rain. The short RILEM tube was developed for porous materials that are unable to pass a standard RILEM test. A short RILEM tube (approximately 2 ml [0.06 oz.] of water) correlates with a 97-kph (60-mph) wind-driven rain.
Both RILEM tubes are plastic cylinders that are securely placed against the unit for testing using an impermeable putty. Once the RILEM tube is attached to the CMU, water is placed into the tube up to the 0 ml (0 oz) mark (top of tube). The RILEM tube is monitored at five-, 10-, 20-, 30-, and 60-minute intervals for any noticeable changes in the water column. Previous testing has shown specimens that hold water for 20 minutes will also typically hold for 60; this allows for shorter experiments. If 20 percent of the water is lost within a 20-minute interval, the CMU is considered to have failed the test—if such losses are not observed, then the CMU has passed.**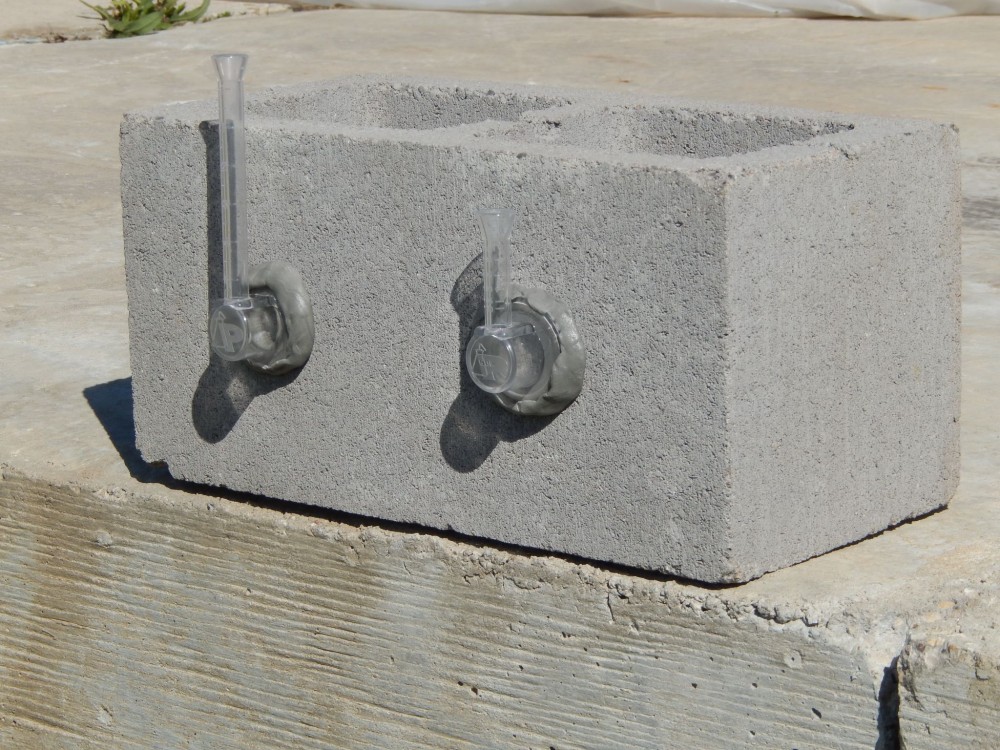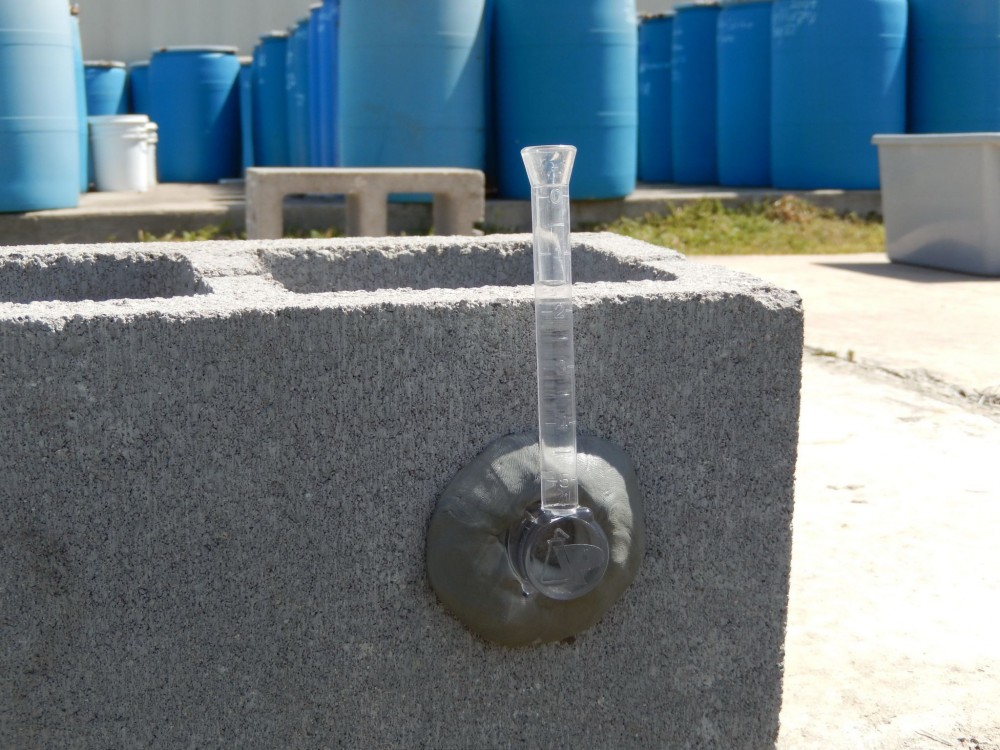 * See NCMA's, Standard Test Methods for Water Stream and Water Droplet Tests of Concrete Masonry Units from 2009.
** See the article, "Testing the Test: Water Absorption with RILEM Tubes," by Adrian Gerard Saldanha and Doris E. Eichburg in the August 2013 issue of The Construction Specifier. Visit www.constructionspecifier.com and select "Archives."
To read the full article, click here[5].
Endnotes:
[Image]: http://www.constructionspecifier.com/wp-content/uploads/2014/06/Figure-4-Droplet-Test-on-IWR-CMU.jpg
[Image]: http://www.constructionspecifier.com/wp-content/uploads/2014/06/Figure-5-Failed-Droplet-Test-on-IWR-CMU.jpg
[Image]: http://www.constructionspecifier.com/wp-content/uploads/2014/06/Figure-6-Short-and-Standard-Tube-on-CMU.jpg
[Image]: http://www.constructionspecifier.com/wp-content/uploads/2014/06/Figure-7-Failed-RILEM-Test-on-IWR-CMU.jpg
here: http://www.constructionspecifier.com/masterformat/durable-waterproofing-for-concrete-masonry-walls-redundancy-required/
Source URL: https://www.constructionspecifier.com/durable-waterproofing-for-concrete-masonry-walls-field-testing-methods-of-water-repellency/
---