Ensuring moisture protection for manufactured stone
by Catherine Howlett | January 4, 2013 12:17 pm
by Jeff Diqui, Arch. Eng., CSI
Failures of claddings like adhered masonry veneer–also known as manufactured stone–often stem from poor flashings, misapplied air and water-resistive barriers (WRBs), and limited drainage. Resulting problems related to moisture intrusion into the wall assembly's dry zone are moist wall interiors, wet insulation, and rot in sheathing and framing.
Experience has shown detailing flaws in cast-stone veneer causes leaks which can lead to severe damage inside the wall. Rain and wind are often the culprits. A related effect in adhered masonry veneer cladding is inward vapor drive, which can occur in warm weather. It forces moisture stored in the masonry through vapor-permeable housewraps and building papers and into the sheathing and stud bay. This can lead to condensation and water accumulation within walls, as well as wood decay and condensation on interior surfaces. (For more information, see "Adhered Veneers and Inward Vapor Drives," in the summer 2009 edition of Journal of Building Enclosure Design by John Straube, P.Eng., PhD, et al.)
Some have assumed WRBs between claddings and sheathing layers prevent moisture damage. Research and field experience demonstrate the WRB alone may not always suffice. (See "Improving Drainage and Drying Features in Certain Conditions: Rain Screen Designs for Absorptive Claddings," in the December 2008 report by National Association of Home Builders [NAHB].) Common practices, such as using double layers of housewraps or asphalt-impregnated papers behind the absorptive claddings, are shown to be ineffective under some climate and weather conditions, particularly if poorly constructed details allow excess water into walls.
Moisture infiltration and damage should be avoided; design detailing can prevent water entry into walls. Additional protection behind absorptive claddings is afforded with three integrated components: a drainage plane, a properly located and continuous air barrier and WRB, and an air gap or space created by a drainage medium, such as filament nylon mesh. Some of these solutions are cavity-wall systems, engineered by a single manufacturer, while others are built-up assemblies consisting of several components.
Applied with fundamentally sound design details, these three elements provide an enhanced drainage-and-drying assembly that improves enclosure performance. Recent code changes—including the 2012 International Building Code (IBC) and International Energy Conservation Code (IECC), which include requirements for WRBs, air barriers, continuous insulation (ci), and drainage—reflect the effectiveness of this approach in mitigating moisture damage.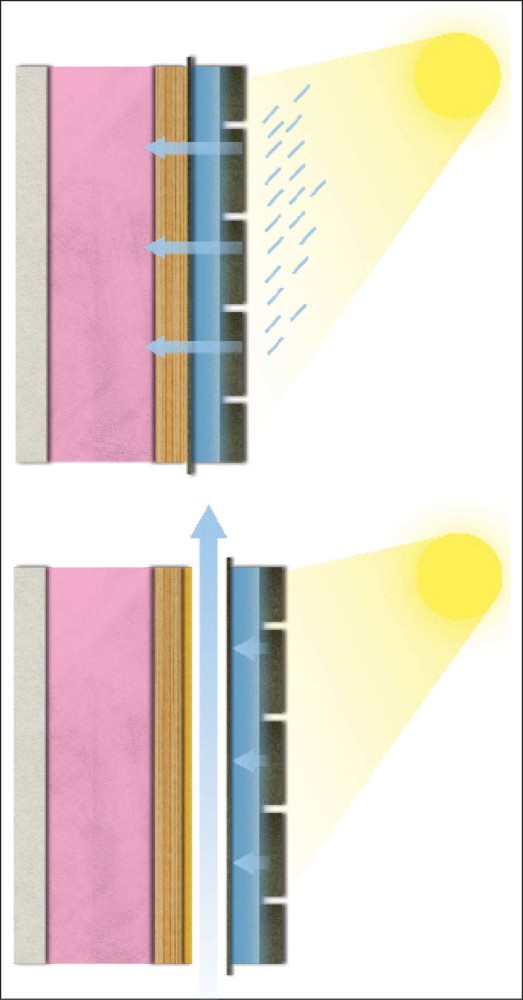 What is not working?
Conventional walls using absorptive claddings for residential and light commercial buildings have typically employed a concealed barrier approach to water management. (See "Improving Drainage and Drying Features in Certain Conditions: Rain Screen Designs for Absorptive Claddings," in the December 2008 report by National Association of Home Builders [NAHB].) Any water penetrating the adhered masonry veneer cladding encounters the WRB—usually felt, building paper, or housewrap—intended to stop the migration of bulk water. This common assembly may not always be sufficient for adhered masonry and thin brick veneer.
These claddings tend to absorb water through their molded facing units, mortars, and scratch coats. Moreover, according to experts such as John Straube, P.Eng., PhD, they have low outward drying potential as compared to other cladding types, and tend to dry slower. The absorptive elements are typically applied as the outermost wall materials, so they are likely to encounter wind-driven rain, airborne moisture, and even lawn sprinkler spray.
Behind the façade, the cementitious facing materials are typically in direct contact with the WRB that is intended to stop bulk water intrusion, moving any water to flashings or weep screeds. Water sometimes remains in places where the cladding is in contact with the barrier (see "Improving Drainage and Drying Features in Certain Conditions: Rain Screen Designs for Absorptive Claddings," in the December 2008 report by National Association of Home Builders [NAHB]); under some conditions, those locations may remain wet for long periods. (For more information, see "Adhered Veneers and Inward Vapor Drives," in the summer 2009 edition of Journal of Building Enclosure Design by John Straube, P.Eng., PhD, et al.)
Various methods have been used to improve this simple assembly type. Some housewraps and WRBs have been reformulated to provide enhanced protection. Furring strips can be employed between the two WRB layers as a rainscreen. Other drainage spacers—including dimple sheets and drainage mats—have been shown to enhance drainage and drying within the wall. (See "Water-managed Wall Systems" in a 2007 issue of The Journal of Light Construction by Joseph Lstiburek, M.Eng., PhD, P.Eng.)
Yet, bulk water intrusion is not the only enemy; another challenge is inward water vapor drive. Since many WRBs are highly vapor-permeable, the moisture stored within the masonry veneer or mortars can be driven by the sun, directly heated through WRBs, and into the sheathing and stud bays behind (even in cold climates).
Bulk water intrusion and vapor drive have led to damage and rot in sheathing and structural members, both in wood- and steel-framed structures. (For more, see the report, "Development of a Rainscreen System for Adhered Manufactured Stone," by Robert Rymell, P.Eng., C.Eng., from the 2007 Canadian Building Science and Technology Conference, hosted by the Alberta Building Envelope Council [ABEC] South.) Some WRBs deteriorate over time or moisture can get in through errant fastener penetrations that miss studs, or both.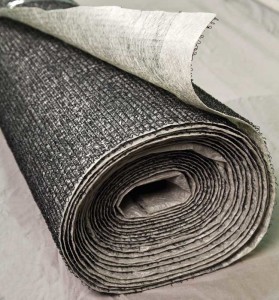 Facing these challenges, construction experts and specifiers have recommended additional or alternative means to promote drainage and drying within the wall. Some of these practices have included ventilated air gaps, which can promote drying[4], as well as impermeable membranes paired with air gaps, or rainscreen-type construction.
The findings are valuable not only for reducing premature wear, but also for increasing the durability of structures desiring a masonry look. The basic underpinnings of the new approach to adhered masonry can be summarized as two lists: minimal measures required by code, and supplemental measures for enhanced protection.
Minimal measures
Minimal measures include building papers, felts, and housewraps, along with WRBs.
Building papers, felts, and housewraps
A single layer of these water-permeable materials may not always be enough for adhered masonry veneer claddings. An application of two layers of building paper is better, but serves only as the minimum backup for walls faced with thin brick or manufactured masonry veneer. (For more, see the article, "Manufactured Stone Nightmares," by Dennis McCoy in the December 2004 issue of the Journal of Light Construction [JCL.])
WRBs
According to various studies—including the National Association of Home Builders' (NAHB's) 2008 report, "Improving Drainage and Drying Features in Certain Conditions: Rainscreen Designs for Absorptive Claddings"—using WRBs alone is not sufficient to prevent water infiltration and moisture-related damage behind adhered masonry veneers. One key to successful, durable construction is the location of the barrier (drainage plane), as well as its continuous nature across the entire enclosure and its integration with flashings, weep screeds, and other joint/penetration details.
Enhanced measures
The enhanced measures include ventilated airspace, capillary absorption, and drainage media.
Ventilated air space
The use of wall ventilation by means of an air space has been shown to improve drying within the wall, and reduce moisture-related damage. Straube's study concluded the small resulting space by an air-gap membrane provides sufficient ventilation, allowing a faster rate of outward drying than traditional adhered veneers.
Walls using air-gap membranes or other materials to maintain the gap—such as furring strips, drainage mats, and profiled boards—tend to have lower sheathing moisture content. Walls with the proper air space generally do not experience moisture-related durability issues caused by relative humidity (RH).
According to the NAHB report, using a drainage spacer to provide a capillary break for ventilation and drying can improve drainage and drying performance.
To achieve the capillary break and maintain effective drainage, the researchers concluded the minimum depth of the cavity should be 3.2 mm (1/8 in.), maintained throughout the enclosure. A maximum depth of 19 mm (3/4 in.) has been recommended by some specifiers and manufacturers. The NAHB report described a drainage space between 5.9 to 10.3 mm (15/64 to 13/32 in.) in depth, maintained by a two-ply material with a filter fabric separator preventing materials from blocking drainage space. This report recognized mortar or debris may enter the air gap.
Offering a prescriptive approach, the 2005 National Building Code of Canada (NBC) has required a "drained and vented air space" of at least 10 mm (2/5 in.) with a cross-sectional area that is at least 80 percent open for coastal climates.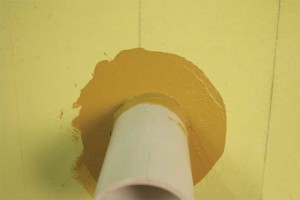 Capillary absorption
Measures to address capillary water movement—through both mortar and masonry units—are also vital to successful wall construction. According to construction consultant Steve Easley, in adhered manufactured stone masonry veneer (AMSMV), a main instrument for moisture movement is capillary action. Considered a reservoir cladding system—as it can store water—Easley says, AMSMV is similar to stucco in the way it behaves with water. The effect can also be described in terms of hydrostatic pressure.
The two-layer WRB system provides a drainage plane to protect against the capillary draw, explains Easley, but an even better option is a rainscreen system with a small airspace between the WRB and stone veneer—creating a drainage space which better prevents water intrusion. A ventilated air space allows bulk water to drain out, but also serves as the needed capillary break, meaning water penetrating behind the cladding is intercepted. (Steve Easley's 2010 article, "Weatherproofing Synthetic Stone Veneers," can be read online at www.greenbuildermag.com[6].) 
Drainage media 
For proper drainage behind adhered masonry veneers, designers and contractors have found it critical to keep the scratch coat and mortar out of the air gap, necessitating vigilance among installers. In many cases, designers and/or contractors have recommended using a drainage mat with a filter-fabric backing to prevent clogging the air space.
For example, the Residential Masonry Contractors Association (RMAC) made recommendations for manufactured stone veneer over wood-frame construction, which included a drainage mat with filter fabric backing. A similar recommendation was made by the Builders Association of Minnesota (BAM), with details including a drainage mat material (or furring strips) that separate the WRB applied to the sheathing away from a layer of building paper. The measure is intended to keep scratch coat or mortar out of the drainage space.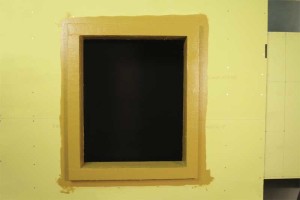 According to International Code Council Evaluation Service (ICC-ES) reports, drainage mats are among the materials providing superior drainage efficiency in typical wall assemblies. (One example is International Code Council Evaluation Service [ICC-ES] Acceptance Criteria [AC] 356, Moisture Drainage System Used with Exterior Cement Plaster or Adhered Masonry Veneer Walls.) Manufactured as roll or sheet material for application over the drainage plane and behind manufactured stone and thin brick-veneer wall assemblies, the mats include rigid polymer sheets and tangled-filament polymer materials.
Both types allow water vapor to move freely through the drainage mat layer, which accelerates drying. They also provide for a consistent air break to separate inward vapor drive from the sheathing and structure. Finally, the drainage mats provide ventilation for drying while also helping to prevent clogging of the drainage/drying area from scratch coats and mortar.
A systems approach
A review of industry literature, lab testing, field experience, and expert comment confirms effective designs of adhered masonry veneers should include an air gap and drainage cavity behind the claddings to improve durability and reduce moisture-related issues—always in tandem with design details that keep water out of the wall in the first place. A well-defined air space and an effective means of drainage—as well as a compatible and effective air barrier and WRB—create a more comprehensive system for adhered masonry veneer construction. The ideal solution should include compatible materials, straightforward application techniques, and a track record of use with thin brick, adhered masonry veneer, and other similar absorptive claddings.
Recently, several manufacturers have developed components or assemblies to specifically incorporate an air barrier, WRB, and drainage medium in a design preventing water accumulation and capillary action for use behind absorptive claddings. Some also allow for the inclusion of ci, as desired by the project team or required by code. Certain cavity-wall systems provide for a waterproof air barrier, drainage, and ci in single, multi-component systems that are assembly tested to meet typical energy and fire codes.
Installed over wood frame, concrete masonry unit (CMU), or light-gauge steel, the cavity-wall system has a waterproof air-barrier membrane fluid-applied over the backup wall assembly to create a continuous air barrier and WRB plane integrated with transition membranes at all penetrations and interfaces. This is followed by a continuous layer of extruded polystyrene (XPS) insulation that is covered with a tangled-filament drainage mat; masonry veneer cladding is adhered to complete the enclosure.
The tangled-filament drainage mat facilitates moisture escape between the protected substrate and the cladding. Should water reach the area between the substrate and cladding, it can drain from the wall assembly via the drainage mat, which also helps speed the drying of moisture-laden air (water vapor) that can accumulate. In this way, cavity-wall systems provide the drainage plane, drying space, and continuous barrier to water migration as needed to protect the building sheathing and structure.
The cavity wall offers other benefits. For example, some systems carry code approvals or have been tested according to the National Fire Protection Association (NFPA) 285, Standard Fire Test Method for Evaluation of Fire Propagation Characteristics of Exterior Non-load-bearing Wall Assemblies Containing Combustible Components. In some situations, the cavity-wall systems also help ensure consistent application and detailing across one or more claddings, to help ensure the desired performance and mitigate risks with the integration detail that can be associated with the sequencing and coordination with multiple trades, integration detailing, and compatibility with multiple components.
Design recommendations
One of the most important considerations when designing to prevent moisture-related issues in wall construction is to prevent water intrusion through the use of fundamentally sound design details—such as rough opening protection and sill flashing beneath windows and doors. When installing sill flashing under a window, it is considered a fundamental principle of source drainage to direct water to the exterior in the event of a window leak.
Other examples of the source drainage principle include diverter flashing at roof/wall intersections, saddle flashing at low-to-high walls, flashing at floor lines, and deck flashing. All these strategies prevent moisture-related issues at these locations by re-directing water to the exterior in the event of its entry into the enclosure at some component or assembly.
Whether part of these systems or a built-up solution, the use of a minimum air space or drainage medium that creates an air space have been shown to improve the performance of absorptive claddings in resisting bulk water intrusion and inward vapor drive. Based on field experience and controlled testing, a number of conclusions can be drawn about the design of enclosures with adhered masonry veneer.
First, research shows one or two layers of asphalt-impregnated building paper, felt, or housewrap are not always effective on their own to mitigate the moisture issues in adhered masonry veneer. Though the water-resistant papers may provide an effective drainage layer, this can be compromised by contact with the manufactured stone cladding.
Second, the key to enhanced moisture protection of these walls is to ensure the use of a consistent air gap of at least 32 mm (1/8 in.) in depth. Joseph Lstiburek, M.Eng., PhD, suggests the main function of the air gap is to prevent hydrostatic pressure buildup across the water-control layer by draining the water that penetrates.
Third, a continuous air barrier is needed to prevent condensation caused by air leakage.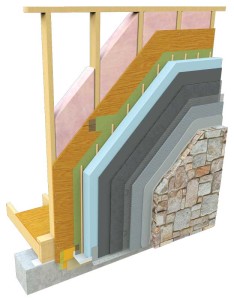 Additionally, a rain-managed wall should consist of four elements, which Lstiburek outlined as:
continuous drainage plane that is water-repellent, properly connected to flashings, window and
door penetrations, roof-wall intersections, and service penetrations;
drainage space between the cladding and the drainage plane;
flashings at every opening, penetration, or intersection; and
weep holes (i.e. openings to allow water to escape to the outside). (See "Water-managed Wall Systems" in a 2007 issue of The Journal of Light Construction by Joseph Lstiburek, M.Eng., PhD, P.Eng.)
Finally, the drainage space between the cladding and the drainage plane can be successfully maintained with a material layer such as a filament nylon mesh mat or, as an alternative, a rigid plastic profiled sheet, also called a dimple sheet. The filament nylon mesh material has been tested extensively, recently by the Masonry Veneer Manufacturers Association (MVMA) in a test assembly with two layers of WRB separated by a "polymer-entangled mesh" drainage mat, as well as a metal lath and scratch coat.
In the laboratory study, water penetration by wind-driven rain was evaluated based on ASTM E331, Standard Test Method for Water Penetration of Exterior Windows, Skylights, Doors, and Curtain Walls by Uniform Static Air Pressure Difference. No water was observed on the interior of any of the test wall assembly during a two-hour test using the mesh drainage mat. Other types of drainage materials were also successfully tested, including formed XPS insulation, polymer mats, and wood furring. (See Masonry Veneer Manufacturers Association's [MVMA's] Technical Bulletin, "Water Penetration Testing of an Adhered Masonry Veneer Wall Assembly.")
Successful wall assemblies include a continuous air and water barrier integral with flashings, air space, or an air space created by such drainage media as a filament nylon mesh. These designs limit moisture-related issues and improve the performance of commonly used absorptive claddings, including adhered masonry veneer products.
Conclusion
The challenges of adhered masonry veneers and other absorptive claddings used in residential and light commercial construction have been widely published. The primary negative effects—caused by humidity, rain, and wind—include poor drainage, inward vapor drive, and capillary absorption. The moisture problems have led to enclosure failures in some cases.
A critical review of industry literature, lab testing, field experience, and expert comment show the most effective design of adhered masonry veneers should include an air gap and drainage cavity behind the claddings to improve durability and reduce moisture issues. A fabric-faced, tangled-filament nylon drainage mat is shown to effectively promote drainage and drying in above-grade vertical wall assemblies beneath absorptive-type claddings, including adhered masonry and thin brick veneer. The filament drainage mats provide for both an air space and protected drainage plane and are also effective when used as part of a full cavity-wall system.
In addition to the issues caused by moisture damage in residential and light commercial construction, recent code changes have propagated the use of enhanced drainage and drying assemblies for adhered masonry veneer. These code changes are valuable—as are improvements to recommended practice—as they help reduce enclosure failures caused by moisture damage, which are costly and avoidable. By following the code changes in the 2012 IBC and IECC for WRBs, air barriers, ci, and drainage, it will help to ensure adhered masonry systems provide long and valuable lifecycles.

[9]
Jeff Diqui, Arch. Eng., CSI, is a building enclosure specialist with Sto Corp. He has more than 20 years of experience with forensic investigations related to moisture intrusion and structural problems, structural design, building condition assessments, development of repair/rehabilitation designs, and construction observations. Diqui is a consultative resource for architects, engineers, specifiers, building envelope consultants, contractors, and code officials related to heat, air, and moisture controls. He is a member of the Building Enclosure Council (BEC), Construction Specifications Institute (CSI), RCI–The Institute of Roofing, Waterproofing, and Building Envelope Professionals, and the U.S. Green Building Council (USGBC). He can be contacted via e-mail at jdiqui@stocorp.com[10]. 
Endnotes:
[Image]: http://www.constructionspecifier.com/wp-content/uploads/2013/01/openershot.jpg
[Image]: http://www.constructionspecifier.com/wp-content/uploads/2013/01/GRAPHIC-for-Dec2012-1-2.jpg
[Image]: http://www.constructionspecifier.com/wp-content/uploads/2013/01/DrainScreen-roll.jpg
promote drying: http://www.ornl.gov/sci/roofs+walls/staff/papers/210.pdf
[Image]: http://www.constructionspecifier.com/wp-content/uploads/2013/01/rapidseal-penetration.jpg
www.greenbuildermag.com: http://www.greenbuildermag.com
[Image]: http://www.constructionspecifier.com/wp-content/uploads/2013/01/rapidseal-window-opening.jpg
[Image]: http://www.constructionspecifier.com/wp-content/uploads/2013/01/StoEnergy-Guard_DS_CI-Thick-Stone-Veneer.jpg
[Image]: http://www.constructionspecifier.com/wp-content/uploads/2013/01/ChallengesOfAdheredMasonryVeneer.jpg
jdiqui@stocorp.com: mailto:jdiqui@stocorp.com
Source URL: https://www.constructionspecifier.com/ensuring-moisture-protection-for-manufactured-stone/
---