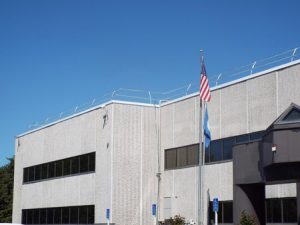 Safety Rail Company is a premier manufacturer of free-standing, fall protection safety railings for flat roofs. These railing systems act as passive fall protection barriers at fall-from-height locations allowing workers to move freely inside the railing enclosure. There is no need for workers to be tied off to anchorage points, giving them more freedom of movement and making them more productive. Some railing systems do have a more industrial look to them, which is fine in most industrial/commercial applications. However, there are many instances where highly visible, high-end commercial buildings are better served with a more sophisticated look.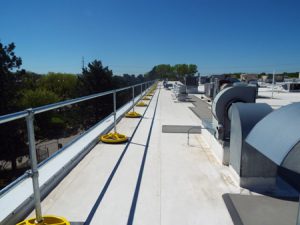 Our Accu-Fit Mobile Railings are an option that delivers a new level of sophistication and style for areas of facilities where aesthetic appearance is important. These railings offer a continuous railing profile in either a traditional vertical or architectural curved profile that from street level gives the appearance of an integrated railing, all in a non-penetrating design. It is available in a galvanized or powder-coated finish to match your building's façade colors. Now you can have both form and function that not only looks good but keeps workers safe. Both systems have been tested in the United States and Canada for regulatory compliance.
All information listed in this section was submitted by Safety Rail.
Kenilworth Media Inc. cannot assume responsibility for errors of relevance,
fact or omission. The publisher does not endorse any products featured in this article.