Fishing for a better boiler system at a Wisconsin farm
by Carly Midgley | August 28, 2017 8:26 am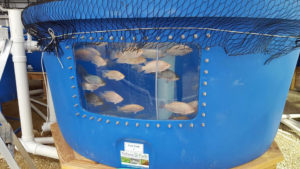 A shift into aquaponics from traditional farming sparked the need for a new boiler system for the Mindoro, Wisconsin-based Goodenough family. Aquaponics (a system in which the same nutrient-rich water used to raise fish is employed to fertilize plants) was chosen in response to market constraints such as high prices and fluctuating weather.
To facilitate the switch, the family purchased a 1263-m2 (13,600-sf) greenhouse, which was disassembled over a period of three months and shipped to the farm. Two years later, in 2016, the structure was reassembled—however, the six-month project concluded in November, when cold weather posed various dangers to the greenhouse and its contents.
"We required air temperatures of about 21 C (70 F) in the greenhouse year-round, and water temperatures between 21 and 24 C (70 and 75 F) for the fish and plants to thrive," said Bonny Goodenough.
Further, the polycarbonate used to construct the greenhouse was unlikely to successfully stand up to heavy snows, meaning the roof was at risk of collapse without a heating system to melt away the hazard.
To solve these difficulties, the family selected a multiple boiler system (MBS) in which four boilers with primary-secondary pumping are modulated by a master boiler. Ensuring the system is responsive to greenhouse conditions requires monitoring of internal and external temperature, wind speed and direction, precipitation, and humidity. Boilers, heat exchangers, grow lights, vents, and shades operate according to the readings.
"With the automatic sequencing feature, the boilers communicate directly with one another so they sequence themselves and rotate as needed," said James Hammes, president of Ron Hammes Refrigeration[2], the project's HVAC installer. "They operate to optimize energy use and efficiencies. When heat is required, the boilers will stage on one-by-one as needed."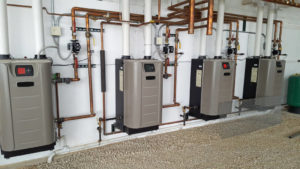 The system has met with success so far—the Goodenoughs have filled their greenhouse with tanks to hold 2300 fish, and have planted various types of lettuce and other vegetables, which they produce at a rate of approximately 250 heads of lettuce per day.
"The boilers are very energy-efficient and will cycle on and off as needed. They typically shut off when the temperature outside is 18 C (65 F) and higher," said Tim Goodenough. "We had some major snowfalls this last season, but it always melted and never accumulated on the roof of the greenhouse."
Endnotes:
[Image]: https://www.constructionspecifier.com/wp-content/uploads/2017/08/tilapia-tank.jpg
Ron Hammes Refrigeration: http://www.ronhammes.com/
[Image]: https://www.constructionspecifier.com/wp-content/uploads/2017/08/Boilers-at-Aquaponics-Farm4-1.jpg
Source URL: https://www.constructionspecifier.com/fishing-for-a-better-boiler-system-at-a-wisconsin-farm/
---