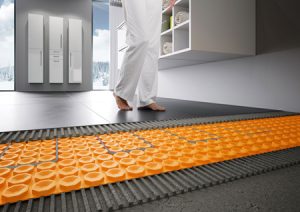 The concrete construction of multistory buildings makes controlling impact sound through floor-ceiling assemblies challenging, particularly with hard surface coverings like tiles. Sound control materials tend to be compressible and do not provide adequate support for the tile covering. DITRA-HEAT-DUO reduces sound transmission in addition to warming the floor and still supporting the covering to ensure a lasting installation.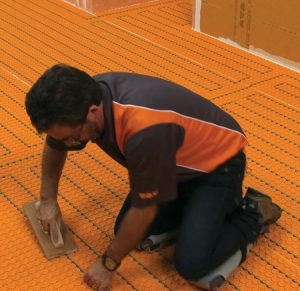 ASTM E2179, Standard Test Method for Laboratory Measurement of the Effectiveness of Floorcoverings in Reducing Impact Sound Transmission Through Concrete Floors, testing shows DITRA-HEAT-DUO produces an increase in impact insulation class (ΔIIC) of 20 to a concrete slab floor. The dual benefits of reducing impact sound transmission and providing faster warm-up times make this membrane ideal for hard surface floors in multistory residential construction.
Schluter-DITRA-HEAT-DUO is the first electric floor warming system with an integrated thermal break and sound control to overcome these multiple challenges. The thermal break on the underside of the membrane allows the system to warm tiled floors up to 70 percent faster over concrete substrates by directing heat to the tile, and not the subfloor. The system provides faster and simpler installation as the membrane, heating cables, thermal break, and sound control material are all combined in a single, 8-mm (5/16-in.) thick layer. This is also available with a Wi-Fi thermostat for fast, easy programming from home or on the road.
All information listed in this section was submitted by Schluter Systems.
Kenilworth Media Inc. cannot assume responsibility for errors of relevance,
fact or omission. The publisher does not endorse any products featured in this article.