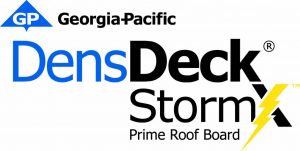 Stand up to intensifying weather conditions and tough new hail insurance standards with DensDeck® StormX™ Prime Roof Board from Georgia-Pacific—the only gypsum cover board approved for use in single-ply assemblies that meets the FM Global Very Severe Hail standard. DensDeck StormX Roof Board features innovative EONIC™ Technology and offers premium protection with upgraded hail resistance, as well as enhanced impact and moisture resistance. Easy installation means the job is done quickly, giving you the confidence that your roof has the strongest defense to weather the storm.
Watch the video to learn more.
"Sponsored" material is supplied by the sponsor. The publisher cannot assume responsibility for any errors of relevance, fact or omission. Hosting sponsored material does constitute endorsement of the sponsor.