Free e-book addresses cavity wall challenges
by Cindy Macdonald | May 14, 2018 12:31 pm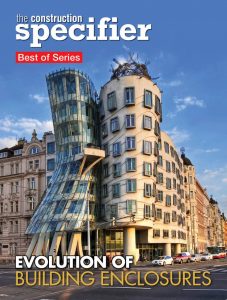 As architectural firms push the limits of building design, designing a safe and efficient building envelope is becoming more complex. Design teams want to prevent water ingress, but they also want to follow the latest building codes.
Designers are tasked with designing building envelopes that are watertight, airtight, thermally efficient, and NFPA 285-compliant. Solving this "cavity wall conundrum" is possible, but it requires some familiarity with the competing design challenges and different industry standards.
This and other challenges related to building enclosures are covered in the newest volume in The Construction Specifier's series of free, downloadable e-books. "Evolution of Building Enclosures" is a curated collection of magazine articles with topics ranging from cavity wall design and specifying masonry wall systems to dealing with moisture in roof decks. The e-book also includes a look at the durability of tapes and flashing.
Download the "Evolution of Building Enclosures" e-book in two different formats—pdf or digital edition—by visiting https://www.constructionspecifier.com/ebook/huber-evolution-of-building-enclosures-e-book/[1]
Endnotes:
https://www.constructionspecifier.com/ebook/huber-evolution-of-building-enclosures-e-book/: https://www.constructionspecifier.com/ebook/huber-evolution-of-building-enclosures-e-book/
Source URL: https://www.constructionspecifier.com/free-e-book-addresses-cavity-wall-challenges/
---