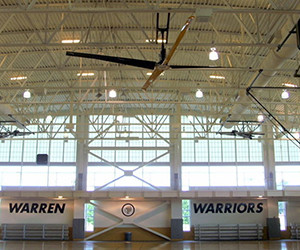 Could your next project benefit from the superior air movement provided by a high-volume, low-speed (HVLS) fan?
HVLS fans have been demonstrated to cut winter energy use by 30 percent in a wide variety of facilities. They also help reduce the effects of humidity, moisture, and bacteria while operating more efficiently than conventional fans. As a result, HVLS fans can help keep people safer, healthier, more comfortable, and more productive.
These advantages are applicable to buildings across many industries and geographies. A free "Did You Know?" eBook explores seven ideal applications of HVLS fans, with facts, figures, and tips specific to each situation. This way, design/construction professionals can more effectively choose the right solution for their projects.
Download the eBook for further insights.
All information listed in this section was submitted by Rite Hite.
Kenilworth Media Inc. cannot assume responsibility for errors of relevance,
fact or omission. The publisher does not endorse any products featured in this article.