Frost Terrace from 19th century restored by Bruner/Cott Architects
by brittney_cutler | November 22, 2021 9:09 am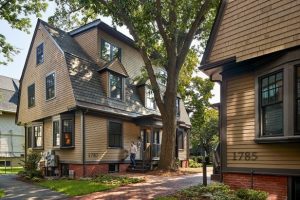 Bruner/Cott Architects announces the completion of Frost Terrace, a housing apartment community at 1791 Massachusetts Avenue in Cambridge's Porter Square.
The complex sits in a transit-oriented neighborhood facing an extreme shortage of such housing. The newly restored Frost Terrace will provide up to 40 families and individuals with long-term rental options.
Directly adjacent to the Bruner/Scott's Lesley University Lunder Arts Center on Massachusetts Avenue, Frost Terrace comprises three extant buildings. The William Frost house, built in the late 1800s, was preserved, transformed, and expanded at the rear of the complex to provide additional living quarters. Formerly surrounded by similar housing and the North Avenue Congregational Church, the Frost house is the last of its kind on the block to provide any historical context.
Twenty-six out of the 40 available units are two-to-three bedrooms, 13 are one-bedroom, and one studio unit completes the mix. The majority of units are reserved for households earning less than 60 percent of the area median income (AMI), with four units reserved for households earning less than 50 percent of AMI and four units reserved for households earning less than 30 percent AMI. The complex has already received over 900 applications during its initial leasing.
Sustainable design strategies include the installation of solar panels, stormwater management, tree preservation, and energy-efficient equipment, complemented by landscaping and paving improvements that create accessible community space.
Endnotes:
[Image]: https://www.constructionspecifier.com/wp-content/uploads/2021/11/BC_Cambridge-FF.jpg
Source URL: https://www.constructionspecifier.com/frost-terrace-from-19th-century-restored-by-bruner-cott-architects/
---