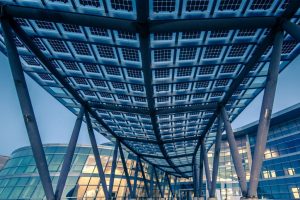 Generate clean energy, replace building envelope materials. Give glass something new to do—it's all possible with building-integrated photovoltaic (BIPV) glass lites.
Seamlessly integrated into buildings, Solarvolt BIPV lites by Vitro Architectural Glass combine new possibilities for renewable power generation and dynamic glass design. To meet design and environmental performance objectives, Solarvolt BIPV lites can be used with any Vitro Glass product, including Solarban low-e coatings and Starphire Ultra-Clear glass.
Think Solarvolt BIPV lites for building façades, vision glazing and spandrel glass—or, integrate BIPV into sunshading systems, overhead glazing, canopies and even balcony glass.
No matter how you use it, Solarvolt BIPV lites can be tailored to your project's unique design and performance needs. Create dynamic, colorful designs with back-painted spandrel glass. Utilize blue, green, gray and bronze Vitro performance-tinted glasses to realize vibrant designs that complement and harmonize with solar cell arrangements and crystalline silicone formats. Elevate performance with Solarban solar control, low-e coatings. You can even provide exceptional transparency and color rendition, while maximizing CO2-free power generation, with Vitro low-iron glasses.
Next-generation, energy-efficient design is inevitable with new Solarvolt BIPV lites.
Supercharge your projects at www.vitrosolarvolt.com.
All information listed in this section was submitted by Vitro Architecture Glass.
Kenilworth Media Inc. cannot assume responsibility for errors of relevance,
fact or omission. The publisher does not endorse any products featured in this article.