Grass is greener atop St. Louis building
by Erik Missio | May 13, 2016 9:55 am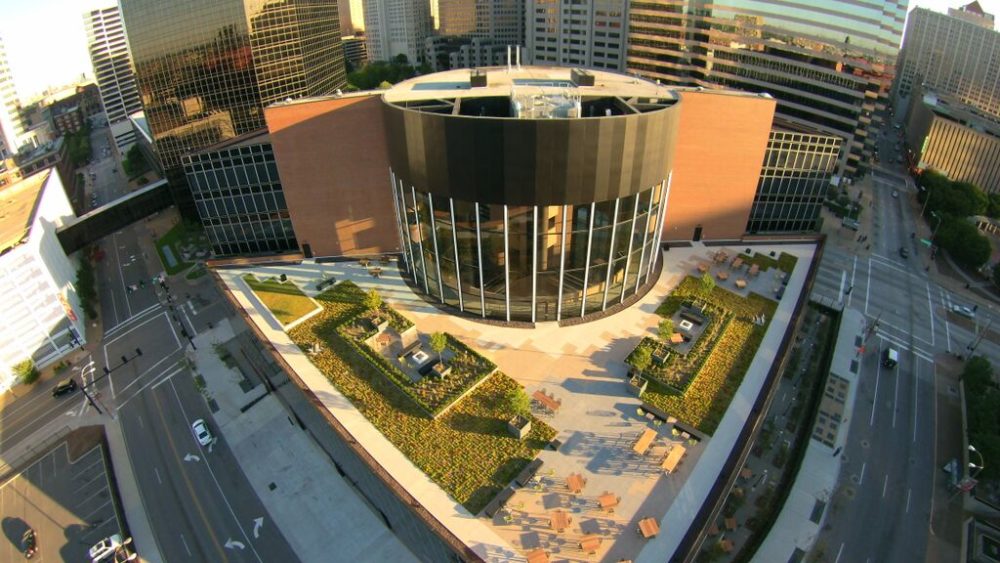 A gas fire pit, a fescue lawn, and numerous seating areas are some of the green roof features installed at General American Building in St. Louis, Missouri.
Located at 700 Market Street (and now known by its address), the building originally opened in 1979. The six-story structure is the only St. Louis building designed by acclaimed 20th-century U.S. architect Philip Johnson, and thanks to its green roof, now offers views of Busch Stadium, the Arch, and the Old Courthouse. The project also included re-roofing the building's sixth floor.
To install the 1654-m2 (17,800-sf) vegetated roof on the building's fifth floor, crews first removed the existing paver ballast, 50 mm (2 in.) of expanded polystyrene (EPS) insulation, and a two-ply styrene-butadiene-styrene (SBS) modified roof system down to the structural concrete deck. Next, a 2.9-mm (115-mil) fleece back loose-laid proprietary thermoplastic polyolefin (TPO) roof system, including flashing of green roof penetrations, was installed.
In preparation for a three-color concrete paver system, wood paver, and pre-planted vegetation trays and leveling pedestal system, crews stacked three layers of loose-laid EPS insulation and a protection mat over the TPO roof system.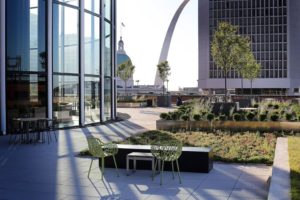 The new outdoor space now comprises raised areas filled with growth medium, various trees and shrubs planted in planter boxes, and lighting and watering systems. Crews also installed a 0.6-m (2-ft) wide buffer of landscape gravel around the roof's perimeter between the pavers and the parapet wall to aid with the courtyard's draining.
To ensure the green roof was completely waterproof, the project team commissioned an intensive water test, which involved flooding the roof for 24 hours to test for watertightness. Detected weak areas were quickly reinforced to help prevent costly repairs.
Endnotes:
[Image]: http://www.constructionspecifier.com/wp-content/uploads/2016/05/700-Market-Completed.jpg
[Image]: http://www.constructionspecifier.com/wp-content/uploads/2016/05/arch-view-green-chairs.jpg
Source URL: https://www.constructionspecifier.com/grass-is-greener-atop-st-louis-building/
---